---
Table of Contents
---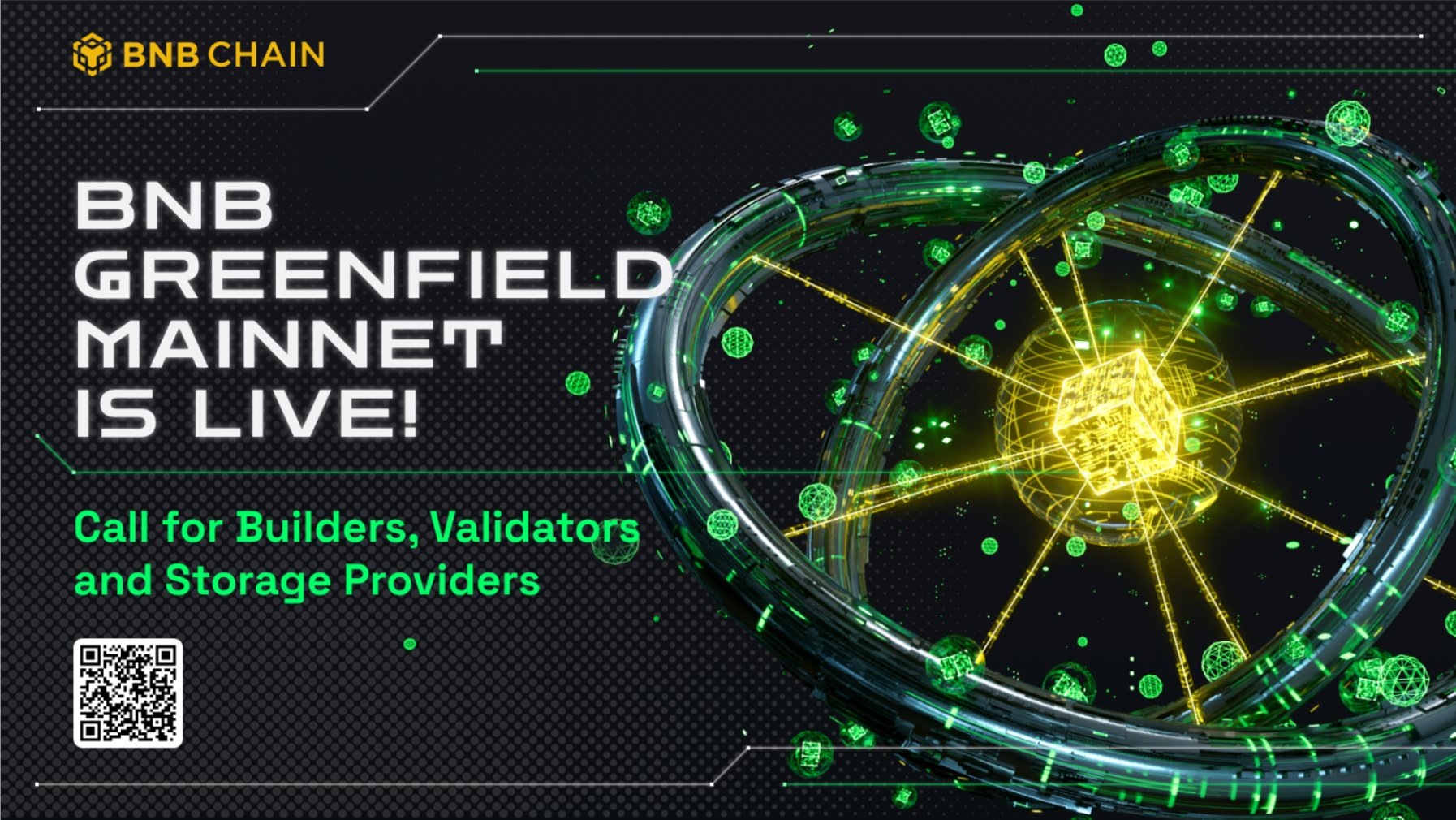 BNB Chain, the community-driven blockchain ecosystem that includes the world's largest smart contract blockchain, today announced the public launch of the Greenfield Mainnet. Greenfield is a novel decentralized data storage network with a native bridge to BNB Smart Chain (BSC), which manages user rights, bucket creation, and file deletion to transform the way users interact with their data.
BNB Greenfield is a storage-oriented blockchain interacting with a decentralized network of storage providers (SPs).
High performance: Greenfield exceeds the industry standard for uplink and downlink bandwidth, utilizing its novel SP architecture to offer rapid upload and download speeds. During several rounds of stress testing, the uplink bandwidth reached 30M/sec and downlink bandwidth reached 300M/sec with each SP able to upload 30 files/sec.
Built-in Access Control: Users upload their data and apply unique access and usage permissions before the SPs store that data off-chain with extensive redundancy and backups.
Cross-chain Programmability: The Greenfield blockchain's cross-chain programmability also means that BNB Chain users can create their own complementary data products and services.
Data Monetization & Exchange: With Greenfield, users can establish data marketplaces in which they can freely create, list, trade and sell their data.
During testing the network processed more than 200,000 on-chain transactions and was connected to 150,000 unique wallet addresses.
In addition to the core offering of storing large amounts of data, Greenfield also provides an array of use cases for users, developers, data managers, business owners, and creators including:
Arnaud Bauer, Senior Solution Architect at BNB Chain said, "BNB Greenfield is a transformative development in Web3 data ownership and data economy, as it provides users with a decentralized alternative to conventional Cloud services. Distinct from centralized offerings, BNB Greenfield empowers users with control over their data, mitigating the risk of breaches and data loss. During the Greenfield Testnet phase and recent BNB Chain Hackathon it has been encouraging to see so many innovative dApps showcase the potential of decentralized file storage with a user-centric focus."
BNB Greenfield's structural and economic paradigm for data in the Web3 era makes ownership, usage and monetization of data easier for users, both within and beyond the Web3 ecosystem.
Find out more about the journey from Testnet to Mainnet and sign up to BNB Greenfield here.
About BNB Chain
BNB Chain is a community-driven ecosystem with multiple decentralized blockchains, powered by BNB. It consists of BNB Beacon Chain, its staking and governance layer, BNB Smart Chain (BSC), which is EVM compatible and facilitates a multi-chain ecosystem with its Layer-2 solutions including opBNB, and BNB Greenfield, its decentralized data storage network.
The BNB Chain ecosystem has the world's largest smart contract blockchain (BSC) by daily active users and has processed 3 billion transactions to date from 232 Million unique addresses.
This makes it the largest layer 1 blockchain globally and brings developers massive user access with ultra-low gas fees, higher transactions per second and has experienced zero crashes since its inception.
The ecosystem has more than 1,500 estimated active dApps at any given time across multiple categories such as DeFi, Metaverse, Blockchain Gaming, SocialFi, NFT, Infrastructure, and more. There are numerous programs available to support the Web3 ecosystem including the Gas Grant, Builder Grant, Kickstart, Most Valuable Builder (MVB) and AvengerDAO.
---