---
Table of Contents
---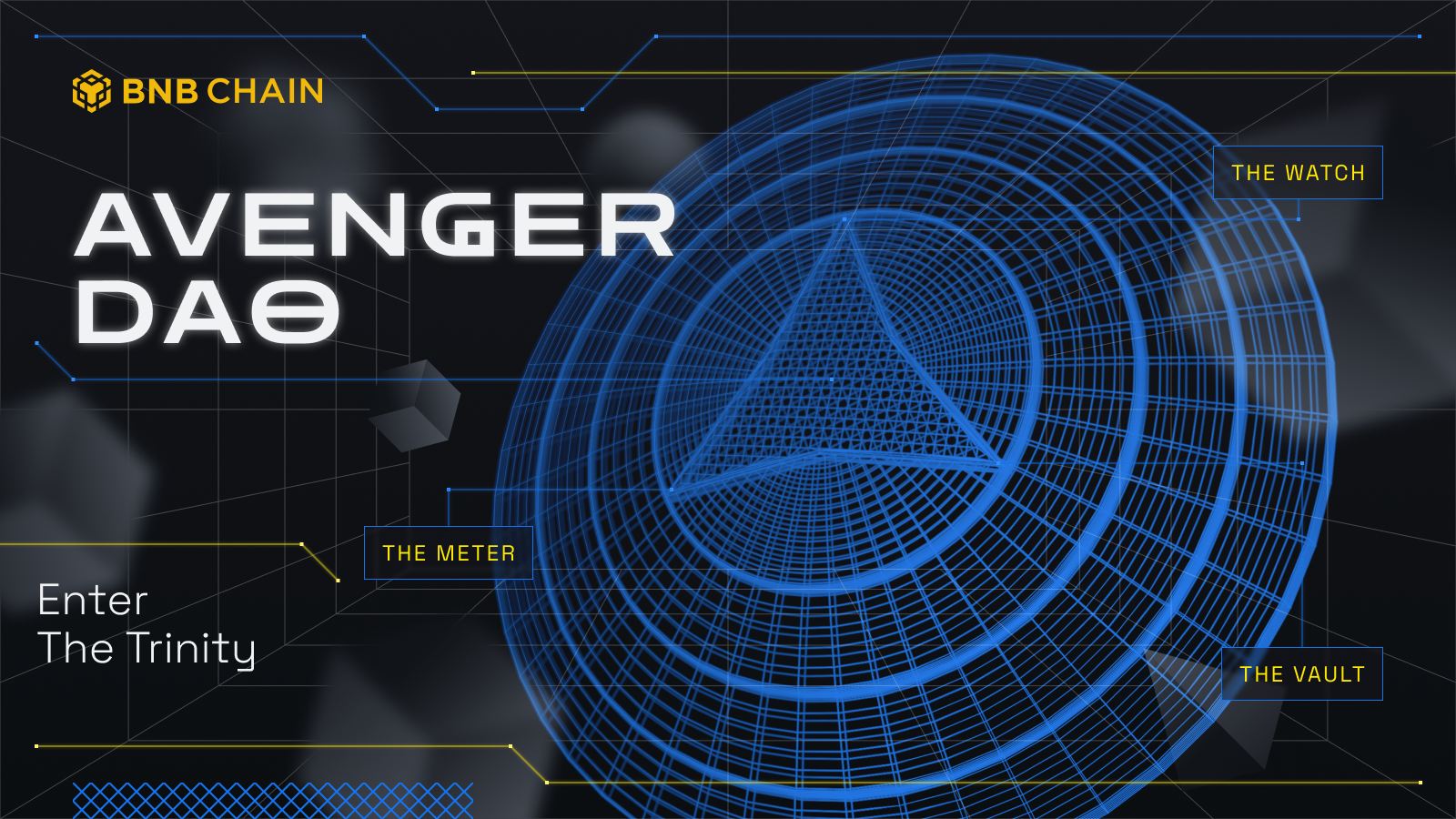 We are officially unveiling AvengerDAO, a unique community-run security infrastructure project designed to protect users on BNB Chain from possible exploits, scams and malicious actors.
AvengerDAO consists of: Meter, a passive API system, Watch, a subscription based alert system, and Vault, a programmable fund management system. The initiative marks our steadfast commitment to making user experience on Web3 more secure and enjoyable.
AvengerDAO is a collaboration of Web3's leading security firms and the early adopters of blockchain technology. Founding members include, Certik, Go Plus, SlowMist, Zokyo, BlockSec, Hashdit, Verichains, Pessimistic, CoinMarketCap, TrustWallet, PancakeSwap, BSCtrace(NodeReal), BSCscan, MathWallet, DappBay, Coin98, and Opera.
In order to facilitate contract scanning for users, Hashdit, an AvengerDAO member, has already released an integration with PancakeSwap. Hashdit is a security dApp on BNB Chain that allows users to scan for risky tokens. The integration sees members of our ecosystem taking active steps to make user experience more secure.
AvengerDAO System
The AvengerDao system consists of three major components:
Meter, a passive API system
Watch, a subscription based alert system
Vault, a programmable fund management system
These three layers will help users have additional security when interacting with various applications and counterparties on the BNB Chain.
Meter will allow applications to request security ratings on smart contracts, domains, and addresses, and will send back alerts when users interact with potentially malicious entities. Watch warns subscribers in real time when security exploits occur, and Vault assists the safe passage of funds between parties.
From a security standpoint, the way the three components work together in AvengerDAO is multidimensional. The Meter is a passive API system that allows applications and users to receive security ratings for contracts, domains, or entities. Wallets and dApps use the API gateway to request rating information on a specific entity. Responses from security auditors are aggregated and sent back to the applications.
The Watch is an active API stream that sends out active alerts to subscribers when malicious contracts, domains, or entities are detected. External applications can join the API stream that consolidates active security issues and then alerts the subscribers.
The Vault is a service that locks up funds for clearing according to the providers' internal rules. When a transaction is triggered, it allows funds to be locked until certain pre-set conditions are met, such as a security scan being completed and verified or a prescribed time limit being reached.
AvengerDAO members are actively involved in the design, implementation, and deployment of the Meter and the Watch. Members come from well-known centralized exchanges, decentralized applications, blockchain explorers, bridges, wallets, dApp stores, token information websites, information/analytic providers, and so on. Verified members can flag their membership on their applications and platforms as a recognition of their contribution and to provide security for users.
The AvengerDAO launch follows our unveiling of DappBay that features an easy-to-use contract risk scanning tool, Red Alarm, which identifies potential high risk projects to help users protect their investments from potential rug pulls and scams.
---