---
Table of Contents
---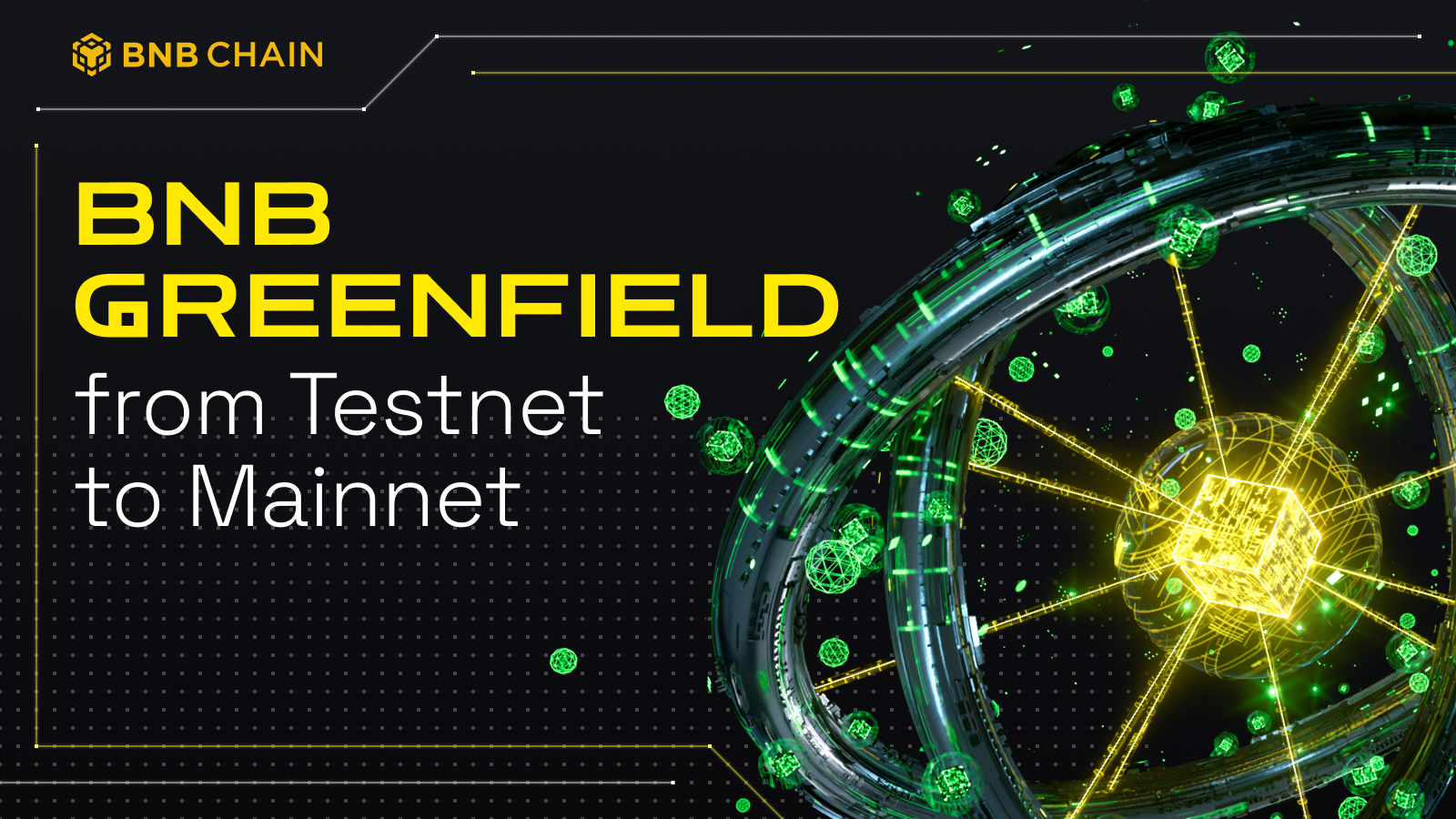 BNB Greenfield is a novel decentralized data storage network that builds upon the many advantages these systems have to offer and is designed to transform the way everyday users interact with their own data. 
BNB Greenfield's journey began on April 10th, 2023, with the launch of its Congo Testnet, and since then, 5 months have passed and a ton of progress has been made! The BNB Chain community have diligently pushed forward the technological advancements and fostered the ecosystem, all culminating in the awaited introduction of the BNB Greenfield Mainnet.
After months of development and testing, BNB Greenfield Mainnet is nearly ready to introduce an entirely new structural and economic paradigm for data in the Web3 era. Making the ownership, usage and monetization of data easier for users, both within and beyond the Web3 ecosystem. Read on to discover the milestones we have covered on our path to the upcoming launch of BNB Greenfield Mainnet.
The Stepping Stone: Testnet Achievements
BNB Greenfield's Testnet has been rigorously evaluated and tested by the BNB Chain Community over a 6 month period. During this test phase, the network has processed more than ~200,000 on-chain transactions, welcomed community developers and was connected to 150,000 unique wallet addresses (as of date, with greenfield scan URL). The BNB Greenfield network also received massive support from the broader ecosystem, with multiple storage providers deployed on our Testnet, such as NuLink, and 4EVERLAND. Here are some highlights.
Outstanding Speed for uploading and downloading
Source https://greenfieldscan.com/statistics
The decentralized network of storage providers (SPs) streamlines data management by using the Primary SP role to simplify both uploading and downloading. It ensures fast, user-friendly uploads with breakpoint resumable capabilities for efficient bandwidth use and provides stable, high-speed downloads. Additionally, the SP's meta-service offers high-performance search functions to meet complex logic requirements. For more information: link
During the testnet, the dev team have executed several rounds of stress testing, during which the uplink bandwidth reached 30M/sec and downlink bandwidth reached 300M/sec. Each SP is able to upload 30 files/sec.
Privacy and Access Control
BNB Greenfield itself is a storage-oriented blockchain interacting with a decentralized network of storage providers (SPs). Users upload their data with unique access and usage permissions. Storage providers store that data off-chain with proper redundancy and backup. Metadata of the user's assets is stored on the BNB Greenfield blockchain. The ability to uniquely configure permissions on data in a native smart-contract-enabled environment is the mechanism that enables myriad potential business models that will benefit users and other BNB Greenfield participants. 
As all GNFD resources are mapped as NFT. Resources such as buckets, objects, and groups can be mapped as ERC721 tokens, thus developers can fully reuse the ERC721 interface for general permission management without introducing any additional complexity. A data marketplace can now easily be built where users can freely create, list, trade, and sell data assets, including digital publications, scientific experimental data, and specific domain data. Here is the demo link: The related codebase repo are open source here and here.
Cross-Chain Programmability
BNB Greenfield has a native programmable layer between BNB Smart Chain that allows existing BNB Chain dApps to leverage appropriately permission data, and give rise to a new generation of BNB Greenfield dApps built on BNB Smart Chain that will either help users interact with the BNB Greenfield ecosystem or become data products or services in their own right – managing, configuring and composing data stored by SPs at scale. The ability to uniquely configure permissions on data in a native smart-contract-enabled environment is the main logic that enables myriad potential business models on BNB Greenfield.
Greenfield also introduces the concept of "Mirroring" to transfer control over objects stored on BNB Greenfield to a smart contract on BNB Smart Chain (BSC). If an object is mirrored, this object can be managed through BSC by sending messages to Greenfield through a network of relayers, which facilitate communication and interaction between the two platforms. This design allows users or other smart contracts to perform various operations and changes to the object through on-chain transactions.
Comprehensive Infrastructure and dApps Builders
Here are just a few of the many use cases the BNB Greenfield Mainnet will bring and the BNB Chain architecture will support:
Web Hosting: As a web developer, you may be familiar with hosting services like WordPress and Wix. BNB Greenfield will allow any storage provider on BNB Greenfield to act as a web hosting provider. Websites can be created without restriction and accessible to anyone in the world – enabling a new level of internet freedom and equality.
AI + Web3:

NFPrompt: NFPrompt is the AI-powered entry point to Web3, the first AI-UGC platform that allows users to effortlessly create amazing NFTs, vote and earn rewards for art contests. At the same time, sponsoring brands/projects achieve accurate and in-depth super-Marketing with a broad Web2+3 user base. By integrating with Greenfield, NFPrompt champions user-generated content and complete ownership.
Glacier: Glacier is building a composable, modular and scalable L2 data network for large-scale Dapps. Glacier empowers decentralized apps (DApp) to build on decentralized databases (DDB). It provides programmable data composability powered by opBNB solution to seamlessly and effortlessly handle datasets with NoSQL GlacierDB on top of BNB Greenfield. BNB Chain's native smart-contract ecosystem empowered web3 users to master the art of data management with confidence.

Data Marketplace: Data marketplace is a data exchange platform where users can freely create, list, trade, and sell data assets, including digital publications, scientific experimental data, and specific domain data. BNB Greenfield developers just need to use smart contracts, greenfield APIs, and pre-defined rules to avoid complex backends.

Codex Field: By leveraging BNB Greenfield's decentralized infrastructure, CodexField empowers developers with true ownership and control over their code assets. CodexField's Code Marketplace not only benefits developers but also code consumers, creating a mutually beneficial ecosystem where quality code thrives.
Supportive Greenfield Developer Community
To further strengthen the developer community and onboard more developers,  the Hackvolution hackathon was launched on July 13. This year we were fortunate to witness a lot of innovative projects. Greenfield projects win prizes in Infura category, namely Codex Field, RIDO and Green Gate.  Greenfield Mobile also wins Projects with Potential Awards. 
The BNB Chain Wishlist Program offers a repository to nurture visionary endeavors and make a meaningful impact on the BNB Chain's development. Whether exploring novel technologies, devising cutting-edge solutions, or revolutionizing decentralized applications, you can find the most demanding and innovative areas.
Beginning of a New Era: Launch of the Mainnet
Mainnet Timeline
The Greenfield Mainnet will be open for general access in Q4, 2023 based on the Mainnet genesis criteria listed below.
Mainnet Genesis Criteria
As we approach Mainnet, we've defined a set of criteria that we need to complete in order to proceed with our launch:
Performance

Single SP Baseline

Uplink bandwidth 2M/sec
Downlink bandwidth 20M/sec
Uploading 2 files/sec

GreenfieldBaseline

Uplink bandwidth 30M/sec
Downlink bandwidth 300M/sec
Uploading 30 files/sec
Performance Comparison
| | | |
| --- | --- | --- |
| File Size | Arweave | Greenfield |
| 1KB | 47s ~ 486s | 6s |
| 1MB | 47s ~ 599s | 7s |
| 1GB | Fake blocking | 102\s |
Stability: Stress testing is planned to assess Greenfield's performance, scalability, and robustness under heavy loads and adverse conditions.
Security: Auditing the BNB Greenfield infrastructure for increased security
Cheaper storage cost compared with popular cloud storage vendors
Prioritizing high-quality developer experience
Partnerships with infrastructure providers, including data analytics, marketplace, etc.
Governance
The Greenfield blockchain utilizes on-chain governance to select validators and SPs. There is also a Provisional Governance Framework that provides the structure for sustainable, adaptable, and democratic governance to endure and evolve. Further details on the governance module are explained here.
BNBChain Community like BNB Chain core, NodeReal, and others will have 11 SPs and 13 validators initially to ensure a smooth start for Greenfield. becoming a Greenfield validator/ storage provider involves a steep learning curve, substantial investments in hardware and resources, and the need for continuous monitoring and maintenance, making it a demanding and challenging endeavor. You can read more about token economics here.
Anyone is welcome to become a validator/storage provider if you are prepared to overcome the challenges and requirements associated with it. It can be a rewarding experience for those who are committed to supporting the BNB Chain network and have the necessary technical skills and resources. The detailed guidelines for mainnet are listed here and here.
Building Ecosystem Together: Greenfield Grants and Funding
To facilitate building the ecosystem, Greenfield offers several grants, builder programs, and funding programs.
The Road Ahead
The future roadmap for Greenfield entails a comprehensive set of improvements, innovations, and features that will reshape decentralized storage and data management.
Continuous Enhancements

Reduction of Storage Costs: Introducing more economical underlying storage options.
Expanded File Type Support: Enabling support for executable files, broadening application possibilities.
Enhanced Query Protocol: Developing a robust query protocol compatible with existing op-BNB or BSC peer-to-peer (p2p) standards.
Improved Privacy Features: Implementing enhanced privacy protection features to bolster data security.
Trust Model Enhancement: Evolving towards a more robust trust model beyond primary service providers (SPs).

Advanced Features

Flexible Payment Options: Expanding payment options to include stable coins from other networks, fostering flexibility for users.
Native Data Index Protocol: Pioneering a powerful native data index protocol for enhanced data organization.
Perpetual Storage Support: Offering support for perpetual data storage, ensuring long-term availability.
Data Version Control: Introducing data version control to enable querying and restoration of historical data versions, enhancing data backup and protection.
Data Deduplication and Compression: Addressing redundant data storage by implementing deduplication and compression capabilities, particularly useful for large data sets.

Applications

Modularization: Adoption with opBNB
Emergence as the DA Layer: Aspiring to become the foundational Data Availability (DA) layer for op-BNB and potentially for the broader Binance Smart Chain (BSC) ecosystem.
Greenfield is distinguished by its ability to offer a user experience akin to web2 standards while operating in a decentralized framework. After the launch of its Mainnet, our primary focus is around the concept of assertizing data and facilitating the fluid circulation of its inherent value.
In the meantime, we encourage you to continue building on the  BNB Greenfield Testnet. We encourage ideas and projects from our developer community. Refer to the BNB Greenfield wishlist to know about the different solutions and categories you can contribute to. 
---