---
Table of Contents
---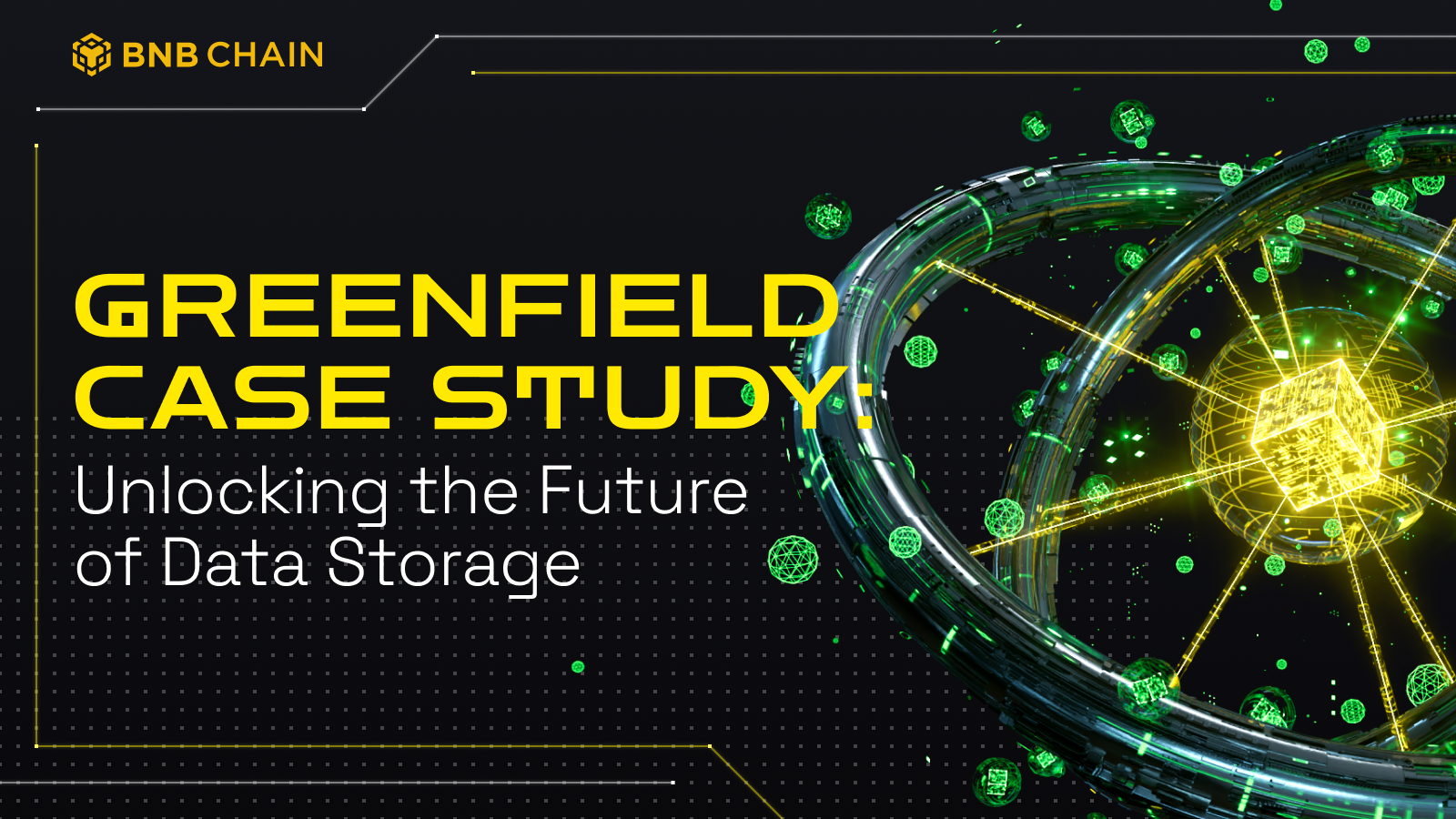 With a focus on decentralized data management and access, BNB Greenfield reshapes the way we interact with data and redefines data ownership to foster a robust data economy within the wider BNB Chain ecosystem. By offering storage flexibility, data configuration, and seamless integration with smart contracts, Greenfield empowers users to take control of their data and unlock its potential value. 
In this article, we explore real-life use cases and hear directly from innovative projects about how Greenfield is helping them to be front runners in the data economy.
Glacier
What is your project
Glacier Network – Programmable Data Composability for Trustless Data Primitives
Glacier is building a composable, modular and scalable L2 data network for large-scale Dapps. Glacier empowers decentralized apps (DApp) to build on decentralized databases (DDB). It provides programmable data composability powered by opBNB solution to seamlessly and effortlessly handle datasets with NoSQL GlacierDB on top of BNB Greenfield.
Why did you pick Greenfield?
Glacier shares the common mission with BNB Greenfield, to create a new data economy and to empower Dapps to build on decentralized data storage. We believe in the true power of full-stack decentralization in Web3.
And The Greenfield provides an easily integrated DA layer, we can quickly use the similar S3 API to store or retrieve data, and with the "Data Availability" feature.
What the main benefit of Greenfield has been so far
1.The Storage Provider (SP) mode is efficient and cheaper, and that can help to achieve larger capacity loads on BNB Greenfield.
2.Using BNB as the gas fee, there is no need to install a specific wallet to pay for gas, which makes it convenient and fast.
3.Using a Bucket/Key schema similar to S3 allows us easily mapping:
i) a glacier block as a greenfield object (for example: objectKey = /block/1),
ii) a glacier network as a greenfield bucket (for example: mainnet, testnet, devnet).
4.BNB Greenfield is seamlessly connected with the BNB chain, which helps Glacier get access to more functional features on this basis.
Your plans for the future and building on Greenfield
Our short-term plan is to empower more developers to build decentralized datasets utilizing GlacierDB on top of BNB Greenfield. At the same time, we are very enthusiastic about having a wonderful journey with the BNB chain team in the Hackathon and Incubation S6 programs.
Regarding the long-term program, we will build a "Datashard" Layer over Greenfield SP, each SP as a Glacier "DataShard" to provide more stability and dynamic.
How Greenfield is taking your project to new heights
BNB Greenfield is providing a robust foundation and dynamic ecosystem to Glacier that ensures our data security and availability. By leveraging BNB Greenfield, we're not only enhancing the reliability of GlacierBD but also empowering users with greater control over their data. Additionally, the valuable support we've received from the ecosystem has been instrumental in accelerating our progress and amplifying the impact of our product. The innovative approach of BNB Greenfield aligns perfectly with our mission to create a new data economy, propelling Glacier Network to new heights.
NFPrompt
What is your project
NFPrompt is the AI-powered entry point to Web3, the first AI-UGC platform that allows users to effortlessly create amazing NFTs, vote and earn rewards for art contests. At the same time, sponsoring brands/projects achieve accurate and in-depth super-Marketing with a broad Web2+3 user base. As of now, NFPropmt has 54,000 creators who have created more than 330,000 works. The average output of works per week is around 50,000, and 10-20 NFTs are produced per minute during the peak period.
Why did you pick Greenfield?
Greenfield is the best decentralized storage solution for the BNB ecosystem. For a platform that champions user-generated content and complete ownership like NFP, a decentralized storage solution is important. Greenfield also offers similar experiences as Web2 storage services for our developers, making the integration work smooth.
What the main benefit of Greenfield has been so far
We can leverage Greenfield as a data storage to be more flexible with the management of our user-generated content and give our users a decentralized option to actually own the content that they make through our platform. We can easily port and innovate our smart contracts and tailor it to user-generated content needs.
Your plans for the future and building on Greenfield
NFPrompt has already integrated with Greenfield testnet and stored pictures on it, we'll continue to do so when Greenfield goes live on the mainnet.
We will soon support more AI generative content, e.g. Video, music and 3d assets. Our need for decentralized storage will soon skyrocket even further.
How Greenfield is taking your project to new heights
We'd like to be at the forefront of decentralized internet culture, and a huge part of it is how we treat our data on user-generated content. By integrating with greenfield, we can have more flexibility on what we can do with our user's data and synergize it better with our products.
Edu3Labs
What is your project
Edu3Labs is a cutting-edge educational platform that aims to revolutionize the way we approach e-learning. We incorporate AI-driven personalized curriculums, blockchain-certified credentials, and a dynamic community engagement system to deliver a comprehensive educational experience for learners worldwide
Why did you pick Greenfield?
We hold the BNB ecosystem in high regard due to its continual advancements and intrinsic ability to address the inherent storage challenges within the blockchain sphere
What the main benefit of Greenfield has been so far
As we venture further into the realm of Web3, our association with Greenfield equips us to provide our users with a decentralized storage solution. This not only aligns with their expectations but also capitalizes on the growing demand for decentralization in data storage. – your plans for the future and building on Greenfield We firmly believe that by offering a decentralized "private storage" within the Web3 framework and guaranteeing individual data security, we are laying the foundation for the future of cloud infrastructure.
How Greenfield is taking your project to new heights
Leveraging the capabilities of Greenfield has propelled our project to unparalleled levels of innovation and efficiency:
Advanced Infrastructure: With Greenfield's state-of-the-art blockchain infrastructure, our project has been able to operate with greater speed, scalability, and reliability. This has enabled us to serve our users more effectively and meet demands that were once out of reach.
Interoperability: Greenfield's compatibility with various tools and platforms has ensured that our project remains versatile. This has opened up new avenues for collaboration and integration, driving exponential growth and expanding our reach.
Enhanced Security: The robust security protocols that Greenfield offers have fortified our project against potential threats. This has not only instilled trust among our user base but also reduced risks associated with data breaches and cyberattacks.
Cost Efficiency: By optimizing transaction processes and reducing overheads, Greenfield has allowed us to allocate resources more judiciously. This has enhanced our operational efficiency and has provided our stakeholders with greater returns on investment.
Community Support: Being a part of the Greenfield ecosystem has connected us to a vibrant community of developers, innovators, and industry experts. This network has been instrumental in sharing best practices, troubleshooting challenges, and keeping our project at the forefront of technological advancements.
RIDO
What is your project
RIDO is a programmable storage protocol based on Greenfield:
Redefine web3 data ownership through programmable data generation and access conditions
Supports dynamic data to decentralized storage and cross-application data interoperability, promoting the application to be fully-onchain
Native support for data trade and DataFI, providing a standardized and credible data market for AI models
RIDO will be the first workable DataFi protocol in web3
Why did you pick Greenfield?
To have a cross-chain bridge between Greenfield native and BNB Chain and promote Rido with the help of BNB Chain's large user base and ecosystem
Greenfield has high performance and low gas fee
Greenfield has various access control method which is useful for storing users' personal data from web2
What the main benefit of Greenfield has been so far
Greenfield has a perfect access control system and the native bridge linking to BNB Chain.
Your plans for the future and building on Greenfield
The storage of the data is built on Greenfield, and the RIDO token, ownership, access control token, and DataFi logic are built on BNB Chain. We will omport user personal data in web2 through EAS and store them into Greenfield and plan to become the first DataFi project in the BNB ecosystem.
How Greenfield is taking your project to new heights
It is ensuring the availability and security of Rido DA layer data and supporting the development and marketing of Rido. Finally, it is co-building the decentralized data market and DataFI with Rido
Any other sharing
With the development of AI, the data market will be the next trillion-dollar market. Rido will help build the decentralized data trade and DataFI market, improve the activity of applications, and support users to get more data ownership and revenue. Rido will help attract millions of new users into the BNB Chain ecosystem.
Conclusion
The Glacier, NFPrompt, Edu3Labs, and RIDO integrations with BNB Greenfield showcase its transformative potential for a diverse range of industries. Accelerating the Web3 ecosystem through transparency, data ownership, and seamless integration, BNB Greenfield is supporting the Web3 community to truly hold the reins of their data ownership.
---