Introduction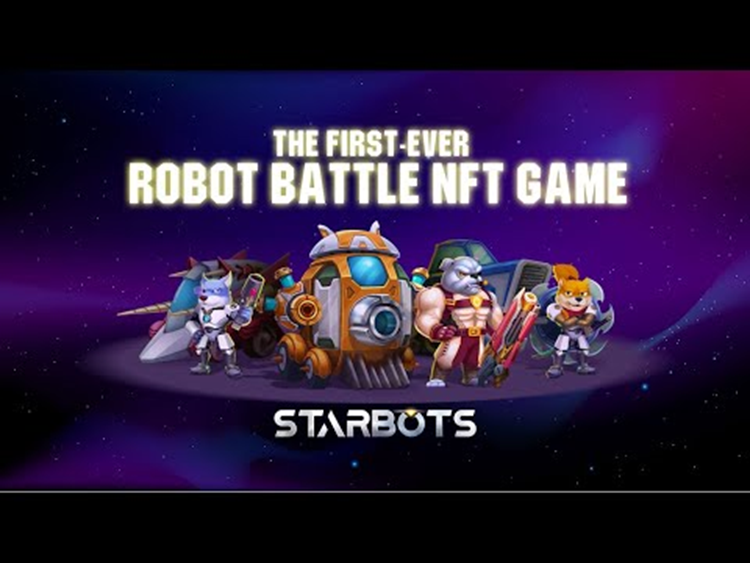 Built on Solana, Starbots basically is a BattleBots-inspired universe and the first-ever robot battle NFT game where players create fantasy robots to fight against other competitors, then collect NFT items and GEAR tokens.
Players can use parts of robot like body, weapon, gadget, wheel, with different levels and then have a stardog as a character to drive it. There're also loot boxes for parts and gadgets.
Genres are Action, Strategy, Play-to-Earn. The game has its own story line, and mainly PvP, PvE mode. Players can also compete in tournaments for greater prizes. The game is highly based on strategies which will determine the outcome of the battle. Build and customize weapons and robots, level up and let the automation do the rest.
Tokenomics
BOT token is a governance token with total supply of 200,000,000 BOT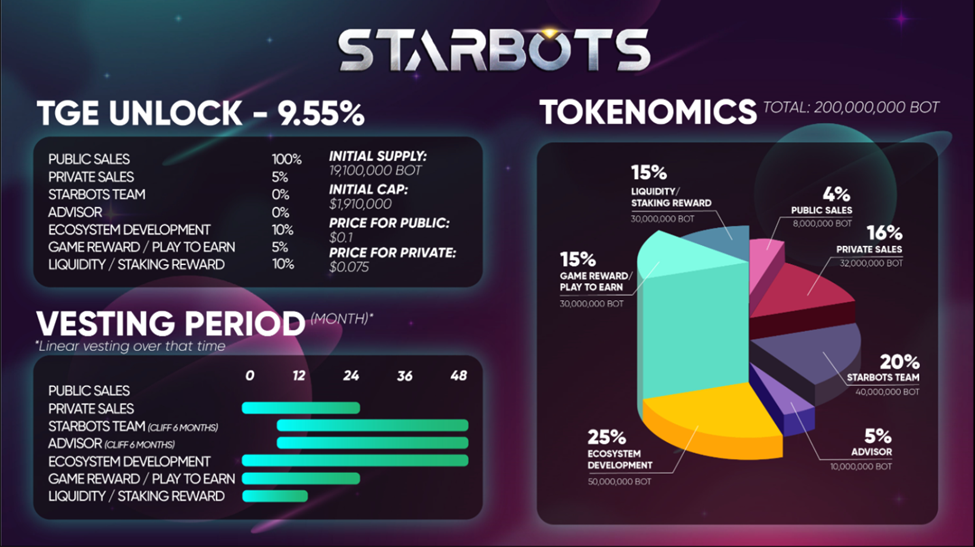 GEAR token is SPL token on Solana blockchain which will be the main reward in-game token for Starbots.
User can earn GEAR when performing the following activities:
Compete in various PvP mode/Starbots Championship
Rewards from PvE mode (Tournament, event and campaign)
Reward for users who perform activities that help to grow ecosystem (daily quest, mission)
IDO information
11 JAN — 12 JAN 2022 (on Impossible Finance)
IDO price $ 0.100
Hard Cap $ 475,000
Lock-up 100% distributed on Day 1
Tokens For Sale 4,750,000
For the Starbots IDO, there are 2–3 sale cards to cater to different users:
Standard Sale: Stake limit — Users can stake a maximum of 10,000 IDIA tokens at any one time as consideration for allocation. The maximum BOT a user is able to purchase is capped at the user's allocation which is calculated after the staking period.
Unlimited Sale: No stake limit — Users can stake any amount of IDIA at any time as consideration for allocation. The maximum BOT a user is able to purchase is capped at the user's allocation which is calculated after the staking period.
Whitelist Allocation Sales: Users can participate in the upcoming whitelist marketing campaigns and complete community-oriented tasks to stand a chance and win guaranteed BOT allocation. Stay tuned to the Impossible Finance social media channels and for more details!
The token sale for BOT will follow the standard Impossible Launchpad staking subscription format whereby users' stake Weight is calculated based on the proportional amount of IDIA they stake and the duration they stake relative to the total amount and staking duration of the entire pool, with users' staked IDIA balances recorded at the start of the stake period.
This design is currently selected to ensure that all users can have a proportionate access into the BOT token depending on which pool they enter into. As the launchpad develops the Impossible launchpad product offering, the Impossible Finance will enable other fair, smart allocation mechanisms which will further decentralize token distribution.
Roadmap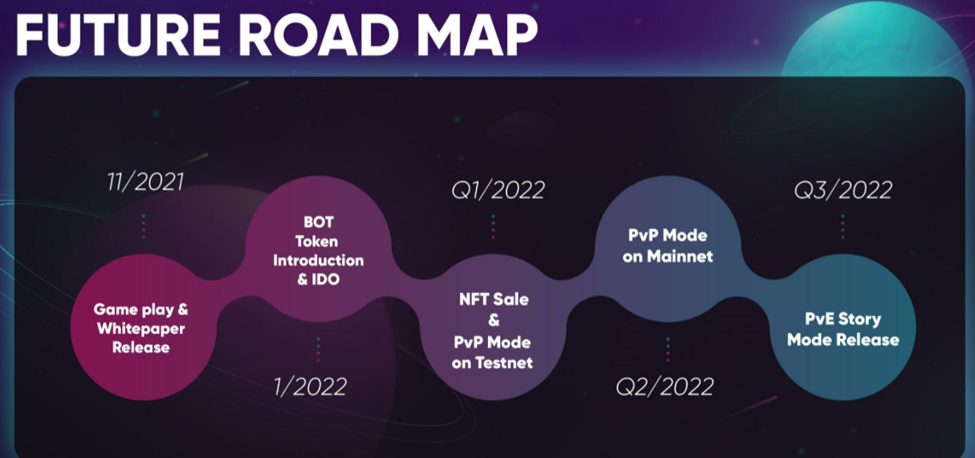 Team members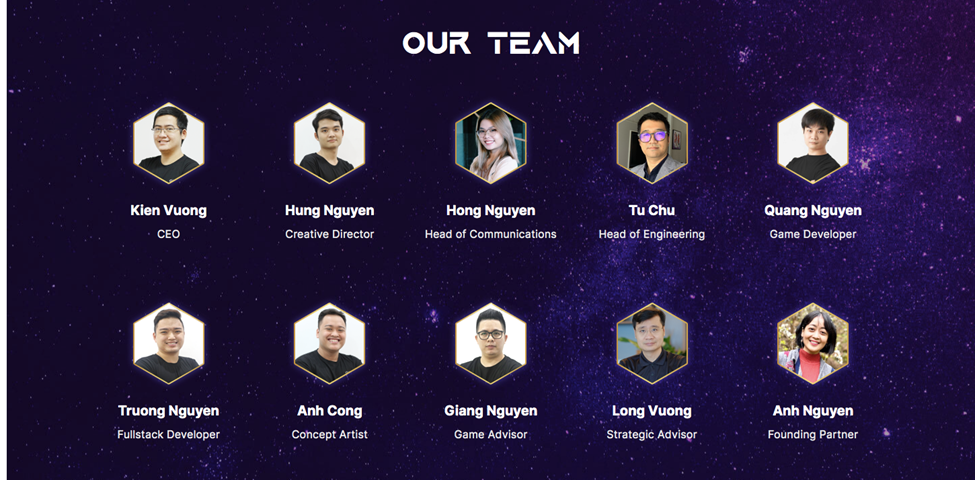 Starbots is developed by Starbots Studio, a group of young, enthusiastic and passionate game makers. Currently with more than 20 employees.
Starbots team is a combination of master game creators & blokchain experts. While Starbots' artists & game developers all come from Gamee Studio with products ranked in the Top 10 of U.S Google Play Store, the blockchain integration coders & marketing team owns years of experience in the crypto space.
With years of experience in the gaming world, along with the help of the pioneers in the blockchain space, we are positive on the outlook of Starbots.
Investors
The private round has concluded in Dec 13, 2021 with $2,400,000 raised. The sale price was $0.075 and the sold amount was 32,000,000.  Lock-up $9.5% TGE, 24 month vesting. 8 investors among whom are popular in financing in gamefi like Good Games Guild, Kyros, and ExNetwork.