Introduction

Merit Circle is a DAO platform where people can focus on developing play to earn economy. Pepple will have opportunities to earn through play for people who want to help build the metaverse. This is done through the Merit Circle platform we are building, which hosts scholarship opportunities, educational opportunities and everything a person could need on their journey towards being an earning gamer in the metaverse.
The Merit Circle DAO consists of a mainDAO governing over numerous subDAOs that function as tentacles all across the Play-to-Earn industry. The protocol is maintained by various independent parties and individuals through governance powered by the MC token holders.
It's basically a platform connecting gamers, DAO contributors, managers with anything related to gaming and play to earn. Currently, it's working with Axie and Vulcan Forged.
Tokenomics
Total supply: 1,000,000,000 $MC
Contract: 0x949D48EcA67b17269629c7194F4b727d4Ef9E5d6
Token type: ERC 20
Functions:
Governance and voting
Staking
Participation in NFT sale and gaming rewards
Distribution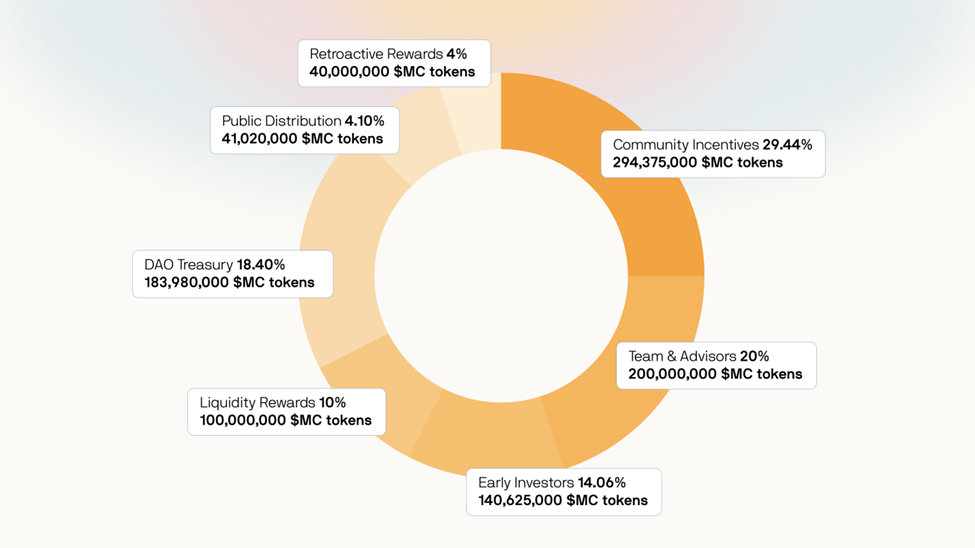 Community Incentives – through various means we want to reward our community for their efforts in contributing to our DAO's succes – 29.44% (294,375,000 MC tokens)
Team & Advisors – rewarding the core team members and advisors for their full-time effort to our DAO's succes 20% (200,000,000 MC tokens)
DAO Treasury – a position in the entire DAO's treasury will consist of MC tokens – 18.40% (183,980,000 MC tokens)
Early Investors – the contributors that participated in our seed round – 14.06% (140,625,000 MC tokens)
Liquidity Rewards – incentives for providing liquidity on decentralized exchanges – 10% (100,000,000 MC tokens)
Public distribution – tokens set aside for the public round – 4.10% (41,020,000 MC tokens)
Retroactive rewards – reward for the earliest backers in the Axie420 period – 4% (40,000,000 MC tokens)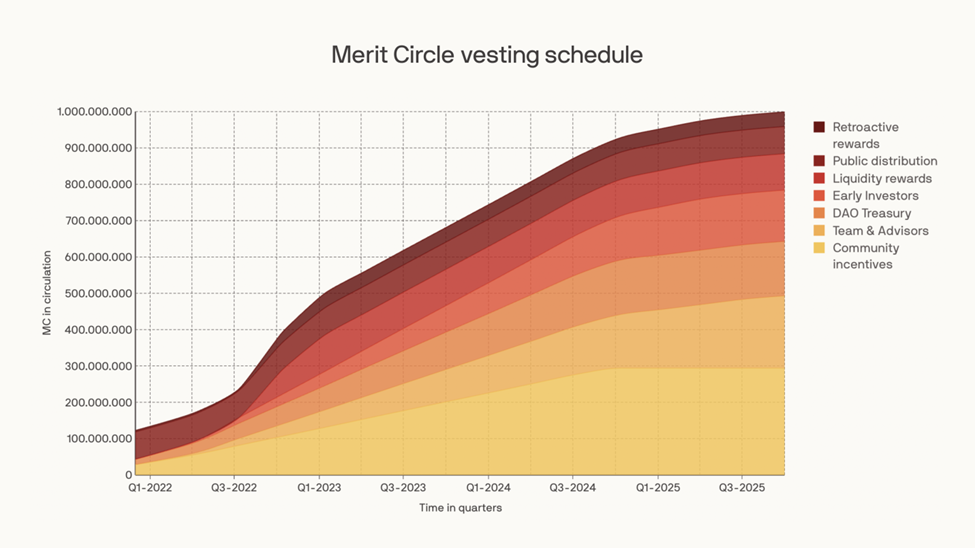 Community Incentives — No cliff period, 36 months vesting — tokens can only be allocated based on approved governance proposals
Team & Advisors — 12 months cliff period followed by 42 months vesting
DAO Treasury — No cliff period, 36 months vesting — tokens can only be allocated based on approved governance proposals
Early Investors — 6 months cliff period followed by 36 months vesting
Liquidity Rewards — 12 months cliff period after claiming (refer to information below)
Public Distribution — No vesting
Retroactive Rewards — 10% distribution after TGE, remaining part 18 months vesting
IDO IEO information
Past IDOs
IDO (Oxbull Launchpad): Oct 12, 2021 – Oct 12, 2021
IDO (Copper Launch): Nov 02, 2021 – Nov 05, 2021
Current IEO on Binance
By staking BUSD, MC, BNB for a month to earn $MC token
IEO (Binance Launchpool): Dec 03, 2021 – Jan 31, 2022
Total tokens for sale: 12,500,000 MC
Stake BNB: 8,750,000 MC in rewards
Stake MC: 2,500,000 MC in rewards
Stake BUSD:  1,250,000 MC in rewards
Raised: 4,500,000 USD
Roadmap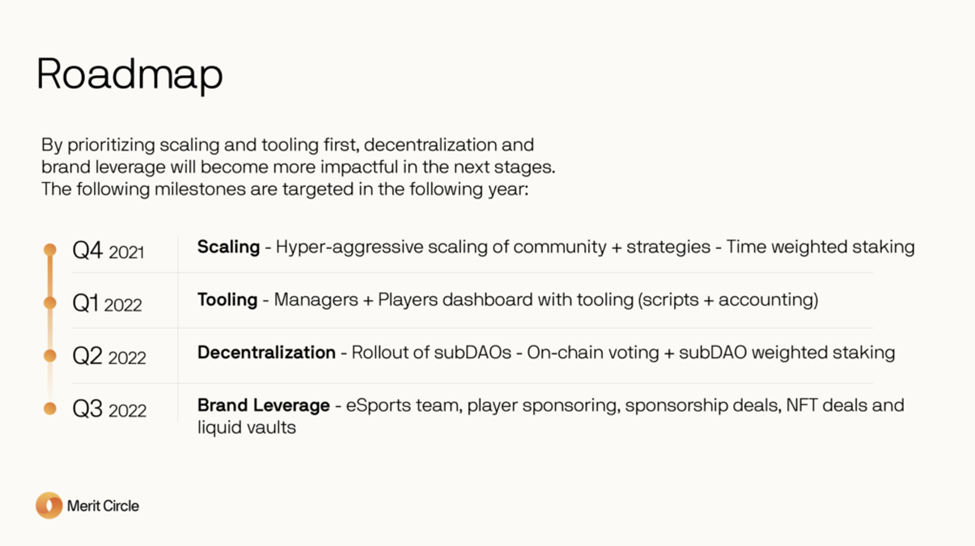 Team members
Thale – Head of Operations
Freek – Growth Manager
Archie – Design & Front-end
Mick – Solidity Developer
Professor LP – Head of Community
Godwin – Manager Africa
Paok – Discord Manager
Berry Buter – Accountant
Investors
Total 8 investors with $4.6M raised in seed round