As we get into more with gamefi and play to earn concept, the demands for variety of games are increasing and some people like action, more hands on strategies game, others like low key farm, pets raising kind of games. But there is hardly any sports themed game on the market. In 2021, this is an explosion of many types of game, but particularly play to earn sports games is rare. One is intend to take the place which is Metasoccer.
What is Metasoccer?

MetaSoccer is an entire soccer universe developed on the blockchain. This is the starting point of a new paradigm in the sports ecosystem, decentralized and of which you can actively participate in multiple ways. This universe is a combination of 3 multibillion dollar markets with global impact: video games, soccer and sports betting, all merged by blockchain and NFT technologies, another multibillion dollar market that just started to take off.
MetaSoccer is also part of a new generation of video games in which the user can earn cryptocurrency in game tradable assets for their contributions to the ecosystem.
The MetaSoccer universe is designed with the community at its core:
The MetaSoccer team will be responsible for developing and distributing the initial assets, but once published, the community will generate new assets which users will use to participate in the ecosystem.
The MetaSoccer team will also be responsible for developing the functionalities that enable the universe to perform well and entertain users. All assets in the universe are NFTs, allowing other developers to use these assets to create new gaming experiences or develop tools that help managers better manage their teams.
Believing in the growth of video games market, the team has decided to recreate parallel universes that allow users to interact online with other users around the world. Also integrating blockchain tech and making it public, Metasoccer aims to promote the benefits of the tech for its community such as ownership, digital exchange, income generation, and transparency.
Tokenomics
MetaSoccer Universe ($MSU) is an ERC-20 token used to perform the main actions within the MetaSoccer universe: assets purchases/sales, minting new assets… It will be accompanied by a secondary token, which is used to perform minor actions in the game.
Additionally, the $MSU holders will be able to participate in key governance votes, such as the development roadmap and how much funds from the DAO the developers can use each month. To create a sustainable metaverse which allows a long term users adoption, we have decided to implement a Token Bonding Curve ($TBC) that has control over the token supply, and continuously mints and burns tokens alongside a mathematical function.
Initially, a supply of 360M $MSU will be minted with the purpose of financing the early development & expansion of the game, and rewarding the initial batch of users & the team. 18M out of the 360M will be presold to add liquidity to the TBC and the DAO. After this presale we will open the bonding curve for trading.
Total Supply at TBC opening: 360,000,000 MSU
Initial TBC Supply: 18,000,000 MSU
Private Sale Price: $0.025 (DAI)
Public Sale Price (Token Bonding Curve presale): $0.03 (DAI)
Listing Price (Token Bonding Curve opening): $0.035 (DAI)
in-game Token – $TBV
Token Name: Token Bonding Curve
Ticker: TBV
Total Supply: Unlimited
TBV is created as for the purpose to control inflation and deflation. If the MSU is too high, new players wouldn't want to invest into the game, on the other hand, if the price drops, the value of the rewards will drop proportionally, potentially leading to a self-destructing loop where users want to exit the metaverse to look for more profitable games. In short, a fixed supply token isn't suited to build a dynamic and sustainable metaverse. The TBC adapts the MSU supply to the metaverse demand expansions and contractions by minting and burning tokens respectively. By doing so on-chain, it also eliminates the uncertainty related to manually control dynamic supply tokens and allows users to have healthy price expectations for a given token demand. The TBC offers a solution to the problems discussed initially, and it also supports our goals of continuous adoption and long term sustainability.
Token allocation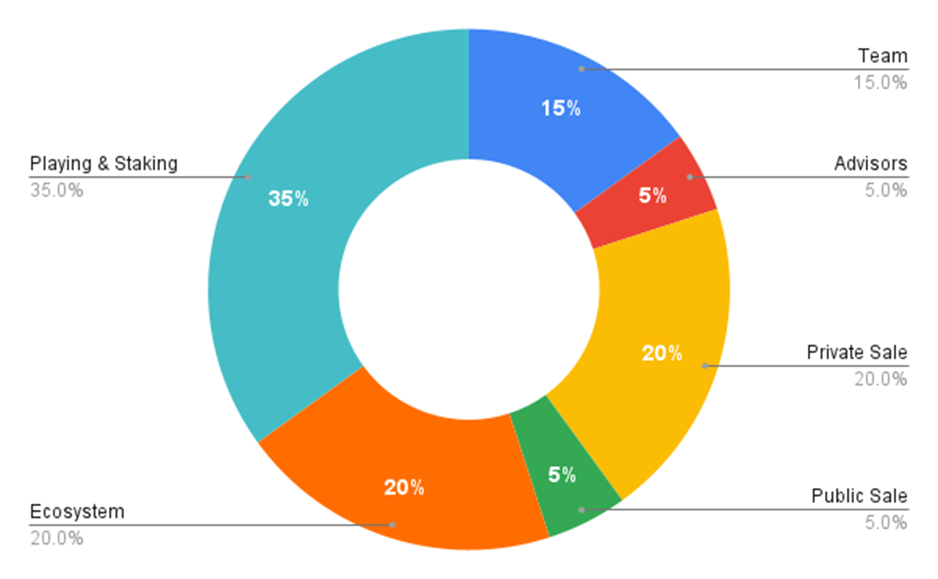 Playing and staking: 35%
Ecosystem: 20%
Public sale: 5%
Private sale: 20%
Team: 15%
Advisors: 5%
Token distribution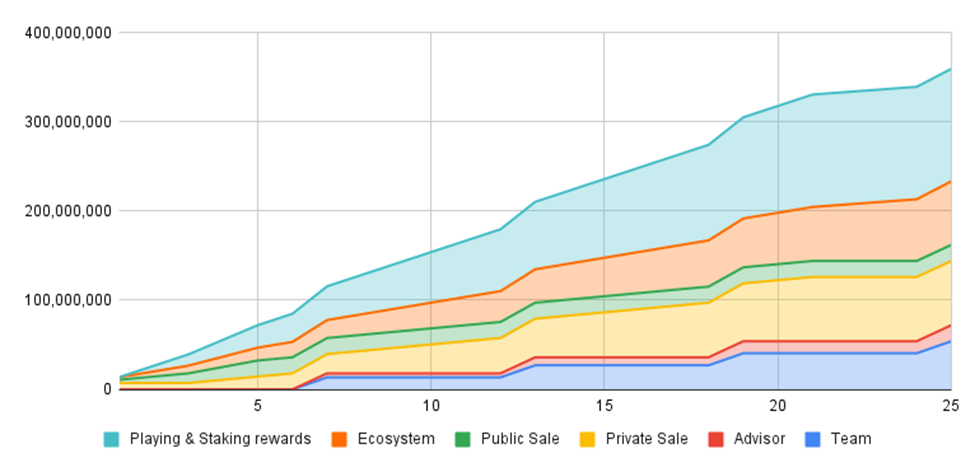 Playing and staking rewards will be distributed to incentivize players to participate in the game through competitions and other Play-to-Earn and activities with total of 126,000,000 MSU. 0% unlocked at the TGE, then 5% each month (21 months / 20 transfers)
Ecosystem allocation will have tokens used for growing MetaSoccer's community, marketing events, business development, public awareness and other community building and marketing activities. This allocation also will be used for the game development and operational expenses. Total supply of 72,000,000 MSU and vesting infor 4% unlocked at the TGE, then 4% each month (25 months / 24 transfers).
Private sale amount is 18,000,000 MSU and 20% unlocked at the TGE, then 20% each month (5 months / 4 transfers).
54,000,000 MSU will be used for MetaSoccer's strategic partners, advisors, team and shareholders. With 0% unlocked at the TGE, then 25% each 6 months (25 months / 4 transfers).
18,000,000 MSU for MetaSoccer's strategic partners, advisors, team and shareholders and vesting 0% unlocked at the TGE, then 25% every 6 months (25 months / 4 transfers).
Immediately following the conclusion of the Private Sale, they will create a transaction to conclude the presale and open the bonding curve for trading. Full details coming soon.
About the gameplay
Users can earn MSU:
Winning matches (simulated according to statistics) against other users in career mode, or against AI in friendly mode.
Finishing the season in the top positions of the league or cup in career mode
Selling players who have been discovered by your sports scouts
Borrowing players to other teams for a limited period of time
Charging commissions on the sale of future players
Selling sports scouts who have been mentored by members of your team
Getting sponsorship contracts as your team gains popularity
Betting on a winning team
Renting your stadium to other teams
Selling tickets to fans attending the stadium
Evolving assets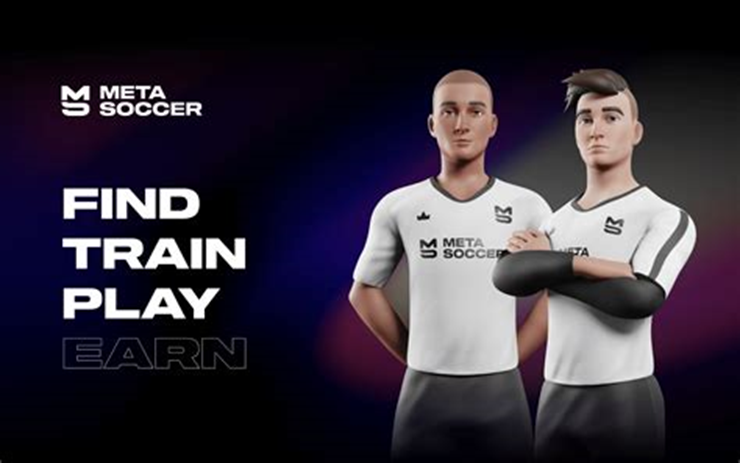 All MetaSoccer assets evolve during the course of the game. As you use them, their abilities will increase until they reach their full potential. In addition, just as in real life, the characters in the game will age in the club and retire. 1 year in MetaSoccer is equivalent to 1 month in real life, so the lifespan of a game character will be between 20 and 30 months in most cases. This mechanism is used to control the overpopulation of characters in the long term and provide the universe with more realism. Some asset types will be able to perform another role when their career in the previous role is terminated.
Special feature
As with real-world soccer, an Owner might send a Youth Scout in pursuit of talented young players to join their team. The new players will appear in their team immediately after they complete the activity, but their details will not be revealed for 5 days. Once the search is complete, users will be able to reveal their new players' identities. The cost of sending the scout is $MSU.
Users can mentor a new Youth Scout in your Club if they have two Youth Scouts. To rein in scout inflation in the MetaSoccer world, each scout will have the ability to teach up to five new scouts throughout their career. The new scout's characteristics will be inherited directly from their mentors.
Each Youth Scout has specific skills. Stats like age, skills, club, and expertise will affect the performance of it. So do players, and they have special skills or roles like defending, tackle, goal keeping,… Another type of in-game asset is stadium where people can lease for each match.
Role play
You can participate in the MetaSoccer universe with two different roles:
As an Owner, you'll be able to establish your own Club and handle the hiring/management of personnel, discovery of new players, player signings/sales, and finance management. Your main goal will be to equip the Club with the greatest possible talent to take it to the highest level.
As a Manager, you'll be in charge of managing the sports area. Your responsibility will be to maximize the potential of players through a proper training plan, prepare the appropriate strategy for each match, and keep players in the best shape and mood possible. You will be responsible for the Club's sporting achievements.
Betting and matches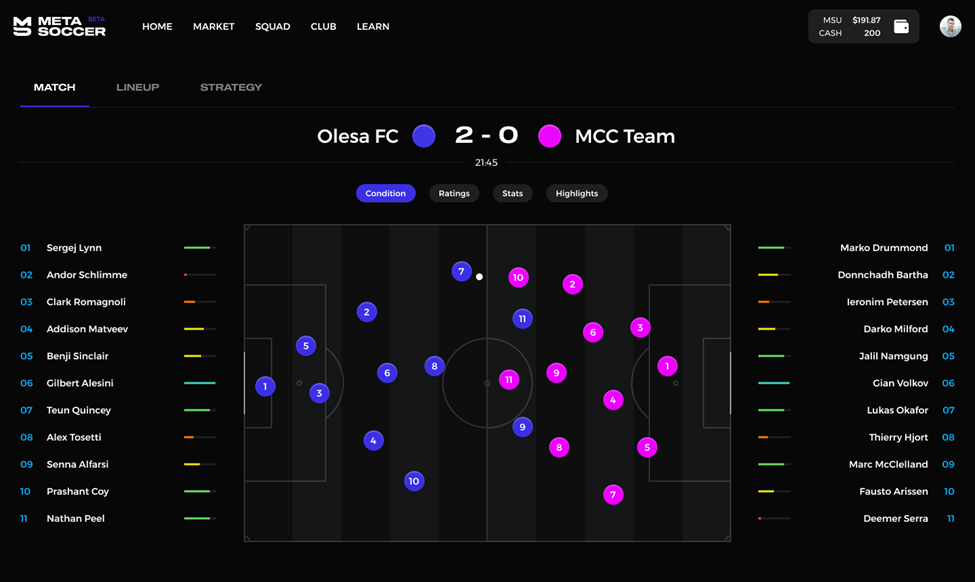 There are many factors that can determine the outcome of a match: the individual technique of a player, team morale, tiredness… Basically, the outcome of each match will depend on the direct confrontation between each coach's tactics, the technique of the players, and a percentage of luck.
As a Manager, before each match, you will have to decide on the initial line-up and strategy of the match. During the match, you will have real-time information on the main statistics of your players and the match. You can also make changes to tactics and player substitutions (up to 5). There are several types of match: PvE friendly match, Career mode PvP and both can receive compensation but PvE is lesser rewards and lower risks. PvP mode is more complicated with league, divisions, and other like promotion and downgrades.
Bets can be placed on the upper divisions of the Continental Leagues. Users will have at their disposal a panel where they can watch upcoming matches and choose where to bet. Win-draw- win betting is consisting solely of predicting the winner of a match. The 1) corresponds to the local winner, X) the draw and 2) away winner. The betting coefficients will be fully automated by an algorithm. Payments will also be automatic.
Further expansion
For higher divisions, teams could generate daily passive income for sponsorships and merchandising. The amount that would be paid would be directly related to the popularity of the team. The popularity value could be calculated based on your recent results, the division in which you compete, competitions you have won and the players your team has. To counter the excessive generation of Token, Token could be burned by paying wages to players. The amount of salary per player would be related to their quality. This mechanic would only be active in the upper divisions.
MetaSoccer will provide 2D (and 3D in the future) real-time simulations of matches. We want to stream top divisional matches on streaming platforms like Twitch. This would create the opportunity to offer users real-time betting, generating a new revenue stream.
In addition to match simulations, alternative gameplays can be added where the user would take control of the game and players (EA Sports FIFA type). This type of gameplay would not necessarily be developed by us, but we could reach agreements with other video game studios to use the assets of the MetaSoccer universe. These new gameplays could be coupled with the Play to Earn mechanics of the universe.
Roadmap
Q3 2021
Conceptualization
Launch Whitepaper
Launch Tokenomics
Launch Website
Launch Telegram, Discord, Twitter
Start marketing and building social media presence
Q4 2021
$MSU private & TBC presale
Youth Scouts private presale
Youth Scouts public presale in native marketplace
Youth Scout gameplay: scouting mechanic
Assets purchase / sale
Q1-Q2 2022
Youth Scouts gameplay: knowledge improving
Players gameplay: training + skills improving
Players & scouts aging activation
Friendly matches (beta – match comments)
Player loans
Youth Scouts gameplay: mentoring new scouts
Career mode (beta – matches comments)
Q3-Q4 2022
Multi-team: multiple teams per club
Owner & Manager roles split
2D match simulation
Career mode tournaments
More, pending vote (DAO)
Investors and team

Based in Spain, Champion Games is well-known firm for game development. There are 4 people in the team and 2 of them are advisors with blockchain tech experience. 15 years of experience, they have excellent skills in blockchain, game design and business management. One of the advisors specializes in Self Sovereign Identity, Blockchain, Ethereum, Substrate, Rust, Polkadot, and Zero Knowledge Proof tech. Furthermore, MetaSoccer has famous YouTubers like Reven, Willy Rex, and Kmanus88 (who have millions of followers on social media) on its advisory board.
Despite being active for quite a short while, the blockchain-based NFT game project developed and led by Champion Games has achieved a lot. Most recently, the company made headlines for raising €2 million during its funding round led by Play Ventures, a Spanish investment fund. Other than Play Ventures, the company related with Ath21 and polygon, other supporters of MetaSoccer are DAO Maker, Defiance Capital, Kyros Ventures, Parafi Capital, and Metrix Capital, etc. DAO maker and Polygon are notable names in the list. As soon there will be whitelist public sale on Polygon.

Thoughts on Metasoccer
The game is developed based on the specific and current statistic of recent market trend. The research dug deeply into the already existed market of those who love football all over the world. Not just that, video games or esports are on the rise, especially with play-to-earn model boom. Extensive market research and understanding current trend, Metasoccer team has truly captured the wants and turned that into something real.
Quote from their market research in whitepaper:
"Around 3.5 billion people around the world watch soccer at least once a year. This represents 45% of the world's population. And not only is it the most popular sport in the world among fans, but it is also the most popular sport. FIFA estimates that 270 million people officially participate in the sport to some extent. While American soccer, baseball, cricket and Australian soccer are examples of popular sports, they are mainly played in specific locations. In contrast, soccer is played in over 200 countries"
And
"recent study reveals that at least 3.1 billion people out of the 8 billion inhabitants worldwide play video games, roughly 40% of the world's population. The Asian continent is at the forefront with 1.4 billion players. Europe ranks second with 668 million consumers. Followed by Latin America and North America with 383 and 261 million consumers respectively."
Why not combine both and make something out of it with more transparency, data security and income generation. That's what people want in this upcoming web3.0 era. Moreover, comprehending the needs for gambling, they also have betting system. The system provides anonymity, trust and security. It's strictly regulated to protect users and still brings the best of experience for them.
Not only that, looking at the tokenomics presentation, they clearly care about the community and spend more than half of token supply for ecosystem development and gaming rewards. That'd encourage new players to try out and keep investing in the game. Another special point is TBC token which is used to control inflation and balance game economy. Not just game development, the team has thought ahead a few steps to balance the game economy and protect users from market manipulation.
If you enthusiast in sports and videogames, as well as crypto world, why not check out Metasoccer. Players will find themselves "get addicted" to the game if they look into this for a moment.
Disclaimer: this's write's perspective, not financial advice.