Racing games is quite a fascinating genre with high speed nitro boost and crashing other cars. That's very exhilarating and addictive, worth mentioning the legendary Asphalt and Need for Speed which once were the bomb on the gaming market. However, if someone takes that idea, that genre and makes it a play-to-earn, NFT tradable assets and more, that is Racefi.
What is Racefi?
Built on Solana Network, Racefi is one of the latest gamefi trend that competing with games on ECR20 and BSC. RaceFi is the first AI/ML integrated car racing game on the Solana ecosystem. Within RaceFi's metaverse, players can earn while enjoying various game modes to satisfy the thirst for speed or make a profit by owning in-game property. Pure race or Battle race, PvP or PvE, racers or gamblers, the possibilities are endless. A play-to-earn car racing game where players and participants own parts of the game where players can earn by playing interacting within the game. All ownable parts of the game are in the form of verifiably owned NFTs.
The native platform currency of the game is the $RACEFI, used for all in-game activities. Players will be able to race for free about two times per day, depending on the race class. The native platform currency of the game is the $RACEFI, used for all in-game activities. Players will be able to race for free about two times per day, depending on the race class. Ownable parts of the game include: Cars, Gas Stations, Mechanic Shops, Racetrack Land, Analytics Center and Billboard Land.
Tokenomics
Name: RaceFi token
Symbol: $RACEFI
Use cases and purposes of Token:
medium of exchange between participants on RaceFi in a decentralised manner.
transferable representation of attributed governance and utility functions specified in the protocol/code of RaceFi, and which is designed to be used solely as an interoperable utility token thereon.
convenient and secure mode of payment and settlement between participants who interact within the ecosystem on RaceFi without any intermediaries such as centralised third party entity/institution/credit.
Holders of the token will have early access to the platform, air-drop NFT assets, first invitees to test new features.
IDO information

On Solrazr, Dec 8th, 2pm UTC
Tokens for Sale 2,800,000 RACEFI
Price $0.125000
Fundraising goal $350,000
Key Dates for the RaceFi IDO on SolRazr:
Application for whitelist registration for the IDO opens on November 23rd at 2 PM UTC Whitelist registration closes on November 27th at 2 PM UTC Lottery Winners are announced on November 30th at 2 PM UTC IDO opens on December 8th at 2 PM UTC IDO closes on December 9th at 2 PM UTC Token Distribution on TBA
In-game token
Name: RaceFi Coin Token
Type: SPL Token on Solana
Symbol: $RCOIN
EARNINGS:
Win a race in PureRace or Battle Race
Betting
Participating in races
Selling analysis and predictions
Referral programs
Reward programs
Bug reporting
UTILITIES:
Upgrade of cars
Renting properties
Buying gas
Bug reporting
Advertisements
Token allocation
Total supply: 200,000,000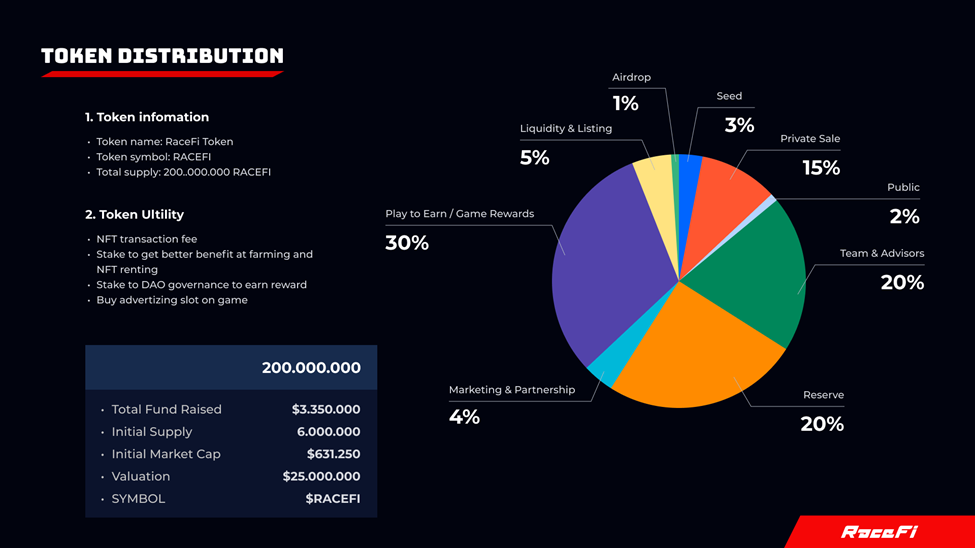 | | | |
| --- | --- | --- |
| Allocation | % | Amount |
| Funds | 20 | 40.000.000 |
| Game Rewards | 30 | 60.000.000 |
| Reserve | 20 | 40.000.000 |
| Marketing and Partnerships | 4 | 8.000.000 |
| Team and Advisor | 20 | 40.000.000 |
| Liquidity and Listing | 5 | 10.000.000 |
| Airdrop | 1 | 2.000.000 |
The token is a mean to be economic flow in and out. The token in-game is specifically used for rewards and encouraging more players to the game. Also, with the circulation of token economy in the marketplace by the purchasing and winning tokens from the game and then trade on the market. Eventually, the intention is for all game asset drops to be purchased in RACEFI tokens. This will happen after the token is relatively easy to acquire and sell on a decentralized exchange. Other incentives were designed to encourage players to participate in the ecosystem. For example, there is the Council of Racers, a DAO like system that allows holders of the token to influence decisions made about the game. This allows players to have a say in the future of the game and how it operates. The larger amount of tokens held, the larger amount of influence the player has, as one token equals one vote. The goal is to build a system that leads to a steady increase in new players coming into the game (Race Strategy) and incentivizes current players to continue playing the game and interacting in the ecosystem.
About the gameplay
Buy cars then buy gas then race. As simple as it is, the game aims to provide the closest car racing game like the traditional with some new features. The race is based on algorithm and it's a heavily strategy game. What players choose will determine the outcome and cars with higher XP and upgrades have an advantage, but players with the best Race Strategies have the ultimate advantage. The races happen in the background and are determined primarily by the racer's strategy, and secondarily by a weighted random algorithm.
Buy Gas
In order to enter a race, you must first buy enough gas. Gas is purchased in virtual gallons, with each gallon costing about $1 USD. All purchases and winnings in the game are paid in $RAFIRACEFI tokens, but costs are quoted in USD to maximize ease of understanding and to maintain consistent prices. All races are shown as "1 GAL" or "5 GAL" races. This means that you will need 1 gallon of gas to enter a "1 GAL" race.
Selecting a race
First make sure that you have a car selected (you will see it in the top navigation bar). To select a car go to your garage and choose the car you want to race. Races happen on select tracks by Car Class. Now that you have a car selected, you can choose to view upcoming races by all classes, by your car's eligible races, or by racetrack. Once you choose a race and click to enter it, you will enter your strategy.
Choose Strategy
At this point you will see the Race Conditions, important information that will inform and influence your strategy. Race Conditions include weather, track conditions, pit conditions, and fan sentiment. With this information you will choose your Race Strategy. Components of Race Strategy include: Race Posture, Engine Strategy, Tires to use, Racing Line, Breaking Technique, and Pit strategy. If your car does not have the upgraded tires you may have to choose tires that are not optimal for the Race Conditions. From here the race starts and happens in the background. Depending on how well you have matched a winning Race Strategy against the Race Conditions, and your level of XP and upgrades, determines whether or not you win the race. Over time racers will learn what strategies work best for what conditions. However, racers are cautioned to think that learning a few strategies will allow them to win every race. There are over 3,000 potential combinations of Race Conditions and over 1,000 potential combinations of Race Strategies. And the game will not stay static, as twists and turns will be added to the game over time.
Results
At the conclusion of the race, about five minutes (this is a virtual race after all), the top three winners in 1st, 2nd, and 3rd place are revealed. Also presented is a summary of what happened during the race. You might find that one of the racers blew a tire, crashed, or slid off the track. When entering a race, players are presented with the weather, track, and race conditions. With this in mind, players select from several options that make up their strategy to compete in the race. The race then happens in the background. Results of the race are determined primarily by how well each racer's strategy played out and by a weighted random algorithm. Cars with higher XP and upgrades have an advantage in the race.
More about fair entry
The team has taken seriously on ensuring the fairness of the game, since Racefi is algorithm-based and it determines the outcome on what strategies players choose. Also, they have created a Fair Entry Strategy to keep the game hot from the beginning. As earlier game got too hyped, token and assets become too expensive so new players cannot join the game. Therefore, the strategy is that games should be affordable to start playing no matter how long a game has been around. Always have a Rookie car available for a new player to buy at around $20 USD and also value car in all of drops at approximately the same prices. For example, an Aero Class car will remain the same cost from drop to drop. This does not apply to other types of ownable game assets. Everything about RACEFI our team build will give players a fair amount of opportunity.
In-game assets
cars
From time to time new cars will be released (or dropped). The first set of cars released is the Genesis Collection, consisting of 5000 cars. During the drops, a variety of cars in different Car Classes are released. Cars worthiness are decided by rarity and in-game attributes. Rarity is derived from the model and color of the car, its position and number in the release, and the collection it is in. Cars can be bought and sold, and when they are sold, any upgrades that were purchased are also sold with the car.
Garage
After racing, maintenance works are required. Total proceeds at all Garages will be pooled together and distributed evenly to all Garage owners! There are only 40 Garage the Genesis Collection of game assets.
Owing garages benefits:
Designated as a Land Baron in the game.
You will own the second rarest asset in the game.
Earn $RCOIN tokens commission.
Customize the name of your Garage
gas
Gas functions as a sort of entrance fee for races. To enter a race, Racers must stop at a gas station and buy fuel with $. Racers buy a number of gallons (GAL) of fuel and then enter races that consume a specified amount of GAL per race. There are only 20 Gas Stations in the Genesis Collection of game assets.
Benefits as follow:
Designated as a Gas Baron in the game.
You will own the rarest asset in the game.
Earn Store commission
Customize the name of your Gas Station.
Racetrack land and track list
Cars can only race on designated tracks by Car Class. Owners of race track land earn race fees each time a race happens. Each race track is divided into 100 land plots. The earnings for the race track are divided evenly among the land plot owners on a track-by-track basis. Owners will be designated as a Land Baron in the game, will have a 3-hour shortened of maintenance before continuing to race and earn RCOIN.
Billboard land
Advertising in car racing is a huge part of the sport. Billboard land is the way to advertise to racers during the game. As cars choose races to enter, they first need to "drive-by" a billboard (this will show them the ad). You can own one of these billboards by buying Billboard Land. Able to rent space and put ads as Land Baron.
Roadmap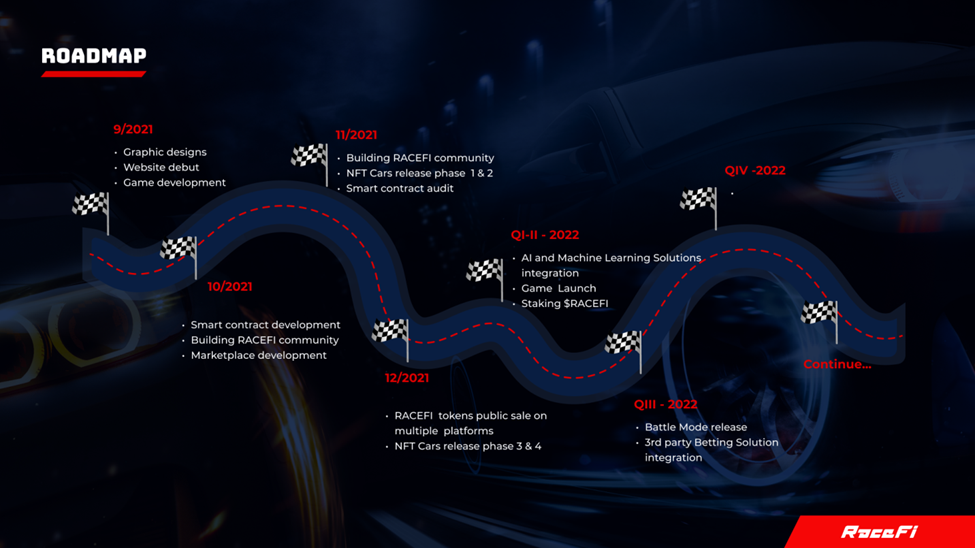 Currently, the activities in the roadmap starting from September 2021 have been properly implemented by the game publisher, such as Graphic design, Smart contract development, website launch, testnet gameplay launch is expected in December the game token will be open for sale IDO. In the first quarter of 2022, the game will be officially launched.
Who's behind the project?
Advisory board includes Eric Su – CEO of ExNetwork Capital, Kevin Abdulrahman – Strategic Advisor, Kyle Nguyen – CEO of VBC Ventures and Steven Lee – CEO of PolRare who are well-known blockchain entrepreneurs . RaceFi has closed their seed and private round funding with a striking amount of $2.8 million led by ExNetwork Capital, Genblock Capital, Solar Eco Fund, Shima Capital, Basics Capital and several other reputable venture capitalists.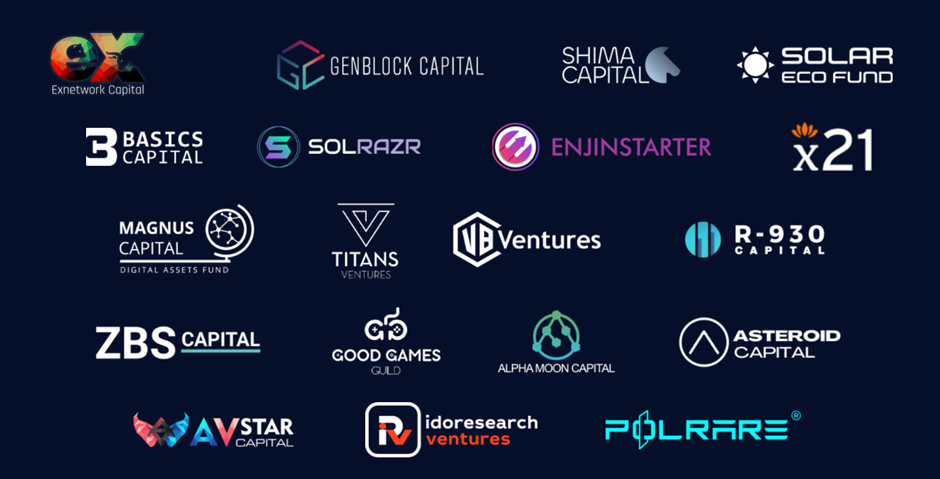 Investors are many popular and familiar faces who usually appear in whitepapers of big potential gamefi projects. Successfully raises $2.9M, the team announced the closing of the deal needed for next development which was from private and seed sales. The round was led by Exnetwork Capital, Genblock Capital, Solar Eco Fund, Shima Capital, Basics Capital, and x21 Digital. Additional investors include SolRazr, Enjinstarter, Magnus Capital, Titans Ventures, VBC Ventures, Master Ventures, Good Games Guild, PolRare, R-930 Capital, ZBS Capital, Asteroid Capital, Alpha Moon Capital, AVStar Capital, IDO Research Ventures, KiwiGROUP and KV Ventures. This deal has allowed the next step which is upcoming IDO on Solrazr.
Conclusion
The project is an upcoming bomb; it's the first car racing genre game on Solana chain. Not just that, Racefi also has betting system for those gambling enthusiasts, maintenance works for cars, and racetrack for lease functions. Such a wide range a feature integrated within the game which makes it interesting. The game allows players to collect a set of cars and trade on marketplace. Racefi is also a heavily strategy-based which requires players to come up with different tactics for each race. To use what kind of car for which kind of road, this definitely a fun exciting game for those who love car racing and tactics. The other factor that could be both positive and negative is algorithm-executed game concept. It's basically choosing cars, gas, and strategy and then let the game follow a set of particular rules to determine the outcome of that race. This can be interesting for those who want a less hands-on racing and wielding their excellent wit to win the game. Or this isn't for those who want a more hands-on driving, crashing and exhilarating car racing.
There will be soon IDO on Solarzr and selling NFT assets on its website so let's take a look into Racefi.