With the boom of NFT assets, there will be more services for users to trade, manage, and create those. Now, a platform will integrates all those functions within it and it's one of a few on Solana. UNQ club Social platform for NFT asset management
About UNQ club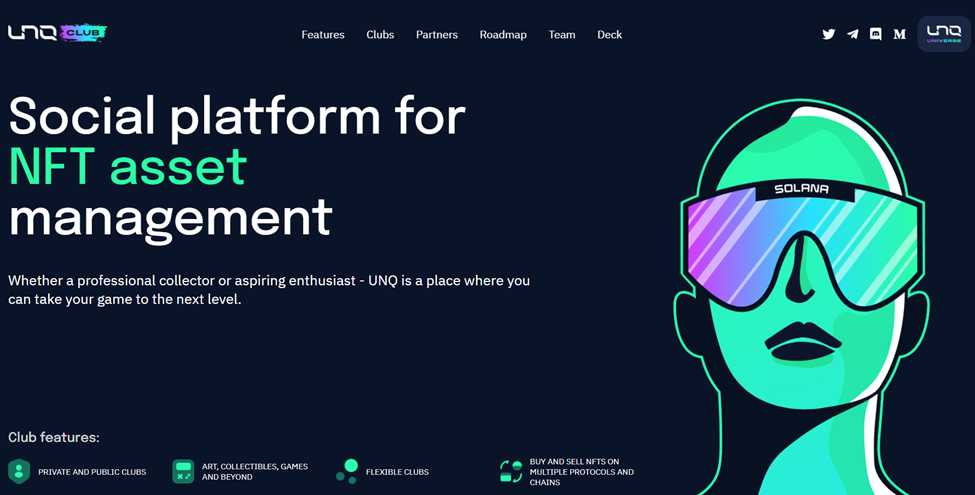 This is a platform where people can discover, collect, and trade NFTs as a team. The first NFT asset management platform providing tools for collectors and investors to power the NFT space. Running cross-chain, powered by Solana. Bringing more togetherness to the NFT space and create a club, act as a curator, raise funds to expand your collection, and build a community around it.
What is a club?
Clubs exist to make collecting easy. Not everyone has time or expertise to professionally collect different items, physical or digital. On the other hand, those who have usually are not too liquid (means they don't have free money on their hand at all times) which makes it hard for them to expand collections. Club is a place those two kinds of people come together to help each other.
In crypto-traditional terminology you can say that club is a DAO — and that's a technology perspective.
An expert (curator) can set up a club. As we have mentioned above, every club is essentially a DAO, and quite a specific one since it focused on ownership andefficiency. So, it can't always wait for everyone to vote on every single trade and so on, but at the same time it does need to have governance
elements to provide security to members and continuity to the club operations. How can we achieve that? By providing flexibility. We see a club as a set of rules and parameters that the curator can combine in different manners to create a structure that might be most efficient in a particular case. So, flexibility will allow creating efficient structures via experimenting with them. Eventually, the most successful models will be provided as templates. And, of course, we don't expect curators to be tech-savvy, so entire DAO (club) creation is provided in a no-code and eventually single-click manner.
Clubs can be private (a group of friends, or a game guild, with limited functionality and no social token) or public (actual business with fundraising options and an underlying legal structure).
Tokenomics
Team and Advisors – 20%
Seed round – 15%
Strategic round – 7.5%
Public – 1.5%
Marketing – 5%
Liquidity – 10%
Staking rewards – 25%
Treasury – 16%
Allocation and vesting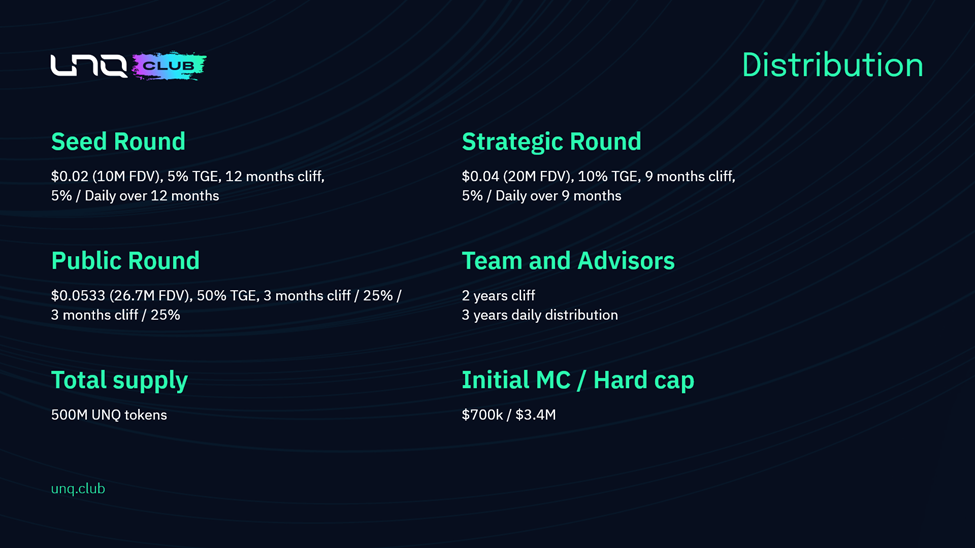 Seed round – $0.02 (10M FDV), 5% TGE, 12 months cliff, 5%/ Daily over 12 months
Strategic round – 0.04 (20m FDV), 10% TGE, 9 months cliff, 5%/ Daily over 9 months
Public round – 0.0533 (26.7 FDV), 50% TGE, 3 months cliff / 25% / 3 months cliff/ 25%
Team and Advisors – 2 years cliff, 3 years daily distribution
Total supply – 500 000 000 UNQ tokens
Initial Market cap – $700 000
Hard cap – $3 400 000
IDO on chainboost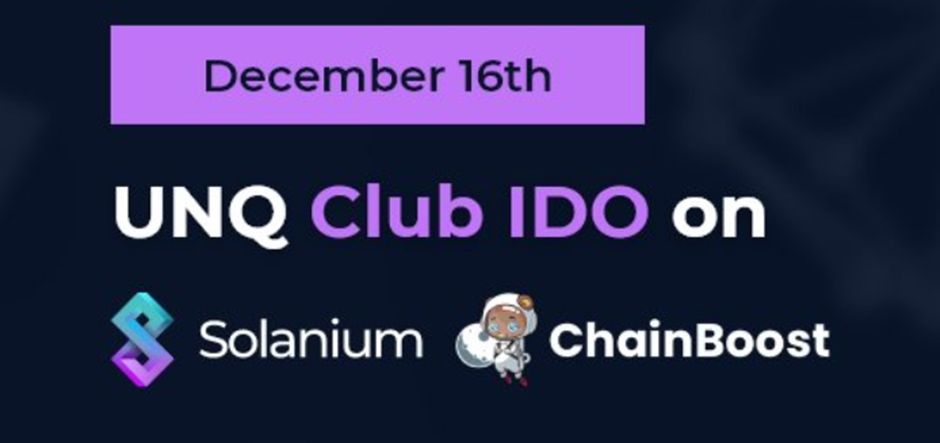 16 DEC — 17 DEC 2021
IDO price $ 0.0533
Hard Cap $ 150,000
Lock-up 50% TGE 3 months cliff – 25% 3 months cliff – 25%
Tokens For Sale 2,814,258
IDO on Solanium
16 DEC — 16 DEC 2021
IDO price $ 0.053
Hard Cap $ 350,000
Lock-up 50% TGE, 3m cliff/25%, 3m cliff/25%
Tokens For Sale 6,566,604
Features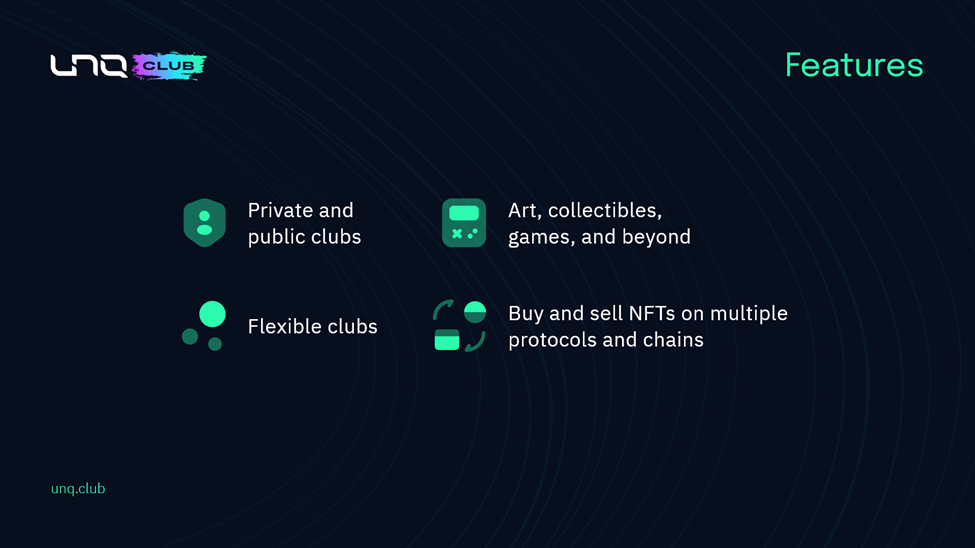 Ownership DAOs
NFTs are unique and have a big social component. That's why UNQ allows you to create Clubs – essentially, ownership DAOs that are led by an experience and dedicated collector, and community can bring additional liquidity, participation, and governance.
Flexible structure
Better asset management for you play to earn guild plus buying those expensive NFTs together with a team to de-risk your invetments. OR turning collecting into a business, or expanding existing gallery business into the digital world and be able to raise funds and get access to the world of NFTs
Cross-chain transactions
NFT market is growing, and more blockchains are introducing NFT support, which makes collector's life hard. Focusing on what you do best – buy and sell NFTs. That's why there is a developing solution that will allow people to transact with NFTs across chains from a single trustless Solana-based interface.
Token utility:
-UNQ is a single token utilized across the products.
-Transacting Universe NFTs with UNQ gives additional benefits
-UNQ is a platform governance token in Clubs
-Clubs can upgrade using UNQ
-Club tokens can be only traded against UNQ
-Rewards for content creators in Worlds are in UNQ
Club governance
User wants to have some understanding that he has provided the curator with funds and is entitled to part of the earnings should the NFTs that the curator bought with said funds sell for a bigger amount. That's why for every cent provided to the club, the user will receive a corresponding club token. It's similar to LP tokens in liquidity pools and represents two things — that the user is entitled to a part of the proceeds of the club (as defined by the curator) and that he can vote on changes in the club (for example, change of club fees). Also, they can sell those tokens on an internal DEX. That provides clubs with the liquidity of their entire collection and actual performance without any fractional NFTs.

What can a curator do?
The curator has two major tools which are treasury and vault. Treasury stores all "money" — UNQ (platform's native token), SOL, USDC, ETH, and so on. Whatever users provide as a result of direct fundraising, or yields from liquidity pools, are stored here, and those funds are used to purchase NFTs.
NFTs are stored in the vault and can be seen in the club's gallery. A curator can buy new NFTs using the treasury funds, or sell an NFT from the vault — in this case, money will move to treasury and be distributed between the treasury, curator, and club's token holders according to the schedule created by the curator.
Roadmap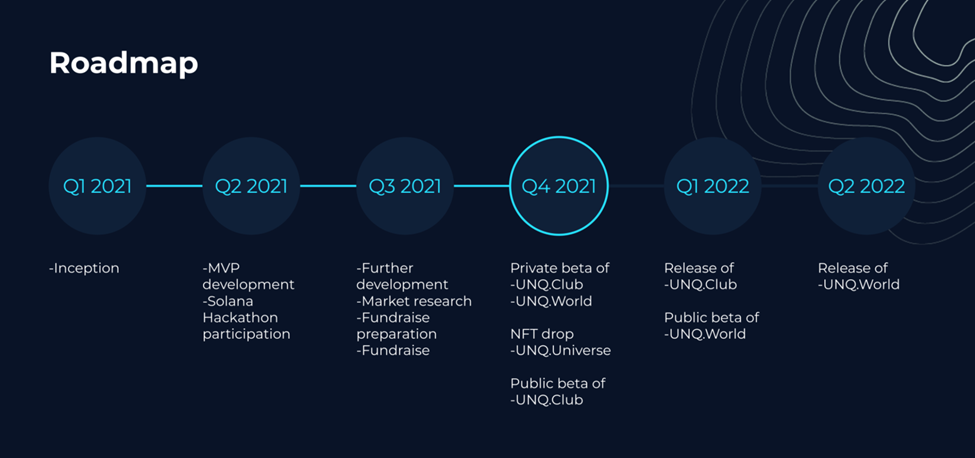 Currently, the team has finished the first stage of development and then focusing more on community. The foundation is stable and there will be opening for people to experience the platform, getting airdrop and testing beta. The team also invested in community and got more talented people to their team through the organization of hackathon competition. Next, people are expecting the full release of UNQ world.
Team and investors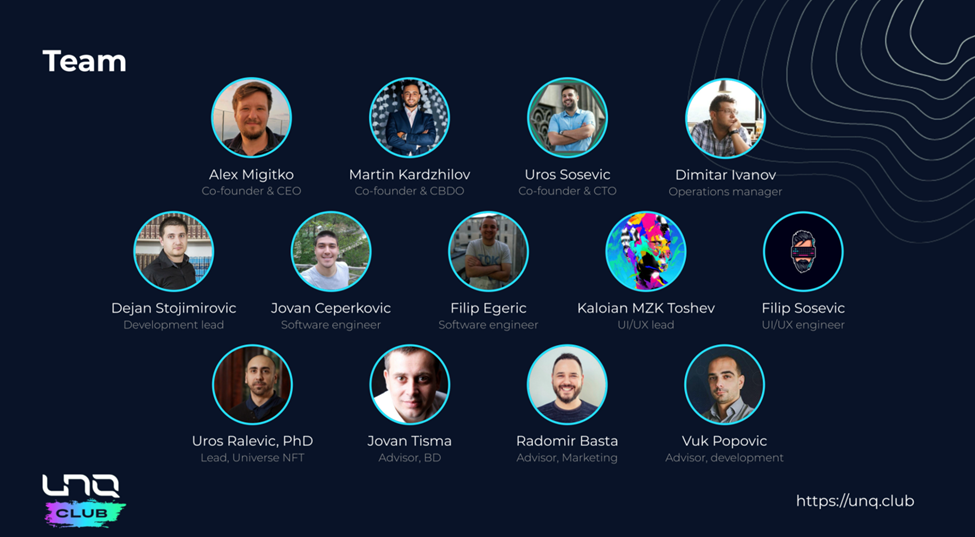 Co-founder and CEO – Alex Migitko : Entrepreneur, 17 years in IT, of which 10 years in game development, 5 years blockchain.
Co-founder and CTO – Uros Sosevic : Software engineer, 17 years of experience as a developer, architect and CTO;5 years of experience working with
Co-founder and BD – Martin Kardzhilov – Crypto-native, investor, marketing expert, working for 5 years exclusively in the crypto industry.
The founders themselves have years of experience in blockchain tech and gaming industry from design to technical programming.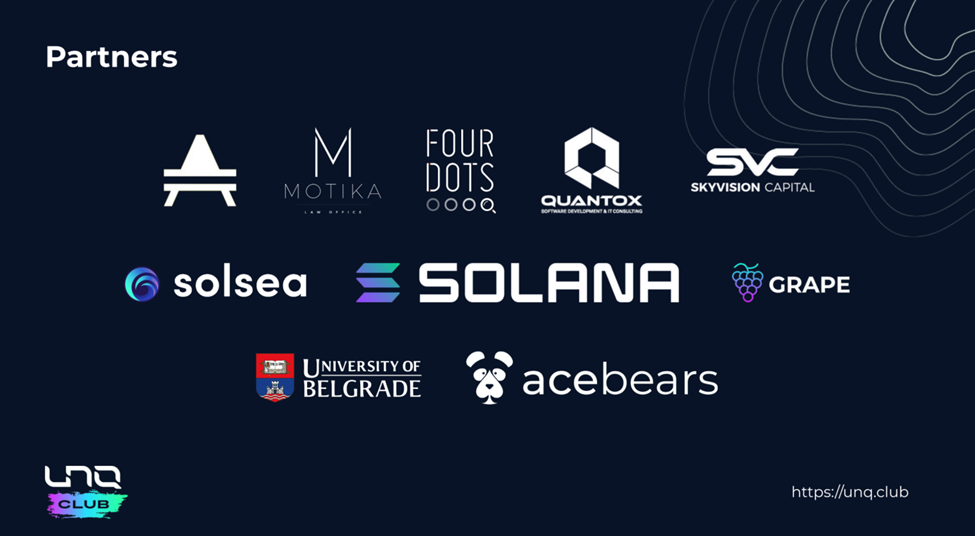 Built on Solana and it's the very first asset management platform on the network, it obviously received support from Solana themselves and Solana market of Solsea. Another special point is the backing of an university. The University of Belgrade surely has joined the private sale to take interests in the project. This signifies the adoption of NFT asset management in particular and interest in blockchain tech in general.