Introduction
Built on the Solana blockchain, Solice is designed to be a VR Metaverse.
An environment where users can play, build, own, socialize and monetize their virtual experiences across multiple platforms, that also support the player-centric ecosystem via a solicitous tokenomic structure.
Play-to-earn and collect various pets, gemstones, land, and other NFT assets.
Craft their assets, mini-games and build on top of their land plots.
able to collect tokens and other rare assets as rewards for completing quests, clearing dungeons, and reaching leaderboards.
Tokenomics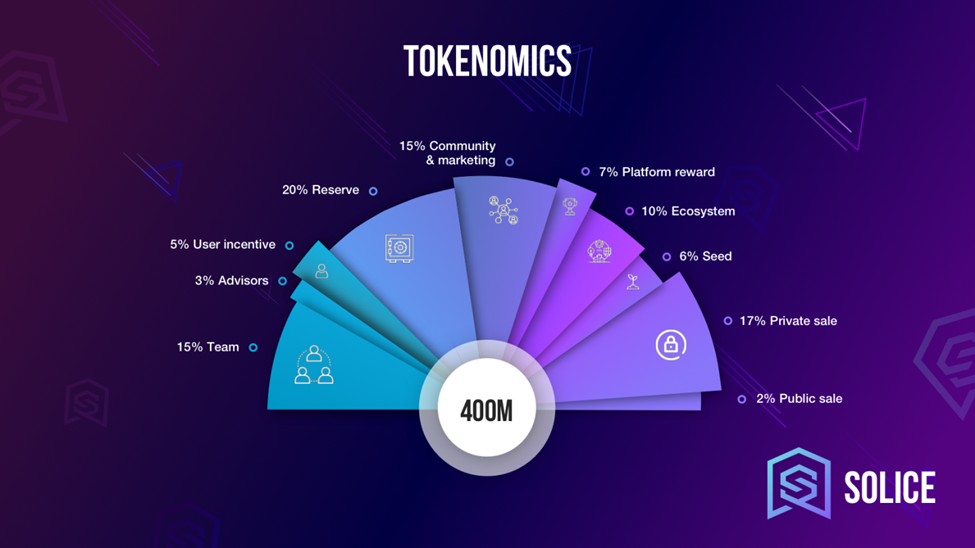 $SLC is the native token used for governance, purchase, trade assets.
Total supply: 400,000,000 SLC (FIXED)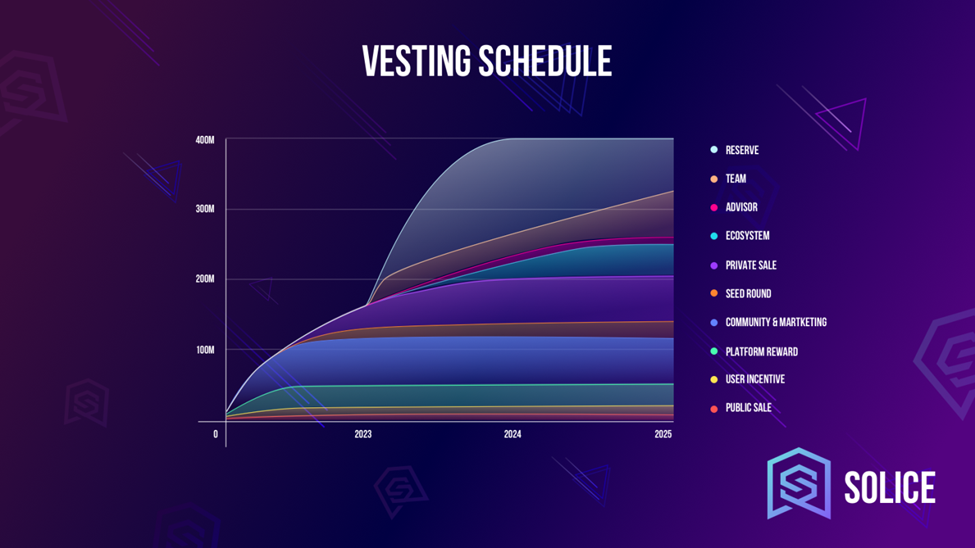 Reserve
2 years vesting with 1 year cliff
80,000,000
Team
1 year cliff then 2 years quarterly vesting
60,000,000
Advisor
1 year cliff then 2 years quarterly vesting
12,000,000
Ecosystem
6 months lock then 2 years linear vesting
40,000,000
Community & marketing
30% unlocked, 7 months vesting over last 70%
60,000,000
Private sale
18 months vesting, linear quarterly unlock
68,000,000
Seed round
18 months vesting, linear quarterly unlock
24,000,000
Platform reward
50% unlocked, 5 months linear vesting over last 50%
28,000,000
User incentive
40% unlocked, 6 months linear vesting over last 60%
20,000,000
Public sale
40% unlocked, 20% quarterly unlock
8,000,000
IDO information
On Gamefi
Dates not set
IDO price $ 0.07
Hard Cap $ 98,000
Lock-up 40% unlocked, 20% quarterly unlock
Tokens For Sale 1,400,000
On Red Kite
DATES NOT SET
IDO price $ 0.07
Hard Cap $ 98,000
Lock-up 40% unlocked, 20% quarterly unlock
Tokens For Sale 1,400,000
And IDO on Solanium coming 29 DEC — 3 JAN 2022
Not yet released any information about price, amount or vesting. But currently in preparation period for whitelisting for lottery round in Dec 27, 2021.
Roadmap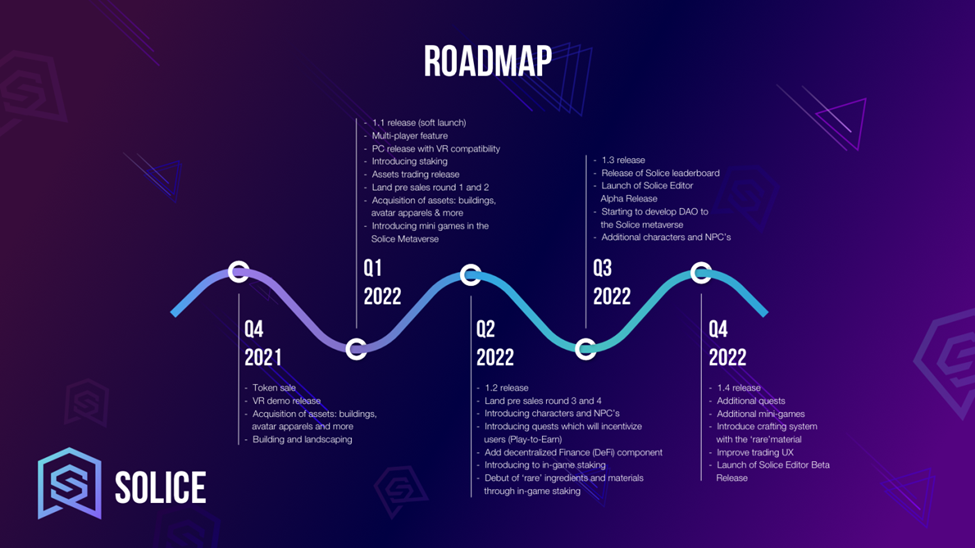 Team and investors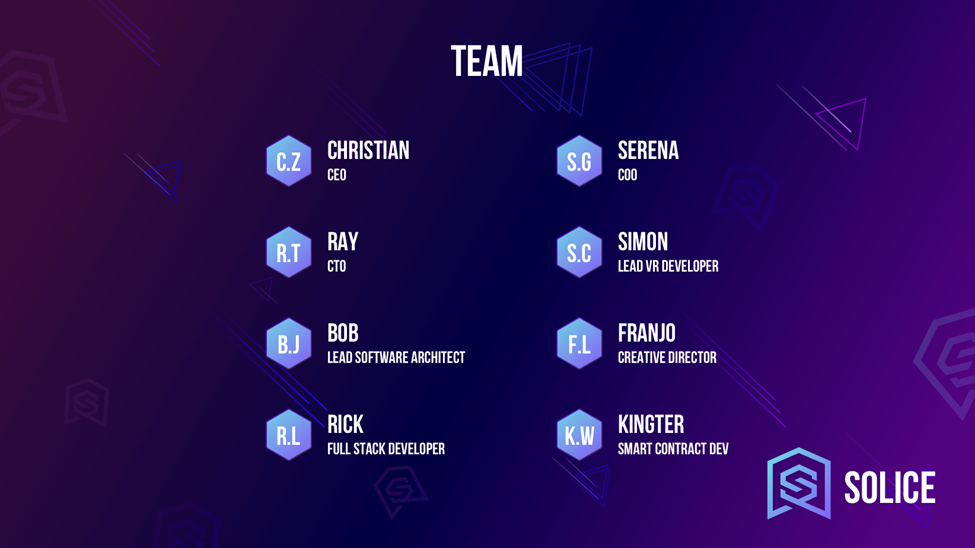 Christian – CEO
Christian has a crypto-native background getting involved since 2016. Christian's experience is from both the institutional as well as the retail investment side. Previous experiences from Fantom, LTO Network and Solanium has developed his expertise in various aspects. Solice is his vision and he is responsible for designing, mapping out the architectural feature requirements and building a specialist team to make Solice a successful metaverse.
Serena – COO
Serena is an experienced business strategist with entrepreneurial background. She has closed over $750M in business contracts, is a consultant to an angel investment fund, has founded an automotive resale group and is an active podcaster. She is also an investor and partner in the fund of the fifth biggest wallet of BoardApeYC NFT.
Ray – CTO
Ray has worked in front-end, back-end and embedded Linux systems and databases. He has over 10 years of IT experience and has improved performance and customer traffic by 10x for multiple projects. Ray holds a degree in Computer science and technology and his previous work experience includes software engineer lead at Nissan Motors.
Simon – Lead VR developer
Simon has extensive experience gained over 5 years in VR development. He is also the Co founder & COO of VSWORK, a VR development company based in China. VSWORK had finished series their A funding of 20 mil rmb (over $3 mil usd) and has clients including China mobile, Huawei, Alibaba and JD.com. Simon's experience also includes Alibaba's VR shopping project and JD.com's "Smart logistics VR course".
Kingter – Smart Contract developer
Kingter is a senior and experienced developer with over 20 years of working experience as a software developer and engineer in big corporations including IBM, Oracle, and VMWare. Holds Masters of Computer Science, previously from Tsinghua University and The Hong Kong Polytechnic University. He has been involved with his passion for blockchain and smart contract developments since 2018.
Franjo – Creative director
Franjo has over 5 years of experience in design and development and has been involved in the crypto space since 2016. He has build the design foundation for multiple growing IT startups involving software development, media and crypto. Franjo has a degree in multimedia design and has extensive work experience with managing development and design teams.
Bob – Lead software architect
Bob is a software engineer and system architect with over 15 years experience in creating meaningful experiences on the World Wide Web. He holds a degree in economics and business economics, with a specialization in infonomics. His unique skill-set allows him to bridge the gap between the technical and business world. Before working at Solice, Bob worked at the Institute of International Finance as a Blockchain Research Assistant.
Rick – Full stack developer
Rick is a full-stack software developer with over 5 years of experience developing web, mobile and back-end application. He has built and worked on multiple medium to large scale application for the legal banking sector, stock market and other startups. Rick loves working in passionate driven teams creating the best possible applications for users focusing on good UX and programming practices.
VSWORK
VSWORK is the technology provider for any VR / AR / XR-related content within the Solice Metaverse.
VSWORK was founded in 2018, the company was focusing on the creativity and innovation of display design and digital technology. The team currently consists of 40 full-time employees, providing users intelligent exhibition and display services, including virtual exhibition and display, creative design, interactive multimedia, digital film and television, system engineering utilizing the technology of AR & VR.
Backers