Introduction
Chumbi Valley is a forest mythical themed role-playing game. Built on BSC and Polygon chain, the game promises fast transaction and zero fees.
The game will be playable in app form, launching on PC, Mac, Android, and eventually iOS. All in-game items and creatures are blockchain based tokens and NFTs. Players will be immersed in a mystical forest and spend many relaxing hours raising creatures called Chumbi. Most excitingly, players and Chumbi can work together to be rewarded with cryptocurrency for farming, exploring, crafting, breeding, battling, and more.
Gameplay

Chumbi is a type of in-game characters and NFT assets. Chumbi is categorized by level, spells, happiness level. There are also body parts determining the worth of Chumbi. The breeding concept is influenced by Axie but here it's more like elements-based.
The battle is highly based on strategy of choosing what kind of Chumbi that outplayed your opponents with what kind of elements. A Chumbi's first attack move is based on its main type, and its second attack move is based on its coat type. This will result in some interesting battle strategies and team building meta. There will be 3 main types of gaming mode for nourishing Chumbi by crafting items, growing food,…: Forest home, Exploration, Farming. There are also 3 more modes like offline rewards for expedition, Fostering, Village.
Tokenomics
Holders can stake their token in game by using Shrine of Giving.
Token: $CHMB (in-game purchase)
Total supply: 30,000,000,000
Secondary token: $LSTS for rewards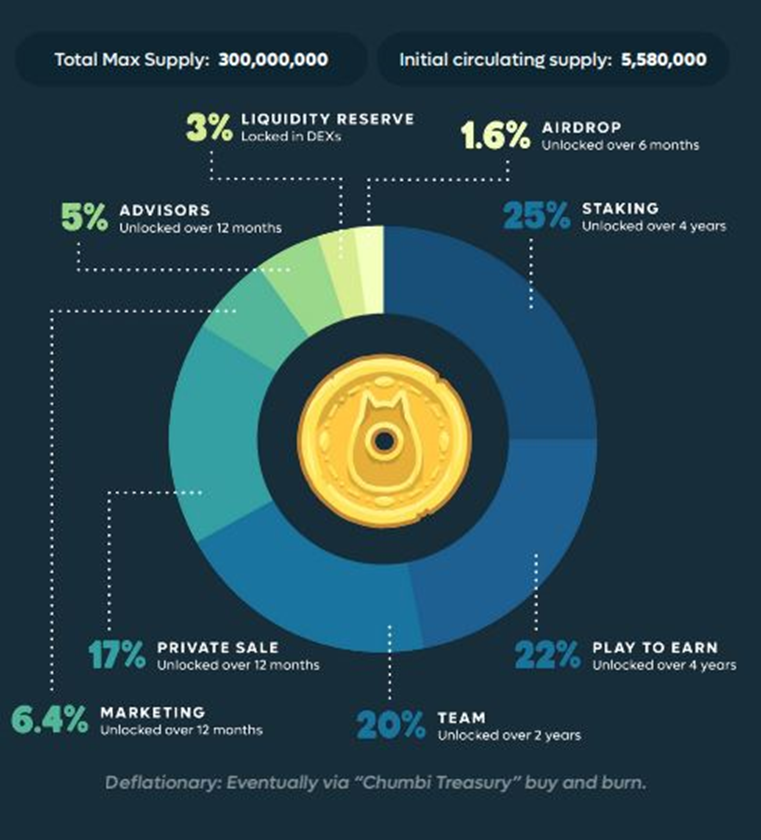 IDO infor
On Orion SolarFlare
December 15th 10am-10pm ET.
SolarFlare Allocation: $100,000
SolarFlare Tokens: 142,857,143 CHMB
IDO Starting Price: $0.0007 (private sale price)
IDO start price: $0.0007 (same as private sale)
Hold ORN (BEP 20) and Allocation is guaranteed.
Chumbi Valley will be holding an IEO starting December 14th. On December 17th, CHMB token will be listed on KuCoin and Pancakeswap.
NFT Presale
The first 4,096 Chumbi NFTs generated will become the rarest Chumbi to exist. These limited edition "Seed Chumbi" will feature exclusive body parts, low ID numbers, 'seed' meta tag, and more. Additionally, Seed Chumbi NFT owners will receive extra airdrop rewards and will have access to VIP events such as pre-launch breeding, beta gameplay, and much more.
Roadmap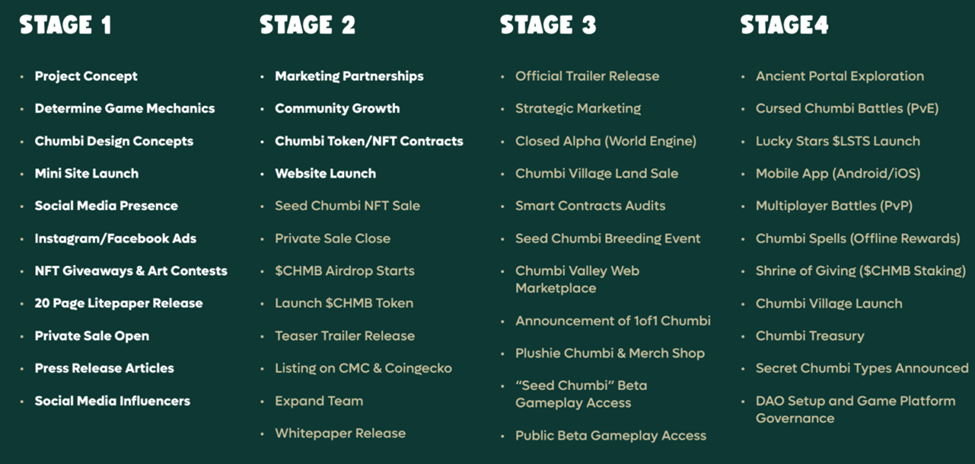 We can look forward for more airdrop and the expansion of the team since it has been stage 2. Currently, there hasn't been any information about the team, so by the look of it, after expanding they will reveal team members. The project is fresh so stage one is mostly promotion and website development. Also, there isn't information about partnerships or investors so the hope is only after the funding of IDO and IEO. They have done a good job in promotion, and receiving a lot of praise of the community, which says the hype of the project. Should definitely pay Chumbi Valley an attention, because of in the near future what might be ahead.