Emerging yourself in the mythical world full of magic, heroes and monsters and Lord of the Ring-ish theme but brighter and more colorful while gaining rewards along the way to trade and continue to live and battle for another day, there is one to fit the bill. Introducing Elpis Battle.
What's Elpis Battle about?
Elpis Battle is a tactical turn-based role-playing game built on Binance Smart Chain. The main objective is to get together a team to explore the world and fight to get rewards. Players also can get other items to improve their characters' strength like equipment, pets, and consumables. The distinction of Elpis Battle is that the support equipment and the characters in the game are designed as NFT created on ERC-721 and ERC-1155, making it easier and freer to exchange items between players.
The game has features such as Mining, Mill, Recruit, Train, Quest, Dungeon, Arena, Guild, etc so that players can participate and interact in many roles in a social world like Elpis.
The missions of the game are to not only creating an attractive game but also build Metaverse of the game to be first and foremost cornerstone. Moreover, by applying the first DAO governance model for the game industry to strictly bind stakeholders' benefits: the development team, the investors, the players, and the community. Any important decision will be voted to come up with the best option for the community's interest. Simultaneously, accumulated values of the ecosystem will be redistributed to all stakeholders.
Blockchain, cryptocurrency, and NFT provide a solution for the game industry. Game publishers could produce a game, but players are actual proprietors of it. A concept of play-to-earn is similar to an idea of proof-of-work. The work here comes from playing games and engaging in the game ecosystem, creating values for both players and the product itself. Therefore, the players deserve rewards for their contributions. We find that blockchain will disrupt the game industry in such a way as it did to the financial sector.
Game Features
Dungeon mode
7 maps equal to 7 continents to explore and each map is divided into stages. Players will battle enemies to gain rewards and advance to next scene or can go back to last stages.
Recruitment
You are required to hold $EBA, $MEG, and at least 2 available NFT Heroes to recruit a new hero. Each hero can reproduce for a maximum of 7 times. The Recruitment time is 48 hours. In this period, players are unable to use these 2 heroes for other activities.
Marketplace
The market is 0% fee until the game is officially released. Marketplace is a feature that allows users to trade, purchase, or exchange their in-game assets in the form of NFT-721 and NFT-1155.
Scholarship
Scholarship is a function that users can share their access and in-game assets usage with other players. Shared player can play and use items but cannot make any on-chain transaction. This feature is designed to integrate with gaming guilds, so they can take advantage of managing their in-game assets from an organizational scale.
Assets in game
Heroes will have different traits and stats for players to mix and match the best for their team. Body parts like eyes, eyebrows, mouth will have no effect on the stats but equipment like armors, hair, boots, tattoo, gloves will. Heroes also have its own strengths and weaknesses based on their rarity rate and races.
Skills also have stats to determine the capacity of heroes. Each Hero possesses a maximum of 5 skills, in which 4 skills are default and unchangeable. The fifth skill can be learned through Skill Books. Skills are also classified into 4 levels of rarity: Common, Rare, Epic, and Legendary. Strengths of these skills are ascending: Common, Rare, Epic, and Legendary. The higher the quality of hero is, the greater the probability of getting high-quality skills is.
To get heroes stronger, there is equipment, items also with stats.
About the gameplay
Battle
| | |
| --- | --- |
| Targeting | Heroes can only attack targets that are not blocked by allies and/ or enemy heroes (if any) in the melee row |
| Hero leader | During line-up formation, one hero in the range row will be promoted to be the leader The Leader has no change in stats, but he/she can attack enemy heroes that are not blocked by -allies in Melee row |
| Skill | Hero can perform basic attacks without consuming mana. Each hero has 4 default skills: Normal Attack, one Active Skill, and two Passive Skills. A hero can have Ultimate Skill after attaching Skill Book. Active Skill and Ultimate Skill consume 60-100 mana. Can increase mana when attacking and being attacked. |
There's also rage time, a special feature. X2 damage and decrease 10% HP of all units each round based on max HP, if receiving buff/debuff effects randomly after 10th round. This game is based on gacha system to get new heroes with 4 ranks: common, rare, super rare and epic. Each ticket is used for gacha and receives rewards in the corresponding Pool, depending on its level. People can earn tickets through events, trade, buy on marketplace, and exchanged using Lapis. Lapis is an unit for reward points that users can earn by staking $EBA, $EBA-$BNB LP, $EBA-$BUSD LP in the Gacha section. After getting heroes, players will need to evolve it. Hero can perform the Evolving at level 10, 20, 30, 40, 50,60 ,70 ,80, 90.
There are also many exciting features in-game like achievement to get more rewards, tavern, clan, arena, survival to train and compete with others and fusion.
Tokenomics
Elpis Battle has two tokens which are $EBA and $MEG to incentivize users to participate in activities of the ecosystem but still keep the economy stabilized
Token $MEG is a reward for players when participating in Elpis Battle as well as in-game currency
Token $EBA is used for decentralized governance.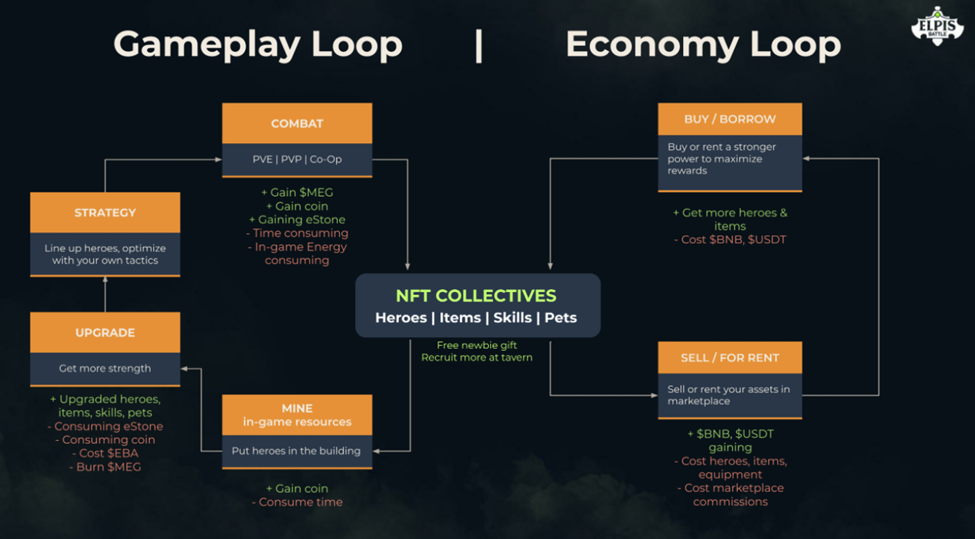 Both are on BSC network
EBA token allocationTeam & Advisor: 25% – 6 months cliff. Linear vesting in 24 months.
Foundation: 12% – 6 months cliff. Linear vesting in 24 months.
Game Incentives/ Staking Reward: 37%
Marketing: 4% – Unlock 5% at TGE. Quarterly unlock in 36 months.
Operation Reserve: 10% – 12 months cliff. Linear vesting in 36 months.
Liquidity: 2%
Seed Sale: 2% – Linear vesting in 18 months.
Private Sale: 7% – Linear vesting in 12 months.
Public Sale: 1% – Unlock 40% at TGE, 30% vesting each months for 2 months.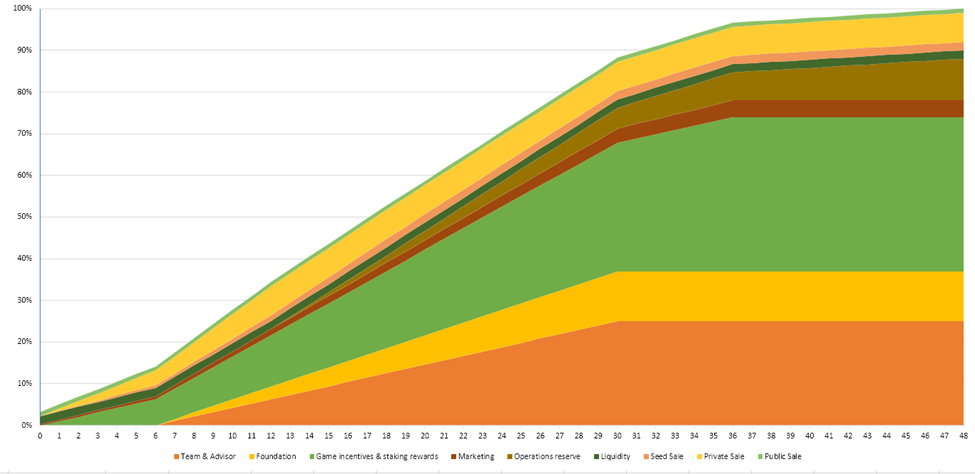 $EBA is an original token of Elpis Battle, which can be used to activate some functions in Elpis Battle.
In addition, $EBA is an asset that represents the value of Elpis ecosystem through:
Yield Farming: $EBA is an incentive for early supporters to the ecosystem of Elpis Battle
Governance: Users who hold $EBA can vote for the direction development of Elpis Battle
Staking: Users who hold $EBA can receive profits from the revenue of Elpis Battle.
MEG token will be unlimited supply and 100% Initial $MEG is distributed through fair launch program. 100% Initial $MEG are distributed through fair launch program. The purpose of $MEG is a medium of exchange of in-game economy. $MEG should be stabilized in terms of price and ensure its decentralized nature, even when there is no organization to regulate. To work towards this goal, we propose a mechanism called Elastic Emission to stabilize the price.
The special about MEG is the total amount of $MEG earned is 5% less than the total amount of $MEG burned in an epoch, the next Epoch is Expansion. If the total amount of MEG earned is 5% more than total MEG burned in an epoch, the next Epoch is Contraction. The system is designed to be balance when the reward coefficient is unchanged. Epoch Expansion: All ingame $MEG rewards is multiplied by 115%
Epoch Contraction: All ingame $MEG rewards is multiplied by 85%
This stabilisation mechanism and supply-demand adaptation help stabilize the price of $MEG. Therefore, the new players can easily participate in Elpis Battle without a high cost-barrier.
There is not yet information about the governance rules of the game.
Roadmap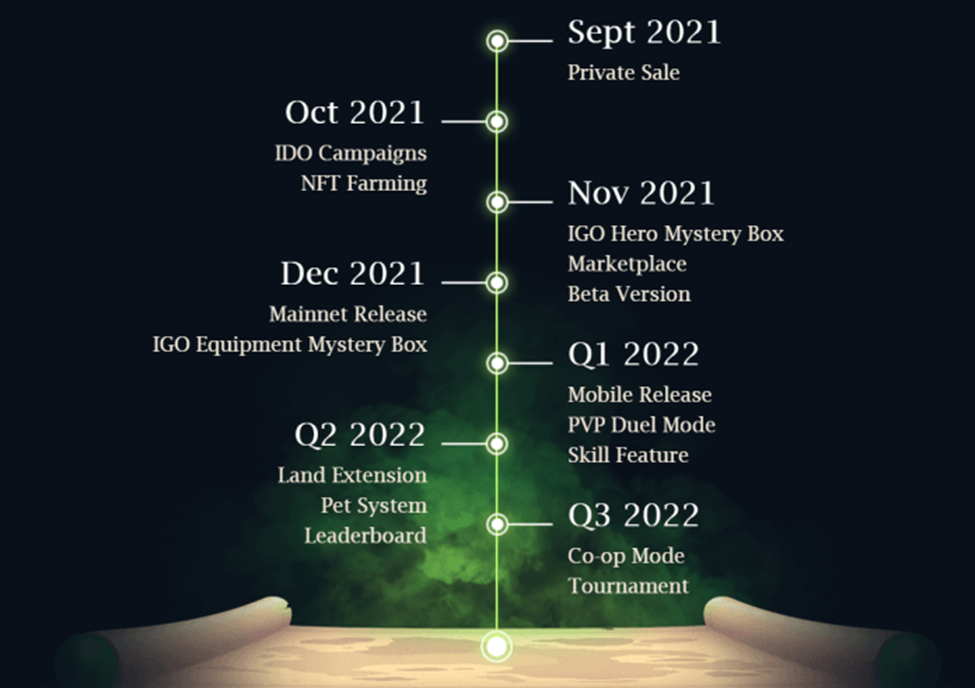 September 2021
Complete #EBA Private Sale
October 2021
Game Internal Test Version
November 2021
IGO Genesis Hero NFTs
Launch Hero NFTs Marketplace
IDO $EBA Governance Token
List on DEX
NFTs Staking
Gacha
Launch Staking/ Yield Farming
Close Beta release – Web version

Dungeon mode
Recruitment
Achievement
Daily quest
Home-base feature
December 2021
Launch $MEG Token
Open Beta Release
IGO Equipment Mystery Box
Leaderboard
Equipment Feature

Equipment Upgrade Feature
Marketplace
Q1 2022
Mobile Version Release
PvP Mode
IGO Skill Book
Ultimate Skill System:

Unlock Ultimate Skill
Skill Upgrade Feature
Marketplace

Rent Hero feature
Fusion Hero feature
Q2 2022
Land Extension Feature
IGO Pet Mystery Box
Pet Feature
Q3 2022
Audited by Paladin Blockchain Security
Team and advisors
Elpis Battle game is developed by ZEGO studio team members who are backed by VCC Holdings. VCC Holdings is an investment fund that incubates startup projects in blockchain, cryptocurrencies, and NFT fields. The fund supports the projects on capital, expertise, partnerships, recruitment, and growth strategies. With the desire to promote the decentralized revolution, VCC Holdings mainly focuses on supporting and developing projects with breakthrough innovation and long-term vision in the industry.
ZEGO is a game studio based in Vietnam that has achieved many achievements in the global mobile game market such as being in the top 20 Global and top 2 SEA in terms of daily downloads. Established in 2014, now they have 4 games with more than 5m active users, 100+ total players. More than 20 people developing the game with years of experience from ZEGO studio and other field of game design, Business Management, and 2 advisors iKame, ZEGO studio and CEO of Bunicorn.
Metamisfits made their partnership with Elpis Battle to expand its in game asset collection by acquiring nft pack. Also a blockchain gaming guild backed by Coin98 Labs, Kyros Ventures, Coin68 Media, and with the support of individuals from FTX called Ancient8 has announced their partnership with the game. Besides that, Coin98 Ventures themselves is one of many prominent investors in Elpis Battle along with Kyber Network, Kyros Ventures, Fomocraft, Hashed, Signum Capital, Hyperchain Capital, Defi Capital, Sotatek. Raising total 2.5M from 2 IDO rounds and 1 Private round.
Thoughts on Elpis Battle
An RPG game built on BSC network; low costs and scalability are the first things that come into mind when people think about it. Other than that, the game was created by some of the best game teams in South East Asia which is ZEGO studio. The game uses NFT Technology to give gamers a new efficiency by owning and governing their digital assets. To supplement their revenue, individuals can exchange these assets with others. What special about Elpis Battle is its Decentralized Autonomous Organization (DAO) architecture, which employs economic processes to fit with the whole system's profits with the interests of members, including the crew, shareholders, and players. Gaming companies and financiers are the primary beneficiaries of the game's commercial features in the classic paradigm. This model allows earnings evenly distributed among players and it balances the economy of the game for new players who want to join later on. The team responsibility in the DAO paradigm will coordinate with the community members rather than manage Elpis Battle alone, this brings the connection to understand each other more between developers and players because usually feedbacks are hardly got through.
The team has yet released the official game. However, as we can see in the trailer, the animation is quite fun and cartoon-ish with easy to learn gameplay. One can say that the team has really spent time and effort into creating the story line of the game with different races of character. This shows the enjoyable complexity of the game's strategies. One would need to find out what best for their team and test that again to get stronger to compete with others. They highly pay attention to their art concept, with each tells a story related to that hero. The game is not just about characters and fighting, but also the environment which will affect the performance of heroes (buff/debuff). There will be PVP mode soon, and it's promised to be a highly social game which emphasized by the team.
By the look of the game in the trailer, animation is catchy, gameplay seems easy to learn and fit for all ages. All that aside, the economy as stated in whitepaper, integrates the DAO paradigm which allows economic balance and coordination among community members with developers. Backed by many notable investors, the game is worth to pay attention to when someone's looking to invest in gamefi.