---
Table of Contents
---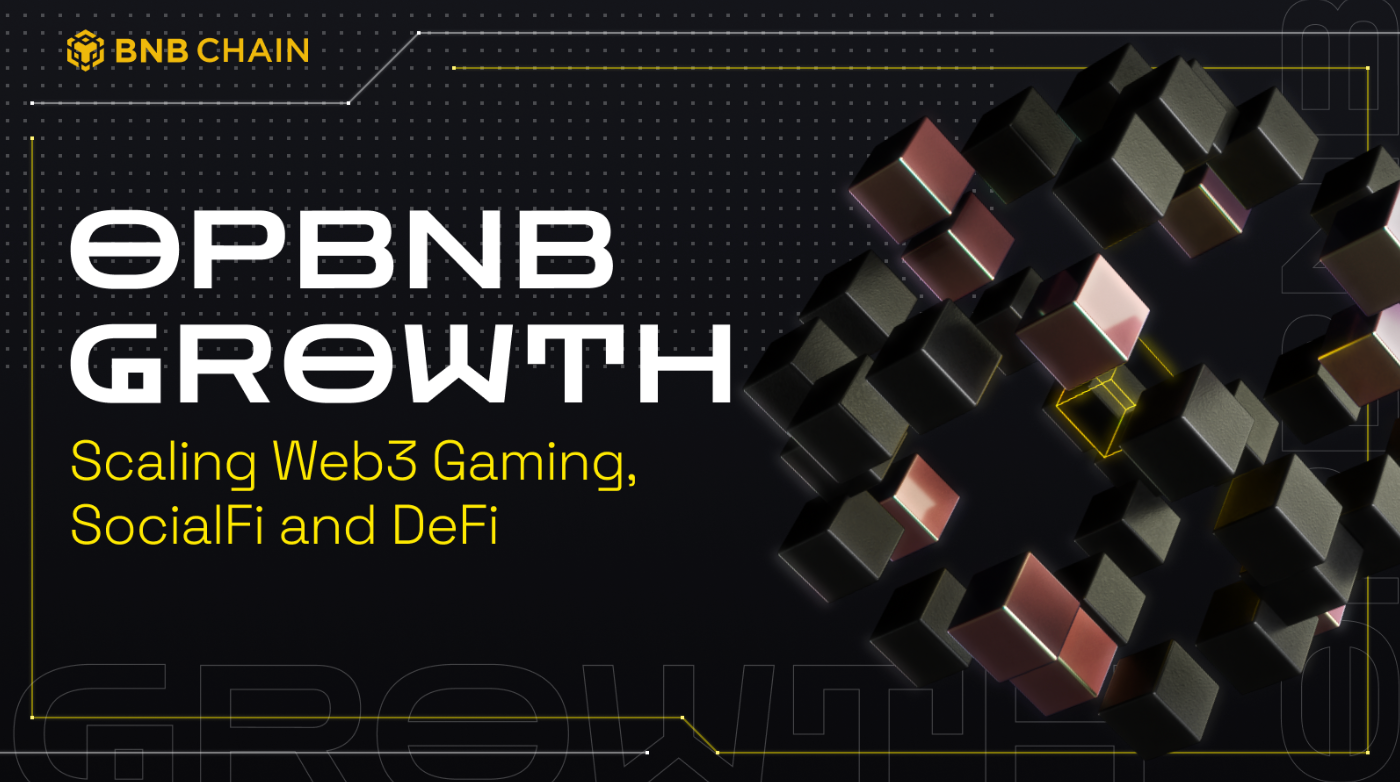 8 November 2023 – BNB Chain's Layer 2, opBNB, has experienced on-chain growth to become the second most popular L2 in terms of DAU in under two months of the mainnet going live, according to each Chain's respective explorer. In addition Binance, the world's largest cryptocurrency exchange by trading volume, today announced it will support opBNB deposits and withdrawals.
The surge in opBNB DAU, which reached 92,761, marked a 69% increase in market share growth in the first month of opBNB mainnet. In addition it saw a spike in TPS, at 9.14 and has 143,502 total deployed contracts (at the time of writing). The key metrics, taken from opBNBScan, showcases opBNB rapid development, as well as its pivotal role and suitability in high-frequency transactions applications across SocialFi, DeFi and SocialFi.
The BNB Chain Core Development Team said, "opBNB is having a profound impact on the industry, especially for high frequency transaction dApps across SocialFi, GameFi and DeFi. In addition, with Binance announcing its support for the opBNB network withdrawals and deposits, BNB Chain users will now experience increased efficiency and accessibility. The integration will improve liquidity for opBNB, reduce withdrawal time from seven days to seconds, and give users the ability to easily access and manage their opBNB assets on Binance."
Key Achievements and On-Chain Growth:
DAU Peak: Experiencing a surge in DAU, peaking at 92,761 on September 15th, opBNB's market share surged from 13% to 22% in just one month
Total Transactions: More than 13.6 million transactions have been executed on opBNB since mainnet went live
Total Value Bridged (TVB): The official mainnet announcement fueled a 23% surge in opBNB's TVL, with net inflows reaching $4.7 million by the end of Q3, according to Messari
Total deployed contracts: To date, opBNB has seen 143,502 total deployed contracts
Average Gas Price: With an average gas price of just 0.008 Gwei, and gas fees being close to gasless, opBNB is a cost-effective choice for high-frequency transactions, GameFi, SocialFi, and high frequent trading applications. To mint an NFT on opBNB, the gas fee is as low as $0.004 compared with other blockchains, where NFT minting can exceed $10+
Transactions Per Second (TPS): opBNB's TPS is now on par with leading Layer 2 solutions, averaging at 5 TPS. This makes it the top 5 performing blockchain, according to l2beat data.
Empowering High-Frequency Transaction dApps
opBNB caters to high-frequency transaction dApps, particularly those in gaming, SocialFi and DeFi. Based on the BNB Smart Chain (BSC), it delivers low gas fees, high speeds and scalability. opBNB also continues to support the BBW hackathon wishlist, to accelerate growth within its vibrant ecosystem. Multiple projects have been reaping the benefits of opBNB's low gas fees and high speeds for example, Hooked, who saw their gas fees reduced to $0.003 and ChainGPT, who experienced reduced gas fees to $0.006.
opBNB – Robust Infrastructure Support
The opBNB infrastructure is continuously being improved and it has already established robust infrastructure support to help projects deploy, including:
GraphQL/Indexing : NodeReal now provides the exact same deployment as TheGraph
Oracle/VRF: DeFi projects using Chainlink or Pyth can now access Binance Oracle. For SocialFi and GameFi, Binance Oracle has support for opBNB VRF. Developers can contact Binance Oracle for product support and demos
Bridge (Withdrawal/Deposit): Binance supports opBNB with Tokens open for deposits and withdrawals, including Integrated Charge (BNB/USDT/FDUSD) and Integrated Bridge (BNB/USDT/FDUSD). Polyhedra and Rhino.Fi also support quick withdrawals, which will be integrated into the official bridge
Multi-sig: BNB Safe Multi-sig solution is readily available
Wallet: Wallets providing access to opBNB include Metamask, Trustwallet and WalletConnect.
Account Abstraction (AA): CyberConnect, Particle Network, Biconomy are integrated with opBNB
NFT Marketplace: Element's NFT Marketplace is live on opBNB
For more information about opBNB, please visit here.
About BNB Chain
BNB Chain is a community-driven ecosystem with multiple decentralized blockchains, powered by BNB. It consists of BNB Beacon Chain, its staking and governance layer, BNB Smart Chain (BSC), which is EVM compatible and facilitates a multi-chain ecosystem with its Layer-2 solutions including opBNB, and BNB Greenfield, its decentralized data storage network.
The BNB Chain ecosystem has the world's largest smart contract blockchain (BSC) by daily active users and has processed 3 billion transactions to date from 232 Million unique addresses. This makes it the largest layer 1 blockchain globally and brings developers massive user access with ultra-low gas fees, higher transactions per second and has experienced zero crashes since its inception. The ecosystem has more than 1,500 estimated active dApps at any given time across multiple categories such as DeFi, Metaverse, Blockchain Gaming, SocialFi, NFT, Infrastructure, and more. There are numerous programs available to support the Web3 ecosystem including the Gas Grant, Builder Grant, Kickstart, Most Valuable Builder (MVB) and AvengerDAO.
---