---
Table of Contents
---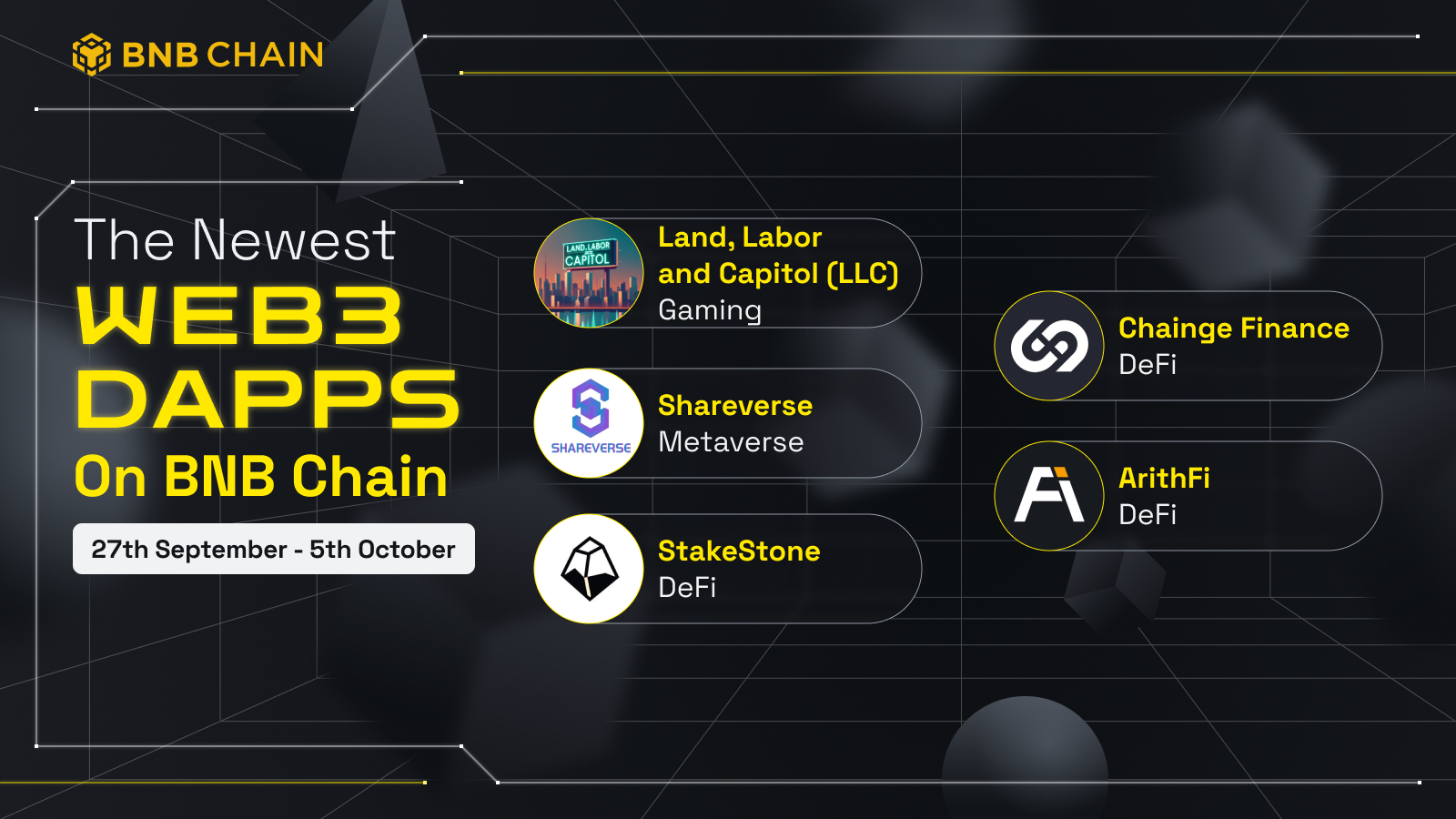 Each week, BNB Chain onboards tons of new projects across the landscape of DeFi, SocialFi, Web3 gaming, and beyond. 🔥
Take a look at the table below for descriptions of each, and make sure to follow any projects that capture your interest. Check back every week for updates on the latest members of the BNB Chain fam! Let's keep building Web3 together.
New Projects on BNB Chain (27th September – 5th October)
Twitter Account
Category
Description
Value Brought to BNB Chain
Land, Labor and Capitol (LLC)
Gaming
Virtual simulation game powered by blockchain, offering transparent, immutable gameplay dynamics.
An onchain simulation game is a great way to demonstrate the versatility and multifunctional capabilities of the blockchain, extending beyond financial transactions. Transparent and immutable gameplay dynamics promotes the exploration of novel token utilities and blockchain applications, fuelling innovation and ecosystem expansion.
Shareverse
Metaverse
AI-Driven metaverse interoperable protocol
Shareverse is the next generation of modular application infrastructure,support anyone to create smart avatar and model components by AIGC, and use the NFT components to easily build modular, interoperable and trustless web3 applications
Stakestone
DeFi
Cross-chain compatible LST and scalable yield optimizer
StakeStone is the omnichain LST liquidity distribution network that enhances capital efficiency for stakers and DeFi protocols by connecting blue-chip assets and multiple DeFi protocols with STONE, the yield-bearing ETH.
On one hand, STONE generates market-leading staking rewards from a basket of proven high-quality assets for its holders. On the other hand, as a non-rebase yield-bearing token, STONE serves as the underlying asset for various DeFi protocols across multiple chains.
Chainge Finance
DeFi
interoperability solution and cross-chain liquidity aggregator

The most liquid cross-chain aggregated DEX Powered by Fusion DCRM tech.
Chainge is the only aggregator that can pull liquidity from multiple chains simultaneously for any transaction.
ArithFi
DeFi
A decentralized derivatives exchange that eliminates market makers and LPs.
ArithFi – A decentralized derivatives exchange that eliminates market makers and LPs.
With the launch of their brand new trading model, SCP (Smart Contract Counterparty), ArithFi is being actively built on BNB Chain.
---