---
Table of Contents
---
New Projects from 23rd May to 31st May on BNB Chain.
Every week, BNB Chain, the revolutionary blockchain platform, embarks on an incredible journey of onboarding numerous innovative and groundbreaking projects that span the vast landscape of decentralized finance (DeFi), SocialFi, Web3 gaming, and many other cutting-edge domains. The sheer magnitude of this ongoing influx of projects is nothing short of awe-inspiring as BNB Chain continues to establish itself as a thriving ecosystem for diverse and game-changing endeavors.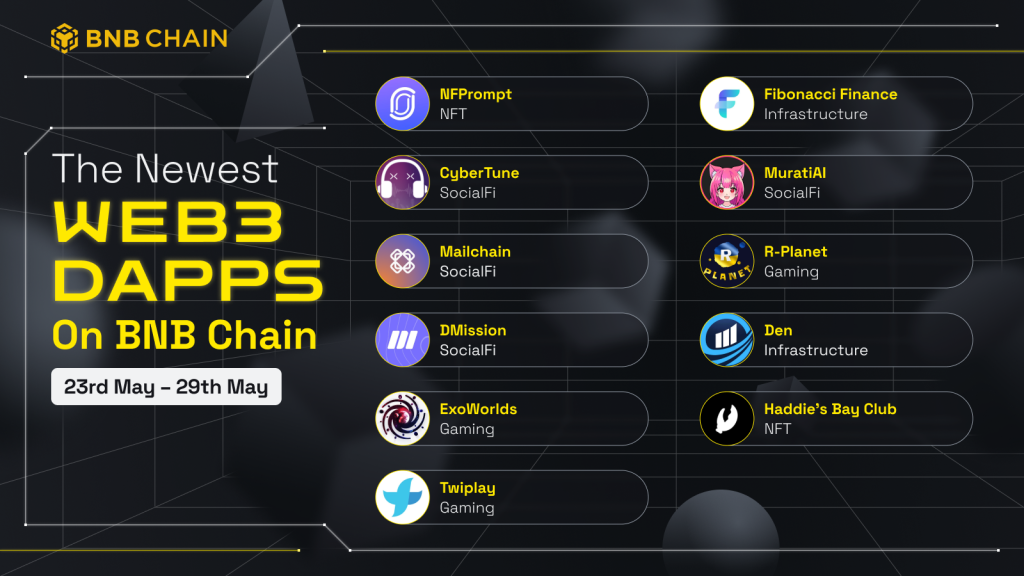 Perusing the table presented below, you will find meticulously curated descriptions of each project, providing invaluable insights into their unique features, functionalities, and objectives. It is strongly encouraged to follow and closely monitor any projects that catch your attention, as they possess the potential to revolutionize the way we interact with the digital realm. As you immerse yourself in this ever-evolving landscape, be sure to stay engaged and regularly return to this platform to remain updated on the most recent additions to the illustrious BNB Chain family.
With an unwavering commitment to fostering collaboration, innovation, and limitless possibilities, BNB Chain is a beacon of progress in the Web3 revolution. Let us join hands and collectively contribute to this exciting new paradigm's continuous growth and advancement. Together, we can reshape the future and build a Web3 that transcends boundaries, empowers individuals, and redefines how we navigate the digital universe.
| | | | | |
| --- | --- | --- | --- | --- |
| Twitter Account | | Category | Description | Value Brought to BNB Chain |
| NFPrompt | | NFT | The first AIGC NFT/Prompt creation & trading platform | Introducing the premier AIGC NFT platform on BNB Chain, empowering users to discover masterpieces and refine their artistry through efficient curation. NFP will spearhead AI and NFT innovation within the BNB Chain ecosystem. |
| CyberTune | | SocialFi | Cybertune is a decentralized music-sharing and trading platform with social features integrated with CyberConnect built on top of BNB Chain. | One of the first music-sharing platforms natively |
| Mailchain | | SocialFi | Mailchain encrypts messages, stores them in distributed storage locations, then encrypts the location metadata that is transmitted on-chain | Users and developers can now communicate .bnb to .bnb privately and securely. |
| DMission | | SocialFi | Community & User Engagement Platform – Connect Users to Web3 Apps and Games through Creative Campaign | DMission is the ultimate tool that helps web3 apps or games in the BNB Chain ecosystem build their community and engage with users. Meanwhile, users worldwide can immerse in web3 events, enjoy the captivating mission, and claim rewards in stablecoins, tokens, or NFTs on BNB Chain. |
| Exoworlds | | Gaming | ExoWorlds is building across chain Play-and-Earn, Openworld Metaverse. Build, Explore, and Conquer the Verified Galaxy | Embark on an awe-inspiring open-world Sci-Fi MMORPG, featuring P2P-enabled in-game economies and abundant digital assets. Traverse the stars, establish empires, exchange resources, and engage in thrilling player battles within the Verified Galaxy. |
| Twiplay | | Gaming | Twiplay is a Twitter-based gaming and social platform that bridges Web 2.0 to Web 3.0. | Twiplay can attract more incremental web2 Twitter users to BNBChain while facilitating the issuance, marketing, and conversion efficiency of web3 games. Cost-effective and Practical Post long tweets, download videos, and share applications without a Twitter Blue subscription. Convenient and Profitable One-click participation in airdrops, earning rewards in Spaces, and earning through comments and retweets. |
| Fibonacci | | Infrastructure | Fibonacci Finance creates APIs that demystify the financial risks of DeFi. | Using these APIs, BNB Chain DeFi projects and users can insulate themselves from the financial risks of digital assets. |
| Murati | | SocialFi | Creating anime masterpieces with the power of AI technology | Murai leverages BNB Chain's robust infrastructure and ecosystem to enable seamless integration and efficient processing of transactions. |
| R-Planet | | Gaming | Real-Time Military Strategy NFT Game. | R-Planet expands its audience, making its NFTs accessible within one of the leading crypto space ecosystems! |
| Onchain den | | Infrastructure | Get your multi-sig transactions signed fast | Experience unparalleled convenience on BNB Chain with Onchain Den, accelerating multi-sig transactions while maintaining security standards. Fast and secure have never been so effortless. |
| HaddiesBay Club | | NFT | Web3 IP Rights and Web2 Profit Share Powered by the $HBAY token | Growing the IP ecosystem on BNB Chain by bringing NFTs to real-world brands and goods |