Dopamine rush when racing with time to mine huge hidden shiny gems and relics, that's Mines of Dalarnia. Players will embark on the world with action-packed, 2D mining platform gaming and try their best to mine some precious. After that, if they want some low key, kind of chill vibes, players can sit back, relax and lease your property for others to mine. That would be all in the game Mines of Darlania.
What is Mines of Dalarnia?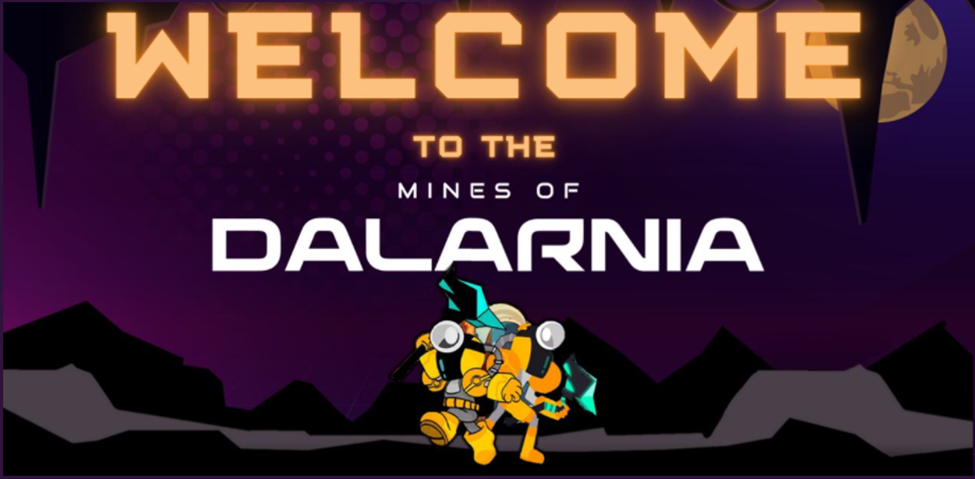 Mines of Dalarnia is an action adventure game with play-to-earn model where players interact with the game to mine and craft various in-game items. Furthermore, players can explore the MoD universe by fighting enemies to level up their character's skills. Players mine and combine various in-game items, improving their skills and gear in order to unlock the secrets of the MoD universe while searching for rare relics and artifacts.
The game is all about combating, mining, and gathering resources. And the in-game NFT items are minted so they can be exchanged and transferred in the marketplace. The game has various activities other than mining for players to explore and earn some.
Collect rare items and trade with a high value on the marketplace.
Do daily tasks, complete in-game quests, or win contests.
Becoming landowners and lease to others.
Stake DAR tokens to earn staking rewards.
Tokenomics
The native token for governance, staking, currency for upgrading and trade on marketplace is DAR.
The token is built based on Etherum and BSC network with contract addresses:
0x081131434f93063751813c619ecca9c4dc7862a3 (eth –erc20)
0x23ce9e926048273ef83be0a3a8ba9cb6d45cd978 (bsc –bep20)
Total Supply: 800,000,000
Token allocation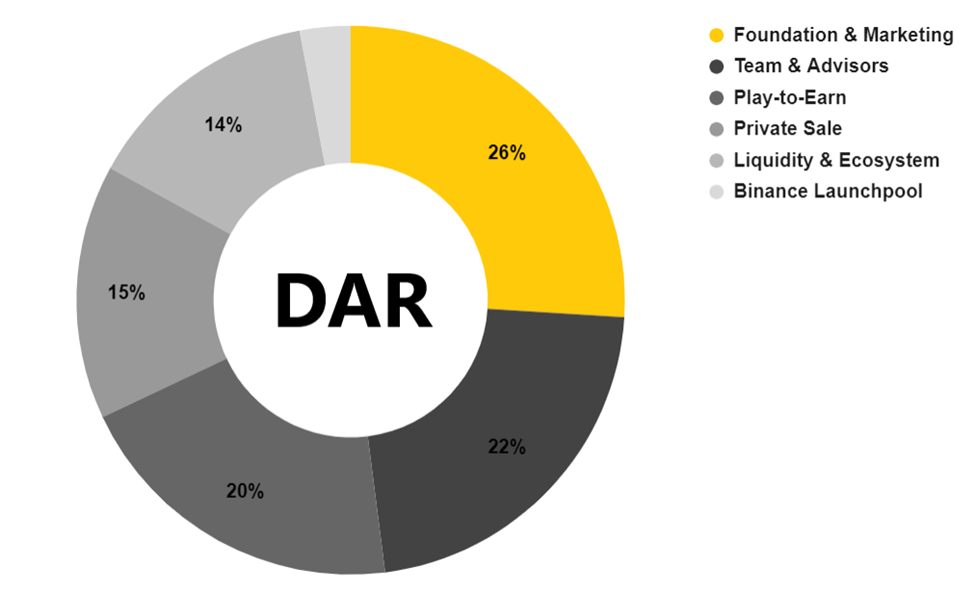 Foundation and Marketing: 26%
Team and advisors: 22%
Play to earn: 20%
Private sale: 15%
Liquidity and ecosystem: 14%
Binance Launchpool: 3%
Token sale
On Oct 29th, 2021, DAR tokens will be launched on Binance Launchpool. Investors can farm DAR by staking BNB or BUSD into the pool.
Stake BNB: 19,200,000 DAR in rewards (80%)
Stake BUSD: 4,800,000 DAR in rewards (20%)
Farming Period: October 29th,2021 – November 27th,2021
Release schedule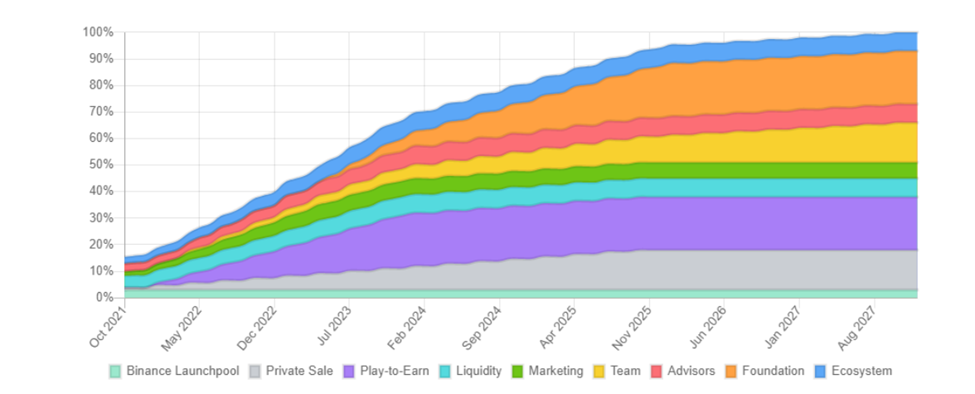 Use case of token
In-game currency: Players can use DAR to buy on the MoD (mines of dalarnia) marketplace or rent mines/plots in the game. They can own lands in the game and rent them for others to earn additional fees.
Play-to-earn incentives: Players can do in-game quests or participate in competition to earn DAR tokens.
Governance: Like other platforms, DAR can be used to vote on changes and upgrades of the game by holding DAR tokens.
Staking rewards: Holders can stake DAR tokens to earn staking rewards and unlock additional features of the game.
Investors can buy DAR token on following platforms: Binance, Gate.io, Pancake swap, Crypto.com, XT, Coinex, BKEX, Pionex, Hoo, Tokocrypto, Mandala, Dinosaur eggs, ZT, Uniswap.
About the gameplay
MoD gameplay is split into two modes: Mining gameplay, a 2D platform-mining game where the player controls a character and guides them through a procedurally-generated level (plot), mining through various blocks of earth, to discover and collect minerals of various rarities. Collected minerals are then used to upgrade the character through mining equipment and character attributes. Collected minerals can be also used to craft a refinery which is required to lease a plot of land in the Real Estate gameplay, a management style interface where players buy and lease levels/plots for others to mine within.
The game is web-based platform so therefore no need to download on computer. Every asset in the game is created as NFT to create an economy inside the game itself. Players will have to create a Chromia Wallet which is The Chromia Vault wallet software, the place where you keep your keys, Chromia assets and manage your tokens.
Mine and Lands

There are 4 types of terrains (plots) at the main dashboard (sorted by different colors): Terrestrial – Purple, Lava – Red, Ice – Blue, Darkness – Green.
In each type of terrain, there are different minerals and monsters waiting for players to conquer. The D number in the bottom right corner means the difficulty level. The higher the D number, the more difficult the mine, and players have to upgrade their level in the game to meet the requirements. Free zone is free to play which all players can play with no restrictions and the easiest of all. There are also some monsters in the mines.

Miners and landowners feature
Miners
Mine for resources and improving equipment, that's how to beat the game. Mining options are limited by the miners' power level, indicating his progress. During mining they battle monsters and destroy blocks of different qualities in order to find the most precious resources. Each successful action improves their highscore which ultimately decides which rewards they will receive after mining in terms of resources (NFTs) and loot (NFTs). Mining sessions are limited in time. The session will be aborted if the time runs out or the player dies, due to losing all health points. In that case the player's high score will be reduced by a certain amount, resulting in lesser rewards.
Starting the game, miners can either purchase a Limited Edition Starter Pack, purchase a Basic Starter Pack or use a Free 2 Play Pack. All these Pack contain basic versions of the necessary mining equipment but do differ from each other as followed:
Limited Edition Starter Pack
Limited Edition Starter Pack is limited in supply and contains the following NFTs:
● Limited Edition Cosmetic NFT
● Consumable NFT that give a Reward Bonus for [X] Mining Sessions
● Key Item NFT that gives players access to Depth 2 and 3
● Crafting Pass that allows players to craft NFTs Due to the limited amount of these Starter Packs, it is to be expected that the NFTs they contain will become collectibles.
Basic Starter Pack
The Basic Starter Pack contains the Key Item NFT that gives players access to Depth 2 and 3 as well as the Crafting NFT Pass that allows players to craft NFTs.
Free 2 Play Pack
The Free 2 Play Pack only includes the basic equipment like the above packs. With that players can mine in Depth 1 mines but won't be able to start runs in Depth 2 and 3 mines and don't have access to the crafting features. They can trade their Resources on the marketplace but will have to buy a Basic Starter Pack if they want to interact with all of the game's features such as crafting and different mining Depths.
Landowners
There will be land sales which are represented as NFT asset. Buyers can choose to buy the land of different types (for example, if they have a preference for lava lands). There will be a minimum reward for land owners either in the form of tokens, necessary tools or minerals airdrop or other formats based on the collective decisions of the token holder. Landowners will have to lease the land to have it busy, because the number of activities in a mine will be measured. For the well-managed and active mines, additional token rewards will be given to the owner; as compared to inactive mines, there will be actions taken if the owner is no longer active. This encourages the growing economy in the game and not left it deserted. For the proceeds from miners generated in a mine, the owner reserved the right to charge tax and the taxing rules can be designed by the owner. The land can also be rented out on customizable terms determined by the owner.
The minerals

Basic minerals such as iron ore, copper, and scrap are available everywhere in the MoD world. They are used to upgrade basic equipment. To upgrade more advanced equipment, players need rarer minerals such as crystallized plasma and prisminium that are available in rented plots or mines.
Tools and weapons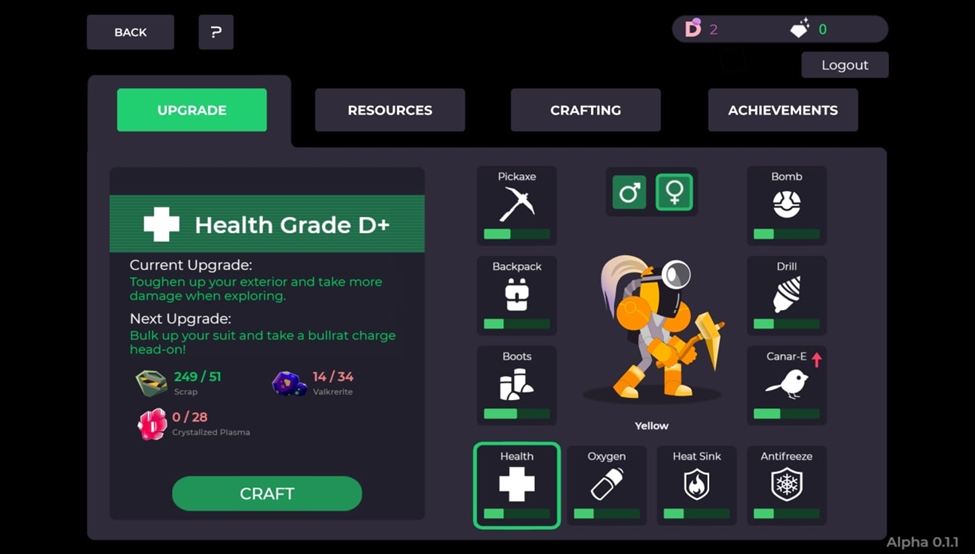 Players need to buy the starter pack (3 types of the pack) that contains the necessary mining tools. For different types of resources, players need to upgrade their tools and this process needs DAR tokens. The number of slots for tools is limited, players have to either drop or sell them in the marketplace. What they mine in there is for them to keep and craft equipment.
Roadmap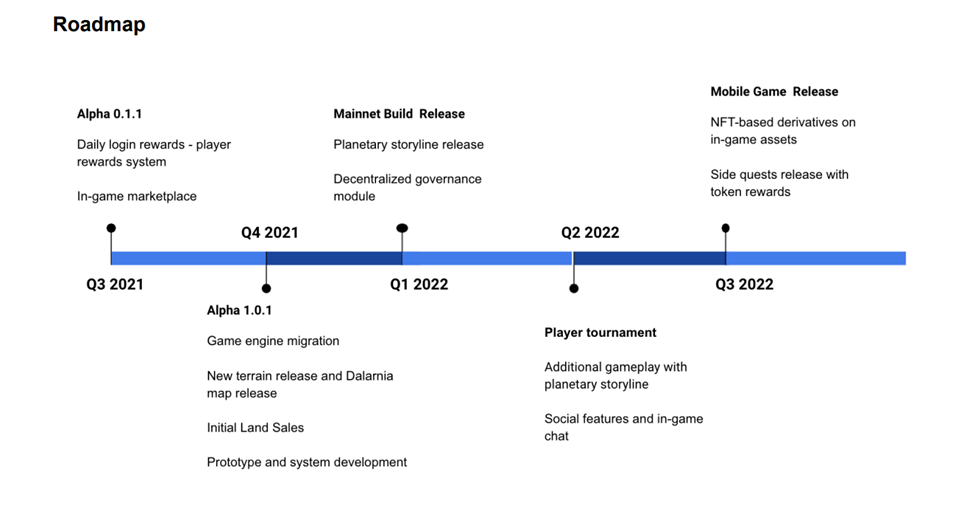 Q3 2021
Daily login rewards
In-game marketplace
Q4 2021
Game engine migration
New terrain release and map release
Initial land sales
Prototype and system development
Q1 2022
Mainnet build release
Planetary story line release
Decentralized governance module
Q2 2022
Tournament
Additional story line
Social feature and chat
Q3 2022
Mobile game release
NFT derivatives on in-game assets
More side quests with rewards
Team, Investors, and Partners
Workinmancompany is responsible for creating the interactive MoD game. They have allied to build multiple gaming products for big clients such as Disney, Marvel, Nintendo, Atari,…
IDO round has raised $900,000 with 12,000,000 tokens for sale on Pancakeswap. Private round has raised $2,700,000 with total 11 investors as listed below.
Investors are Kyros Ventures, X21 Digital, Animoca Brands, NGC Ventures, C98 Ventures, Bitscale Capital, Drops Ventures, Jump Capital, Crypto.com Capital, Impossible Finance. As can see a few familiar big names in the investors group which are C98, Kyros, Impossible Finance. Those who has recently been eyeing some great potential gamefi on the market in 2021. Especially Impossible Finance, a new great incubator platform to launch IDO for gamefi with many benefits.
Thoughts on Mines of Dalarnia
Mines of Dalarnia is a promising project as it provides to the community a play-to-earn game. Testnet is now available for players, players can experience first-hand the game themselves. Overall, the Game Finance sector in the crypto space is growing rapidly since multiple projects are in operation. There will be more competitors inside the crypto world and upcoming projects from outside. However, the difference of game will be free-to-play at the easiest first stage and accessible to anyone, after that people can decide whether they want to spend more to purchase packs. It basically the more expensive you spend one, the better position you will be on the early stage.
Mines of Dalarnia depicts in the litepaper the necessary information of how the in-game economics works. In the economics of the platform,the DAR token plays a very important role since it acts as the main currency of the platform. Multiple use cases have been planned for the token. MoD is built on BSC so that itgets the available network effects of the blockchain. Furthermore, it's launched a token sale on Binance Launchpool, attracting lots of attention from the community and creating the initial hype for the game product. As a result, the MoD project receives support from the community as well as one of the market-making exchanges. Already listed on Binance, it reached close to 30M in volume trading.
According to the roadmap, MoD plans to launch its game onto mobile platforms. This means the project has a very ambitious target since there are multiple successful NFT games on mobile devices such as Axie Infinity (AXS). Therefore, we can expect this project to go further in the long run. In the near future as seen in the roadmap, there will be more features in the game and very exciting NFT derivatives on in-game assets.