Introduction
Voxies is a free 3D strategy RPG game on Ethereum blockchain. It's a retro-styled tactical RPG that is heavily influenced and inspired by the vein of classical 1990s and early 2000s tactics games. The game has 2 main features which are battling and exploration. There's a free to play and play to earn model.
The game is the 25th Launchpad project on Binance with huge support from the community in their staking $BNB.
Gameplay
People can either buy a new character (Voxies) to start play the game with greater rewards or they can play for free with lower rewards. Besides, people can mint their Voxies and weapon using crystals, this is based on luck (or algorithm). There are 2 main modes of gameplay:
Exploration
The exploration mode is presented as a story-driven experience that will allow players to freely explore the world of Voxie Tactics and encounter many different adventuring experiences as they uncover the backstory of the game and explore its vibrant world. The story lore will allow players to explore the world of Voxies.
Battle mode
It's basically a turn-based action. People take turn to perform action with the goal of strategies optimization by matching what kind of attacks, skills, and elements to what environments around. Also, there will be stats of characters, weapons, equipment, pets. Obviously, this is a battle mode, so there will be PvP, and tournament for higher rewards.
Tokenomics
The VOXEL token is a ERC 20 token which can be earned by playing the game and used to trade on the marketplace, and craft items.
Total supple: 300,000,000 VOXEL tokens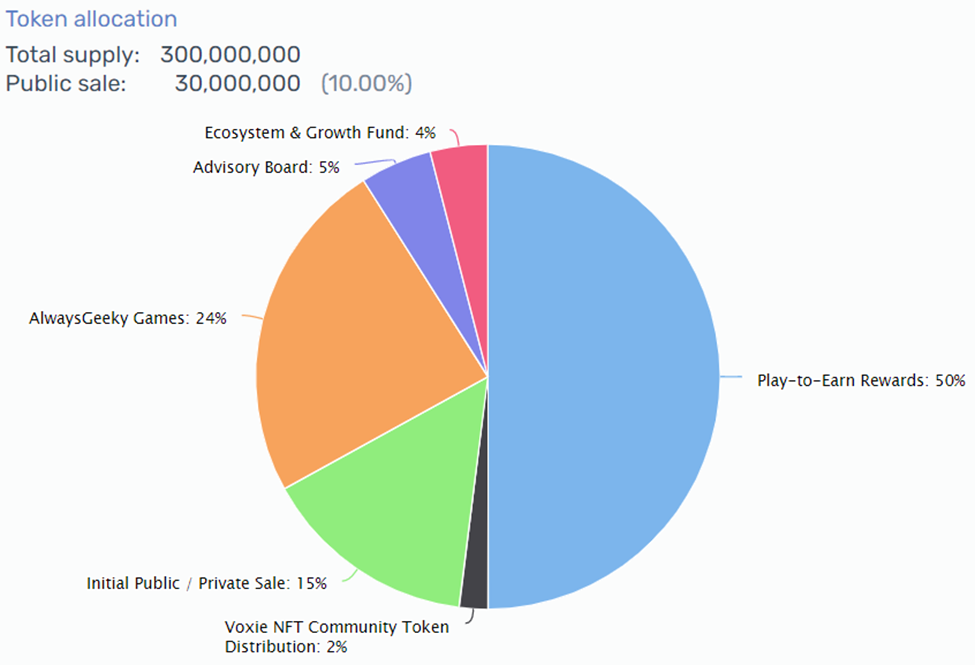 IEO information
The platform is Binance
7 DEC — 14 DEC 2021
IEO price $ 0.200
Hard Cap $ 6,000,000
No lockup
Min/Max personal Cap Hard cap per user $15000
Tokens For Sale 30,000,000
Binance will record user BNB balances for 7 days from 2021-12-07 00:00 AM (UTC) to 2021-12-14 00:00 AM (UTC). The final BNB holding amount for each user will be determined as the average of the 7 days, using the Daily Average BNB Balance calculation previously announced here.
Preparation Period 2021-12-07 00:00 AM (UTC) to 2021-12-14 00:00 AM (UTC): During this period, user BNB balances will be calculated in hourly snapshots for each day over a 7-day period. Your final average daily BNB balance over these 7 days will determine the maximum amount of BNB that you can commit later on.
Subscription Period 2021-12-14 06:00 AM (UTC) to 2021-12-14 09:00 AM (UTC): Subscription will open at this time for all eligible users for a 3 hour period. Users must also sign the Token Purchase Agreement at the same time, prior to committing their BNB. Please note that once committed, your BNB will be locked and you will not be able to redeem or access any other functions such as transfers, withdrawals or trading until final token distribution.
Calculation Period 2021-12-14 09:00 AM (UTC) to 2021-12-14 10:00 AM (UTC): Subscription closes and token allocation calculation begins.
Final Token Distribution 2021-12-14 10:00 AM (UTC): Your final token allocation will be calculated and the corresponding BNB will be deducted from your already-locked BNB amount. Once deducted, your VOXEL and BNB tokens will both be transferred to your spot wallet.
Roadmap

Team and investors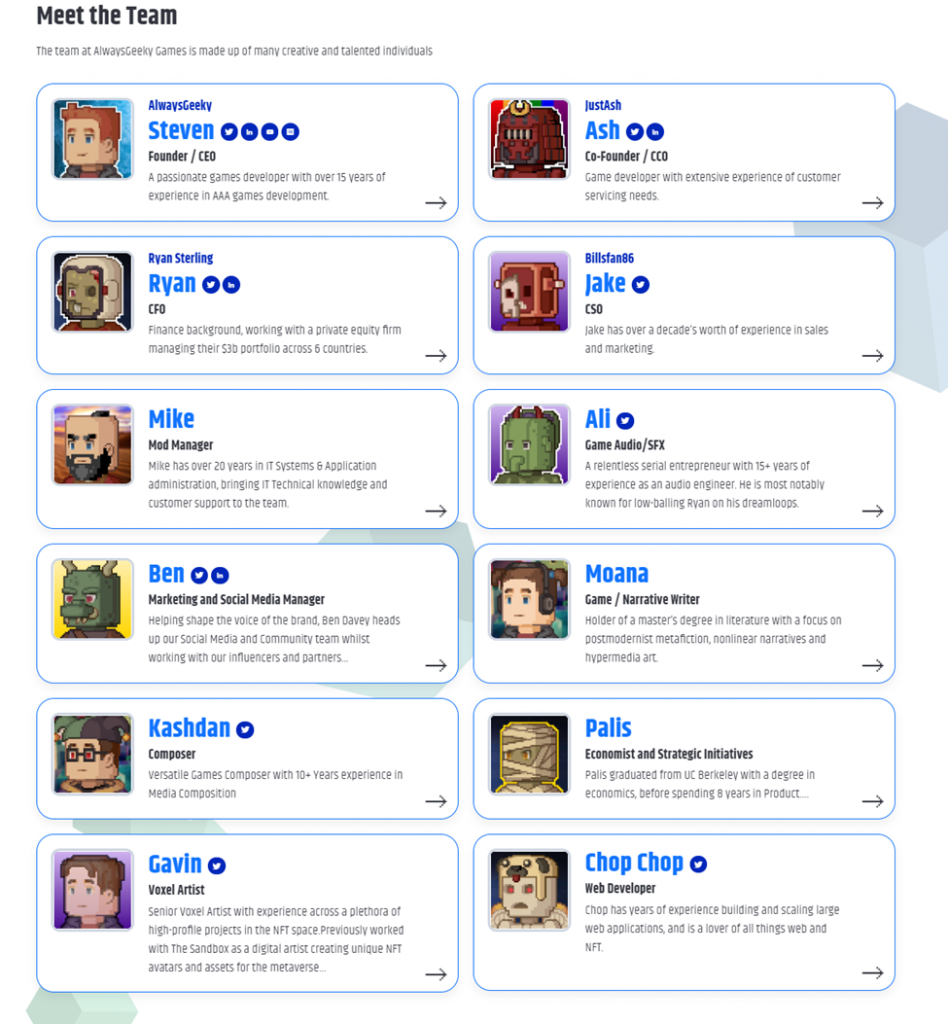 AlwaysGeeky Games is the video game company behind Voxie Tactics and other future cryptocurrency and blockchain-powered play-to-earn projects. These tokens will be used to incentivize the team and enable growth. Company token allocations are put into a vesting schedule and released periodically over 6 years. This is in accordance with standard practices for start-up companies with a 6 year vesting schedule for their core team.
Current List of Advisors as of November 2021 are:
Justin Taylor – Head of Consumer Marketing for Twitter (former head of Social and Marketing at Activision).
Jeff Pabst – Chief Revenue Officer of FaZeClan.
Bored Elon – Crypto Influencer and Blockchain Gaming Specialist.
Shreyansh Singh – Head of NFT and Gaming at Polygon.