Today, let's learn about DIA (DIA), one of the coins with a very new mechanism "Token Bonding Curve Offerings".
In this article we will learn about 3 main parts:
• What is DIA, what is the idea and product of the project?
• The relevant information about the main Token of the project that we invest in?
• Finally, we will combine the above factors and review in an overview whether DIA Token is worth the investment or not?
What is DIA (DIA)?
DIA (DIA) is a Blockchain protocol project in the field of data management (Decentralized oracle network).
DIA provides a reliable and verifiable bridge between Off-Chain Data and Smart Contracts, allowing these Smart Contracts to use these resources to build a variety of Dapps.
DIA's goal is to gather data analysis, data providers, data users to form a strong ecosystem, becoming "Wikipedia for Financial Data".
Dia's development team
What problems does the DIA (DIA) solve?
Before talking more about this issue, we must understand what is Oracle?
In short, Oracle is a third-party service that provides the data that Smart Contracts need to run (data usually related to price).
There will be many issues to talk about the necessity of Oracle for Defi development in general, One of the biggest problems is "unreliable data source", how do you know the source of your data? Is it reliable to use to run Smart Contract?
A typical example of this is the case of the DEX exchange of Bzrx.
Bzrx once suffered a bug because it relied on only one Oracle, the Kyber Network, for its price data feed.
The fact that the price data provided by Kyber is problematic also means that there is a big crash on Bzrx. As a result, users are lost, the Bzrx platform is considered an unsafe Platform.
From this, it can be seen that Oracles are almost the foundation of the entire Defi ecosystem, as all applications depend on the correct data source.
What is DIA's solution (DIA)?
DIA does not directly create, manage, or validate the data. Instead, the DIA, through its stakeholders, encourages them to do so by using Incentives for Stakeholders.
Simply put, the way it works is almost like Wikipedia, where everyone in the ecosystem can participate and evaluate the quality of the community's data for the sake of the community. In return, DIA will provide Incentives to the participants with DIA Tokens.
How DIA works can be divided into 5 parts:
1. Data request: Stakeholders look for a specific dataset that has not been published on the DIA platform.
2. Data submission: Data providers connect to the API or data on-chain to provide the requested data.
3. Validation: Data analysts verify the submitted code through the Staking mechanism.
4. Data storage: Authenticated data is stored in an open-source, immutable database and published on the DIA platform.
5. Usage: Access data through oracles (On-chain) or API (Off-chain).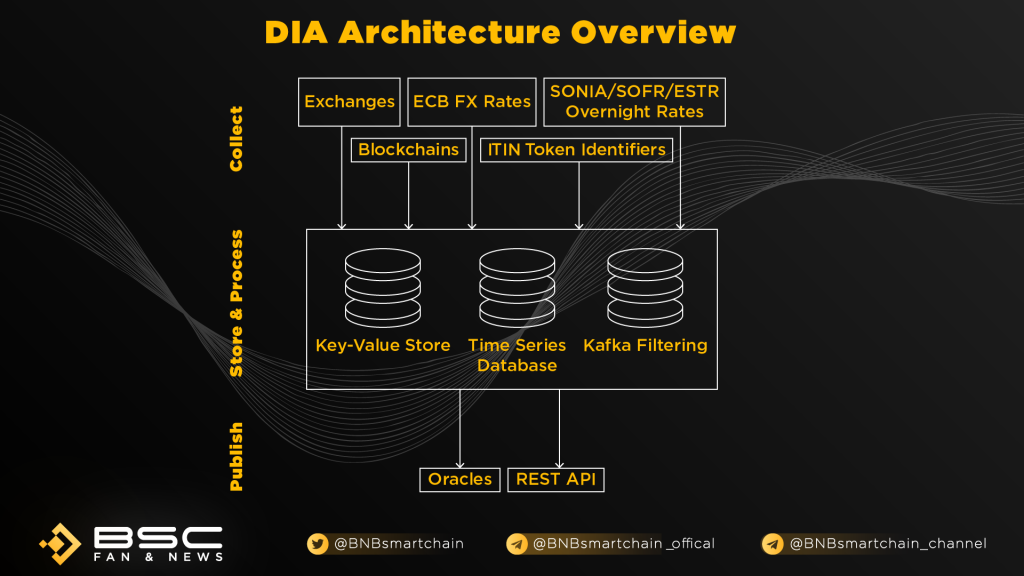 What is DIA Token?
DIA is the Native Token of the DIA ecosystem and is used for the following purposes:
Voting on governance issues: Vote on DIA governance issues.
• Funding data collection: Data seekers can use the DIA Token as a bonus for specific data needs. Data Suppliers that collect data to create data sets that match Data Seekers' requirements will be rewarded with bonuses for completing the work.
• Validating data through staking: DIA Token is used to Staked (Locked Token) to incentivize the process of creating a better Oracle by using different computational methods and methodologies.
• Incentivizing platform development: DIA will be developed by its community. Any feature may be selected and funded by the Developers DIA community for development.
• Accessing live data streams and specific APIs: All historical data can be accessed for free, while access to live data streams (Oracles) and specific APIs requires purchase with DIA Tokens.
Basic information about DIA Token
• Token Name: DIA
• Ticker: DIA
• Blockchain: Ethereum
• Contract: 0x84ca8bc7997272c7cfb4d0cd3d55cd942b3c9419
• Token type: Utility
• Token Standard: ERC-20
• Total Supply: 200,000,000 DIA
• Circulating Supply: 8,031,513 DIA (Aug 15, 2020)
Token Allocation DIA
Association Reserve: 45.7%
Bonding Curve Distribution: 15%
Ecosystem Token Pool: 12.5%
Team Tokens: 12%
Existing backers: 9.8%
Private Sale: 5%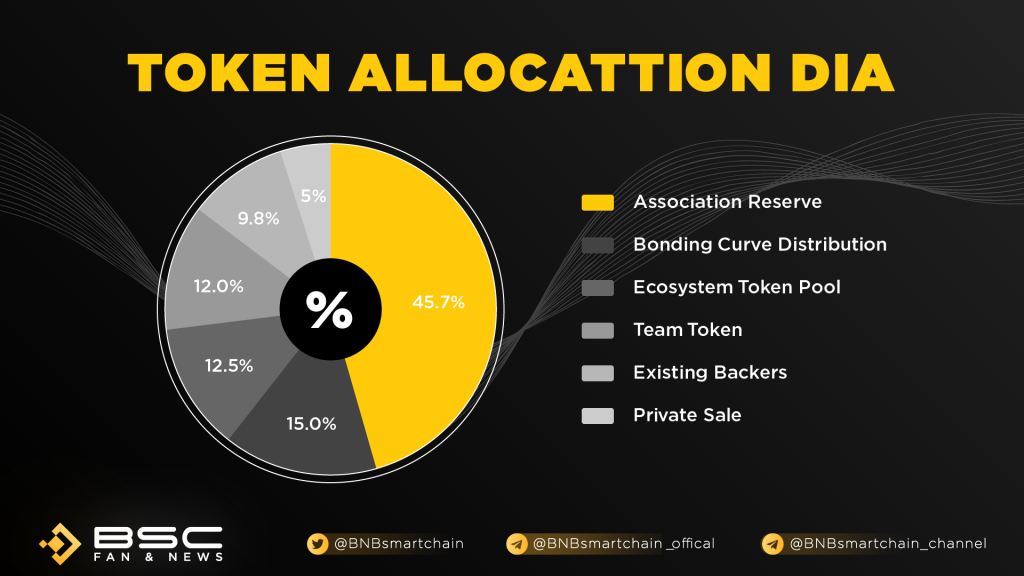 Token sale DIA
DIA has a general Token Sale to the market, but the form of sale is a bit different from normal projects.
• Bonding Curve Distribution (12.5%): Unlike most projects, DIA sells public Sale in the form of Bonding Curve (Token Bonding Curve Offerings).
Token Bonding Curve Offerings are Smart Contracts that provide the function of buying and selling Tokens. The price of Tokens will increase when Tokens are purchased from the contract and decrease when they are resold.
The initial price of DIA sold in Token Bonding Curve Offerings is $0.05.
• The second form of Token Sale is Private Sale (10%), DIA does not mention much information related to Private Sale such as who bought it and how much it cost.
Token Release Schedule
Below is the token payment schedule of DIA and its participants:
• Association Reserve: Will be unlocked on an annual linear schedule, over 10 years (approximately 9.15M DIA Tokens per year), first unlock in 2021
• Bonding Curve Distribution: No lock, all will circulate after DIA Bonding Curve Offering (ended on 18 August 2020, 3 AM CET)
• Ecosystem Token Pool: No details mentioned, number of Tokens unlocked to develop the ecosystem.
• Team Token: Lock for 7 months, last unlock is in 2021, Then pay Token weekly, and complete in 13 weeks.
• Existing backers: Only partially locked, DIA does not publish details.
• Private Sale: Paid in full on August 18, 2020, 3 AM CET.
Roadmap
The future of DIA Token
As I said above, Oracles are almost the foundation of the entire Defi ecosystem, as all applications depend on accurate data sources, the strong development partner of Defi projects like This further increases the demand. With such a huge demand, there is a lot of land for Oracle projects.
Looking back at DIA Token, this is the Native Token of the project, the Token Use Cases are designed to be associated with the incentives of the participants in the ecosystem. In general, in the long term, the price of DIA Token will depend a lot on the development of the DIA ecosystem. The larger the ecosystem, the more intrinsic value of DIA, in the long run, the price will follow the value.
Should invest in DIA Token
To help you answer this question yourself, I will list an important idea related to DIA and DIA Token from which you have an overview to make investment decisions for yourself.
Ideas and Ecosystem
It can be said that the idea of ​​​​a Decentralized oracle network is not new, there are a few projects that have gone before DIA, Chainlink, and BAND Protocol in this area, both projects are gradually expanding their ecosystem. especially Chainlink.
DIA is a late project, the generation is still small compared to Chainlink. The project needs to accelerate if it does not want the industry to be left further behind.
Of course, despite being late, DIA has also made big moves recently, launching a series of products and attracting a lot of attention from investors.
Upside potential
Oracles are almost the foundation of the entire Defi ecosystem, as all applications depend on accurate data sources, the strong development of Defi projects like today further increases the demand for quality Oracle.
Although there have been a few strong Oracle projects like Chainlink, Band Protocol, with such a strong demand, there are still many places to play for projects like DIA.
Tokenomics
Token Use Cases such as Funding data collection, Validating data through staking, Accessing live data streams and specific APIs will increase the Buy Demand of DIA Tokens because it increases the need to own DIA Tokens to participate in the DIA ecosystem.
Token Use Case like Incentivizing platform development will make Sell Demand of DIA Token because it increases the amount of DIA Token circulating in the market.
A token payment schedule that is not so clear about the time and amount of Tokens to be paid each time is a Sell Demand of DIA.
Compare with competitors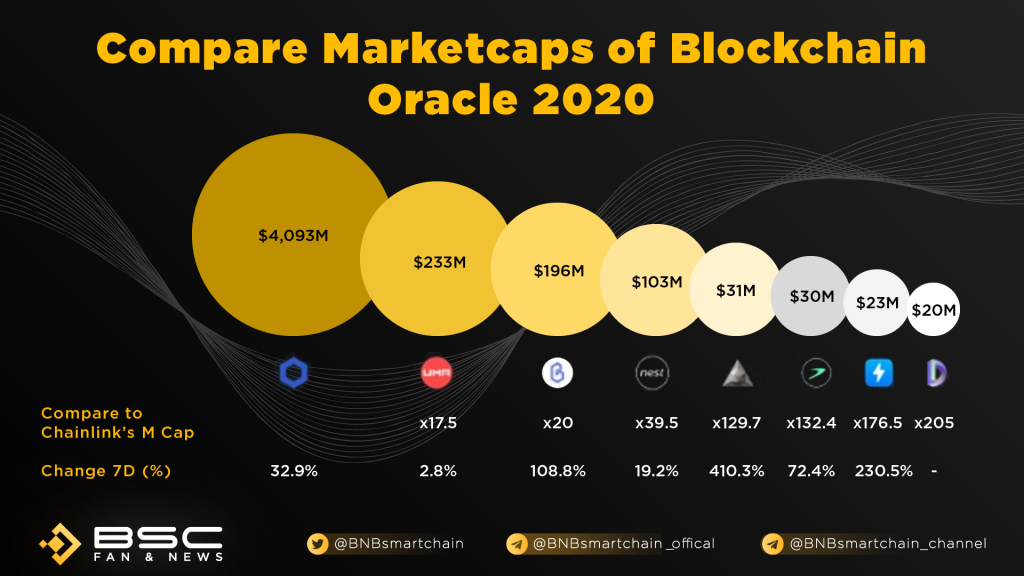 Summary
So we have learned together about Dia, a potential project of the web3 ecosystem. If you are interested, please research carefully before you put money down.