---
Table of Contents
---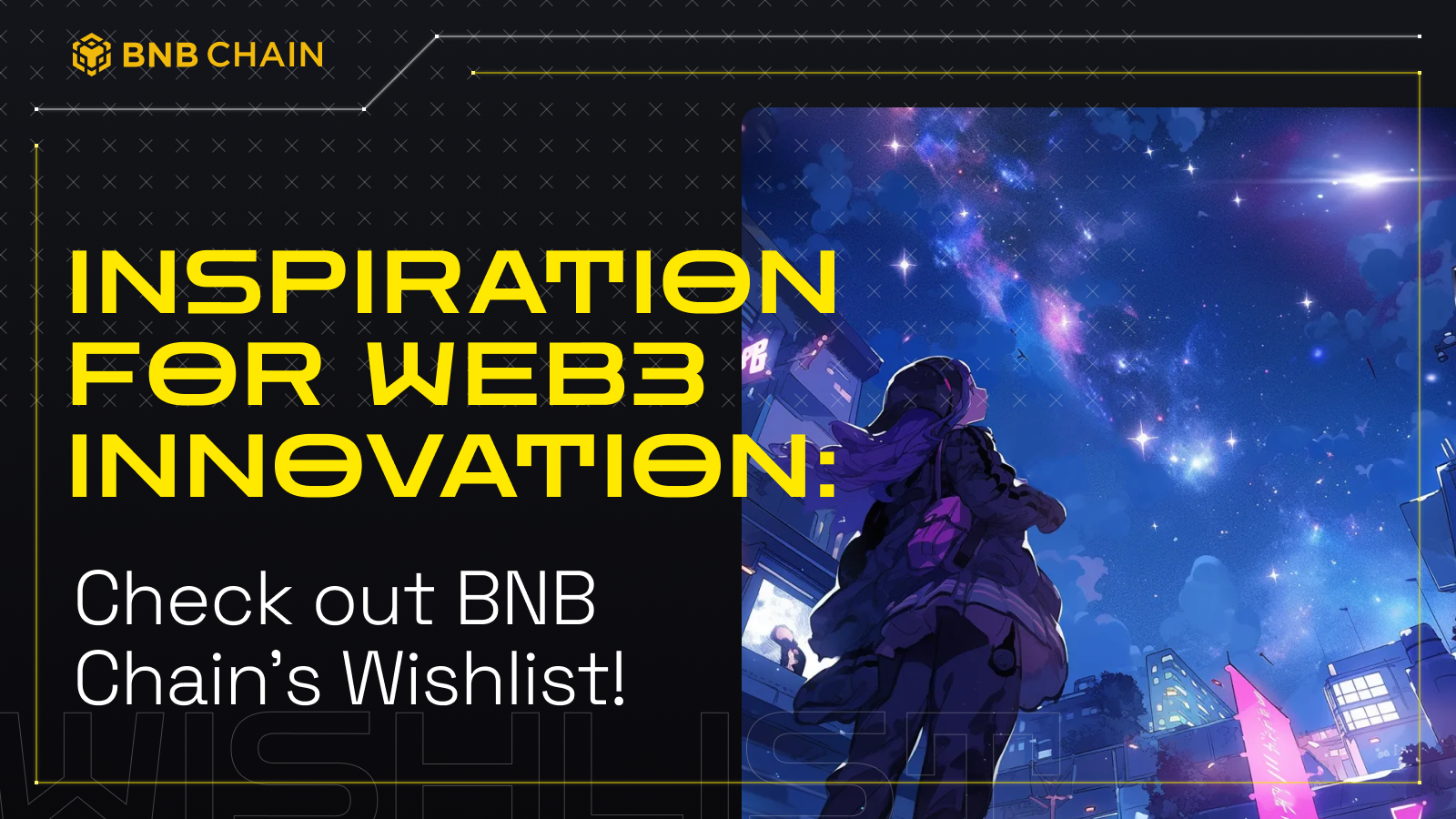 BNB Chain's launch of opBNB and Greenfield opens up endless opportunities for creativity and innovation within the BNB Chain ecosystem. There are a multitude of concepts for creating systems, applications, and foundational components that we hope to witness being developed.
We rely on your ability to seize these concepts and transform them into tangible solutions!
Our brand-new wishlist calls upon projects and developers to bring their creativity to BNB Chain during the upcoming hackathon in Istanbul shortly after Binance Blockchain Week – and the BNB Chain's challenge for December's Taipei Blockchain Week Hackathon.
This wishlist is segmented into different tracks, showcasing our desire to see these ideas come to fruition for a particular use case or sector. So what's on this wishlist? Let's dive in and explore the myriad opportunities and challenges that await visionaries and pioneers.
BNB Chain Wishlist
New Data Economy on Greenfield Infrastructure Tracks
Leveraging BNB Greenfield for L1 Data Storage
Self-host Solution for BNB Greenfield Storage Provider
Empowering Greenfield with Advanced Analytics Support
Light-weight storage provider
Greenfield CDN
Publishing Platform on BNB Greenfield
Content Sharing Platform BNB Greenfield
Knowledge Sharing Platform BNB Greenfield
Personal Data Marketplace BNB Greenfield
Blockchain of Things(BoT) BNB Greenfield
Decentralized AI Training – AI Labeling on BNB Greenfield
Data Driven API and Services on BNB Greenfield
Trustless Notary on BNB Greenfield
Mass Adoption Infra, Tooling, and Dapp on BNBChain
Bridging L2 Networks for Seamless Cross-Chain Activity
opBNB Data Availability Layer on Greenfield
Empowering opBNB with Advanced Analytics Support
Accelerating opBNB Node Synchronization
Long Term Archive Service Support
Fair MEV Infrastructure Enhancement
Alternative clients for opBNB
BNB Smart Chain Consensus Enhancement to encourage fair plan of validators and stabilization of blocks
BNB Chain governance enhancement
Accelerating Blockchain Node Synchronization
Long Term Archive Service Support
Fair MEV Infrastructure Enhancement
Alternative clients for BNB Smart Chain
Privacy Protection Transactions Protect
Stateless on BSC
ZK-based Data exchange
opBNB On-chain Identity
opBNB On-chain Game
Decentralized Social Network
Perp Dex on opBNB
Stable Coin Payment for opBNB
Infrastructure Tracks on BNB Smart Chain (Goals and Description)
For a more detailed description of the wishlist and tracks for each of the hackathon, visit our Istanbul Hackathon Blog and Taiwan Blockchain
Let's get building!
BNB Chain's wishlist is an open invitation to developers and projects to explore the limitless possibilities of blockchain and cryptocurrency innovation. It's not just a list; it's an encouragement to embark on an innovative journey.
The upcoming hackathon opportunities provide a platform for you to showcase your skills and contribute to the growth of BNB Chain! Can't wait until the next hackathon? You can also submit your idea via BNB Chain's Ecosystem Bounties program.
---