---
Table of Contents
---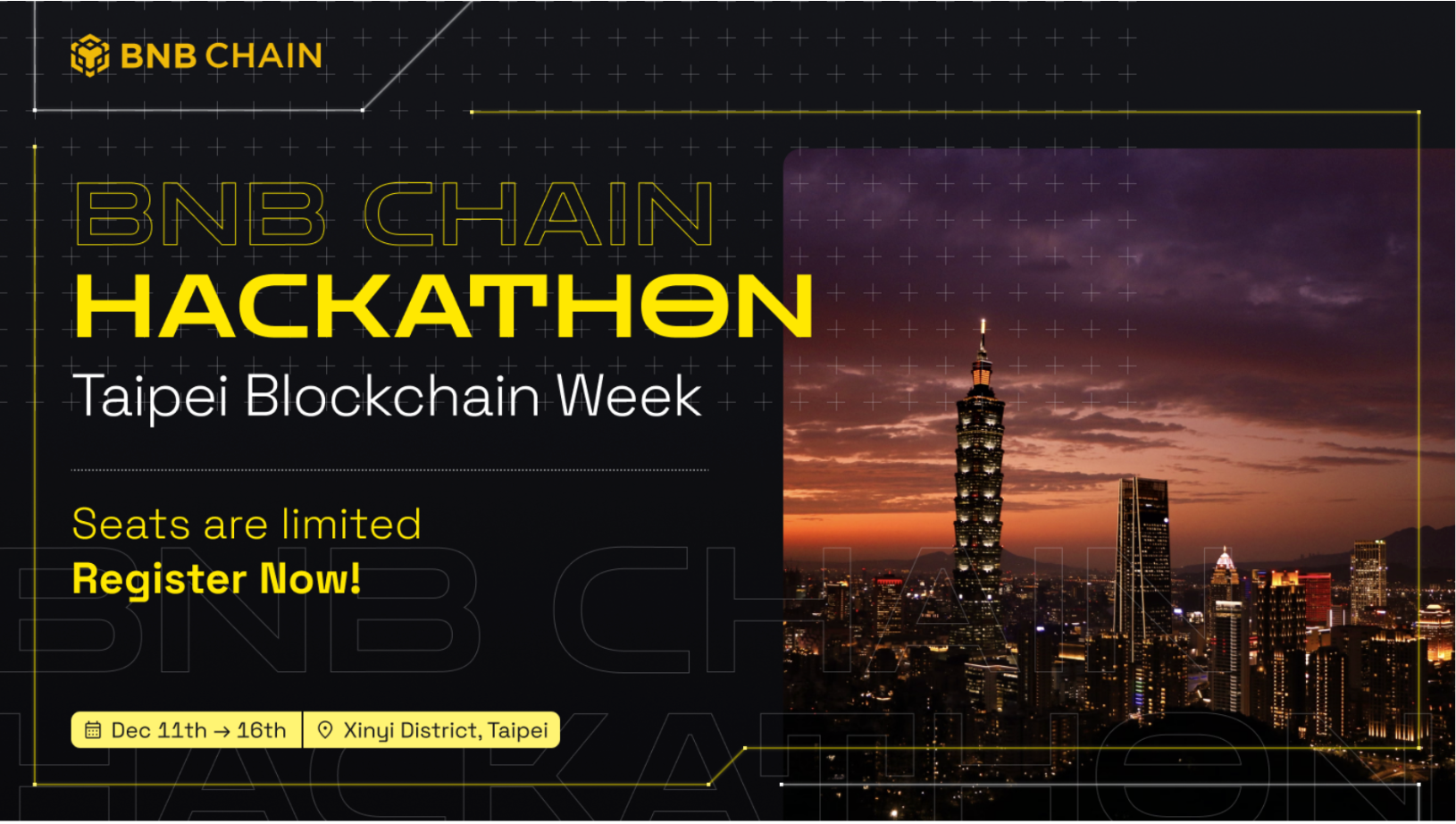 To catalyze development and innovation within our ecosystem, BNB Chain is contributing a bounty at the Taipei Blockchain Week (TBW) Hackathon. This blog explores the exciting details of this hackathon and how developers can participate to win rewards and innovate their dApps on BNB Chain.
Register here!
Hackathon Wishlist and Theme
The central theme of BNB Chain's challenge for TBW's Hackathon is "Mass Adoption Infra, Tooling, and dApp on BNBChain." This theme sets the stage for developers to create groundbreaking projects that foster the widespread adoption of BNB Chain's technologies.
| | | |
| --- | --- | --- |
| Track | Name | Degree of difficulty |
| | opBNB Data Availability Layer on Greenfield | 🌟🌟🌟🌟 |
| Infrastructure Tracks on BNBChain (Goals and Description) | Empowering opBNB with Advanced Analytics Support | 🌟🌟 |
| | Accelerating opBNB Node Synchronization | 🌟🌟🌟 |
| | Long Term Archive Service Support | 🌟🌟🌟 |
| | Fair MEV Infrastructure Enhancement | 🌟🌟🌟🌟 |
| | Alternative clients for opBNB | 🌟🌟🌟 |
| | opBNB On-chain Identity | 🌟🌟🌟 |
| Dapp Tracks on BNBChain (Goals and Description) | opBNB On-chain Game | 🌟🌟 |
| | Decentralized Social Network | 🌟🌟 |
| | Perp Dex on opBNB | 🌟🌟🌟 |
| | Stable Coin Payment for opBNB | 🌟🌟 |
Getting Started
Developers looking to participate in this hackathon can get started by exploring the following essential resources:
BSC Faucet: https://testnet.bnbchain.org/faucet-smart/
opBNB:
Documents: https://docs.bnbchain.org/opbnb-docs/docs/intro
Bridge: https://opbnb-testnet-bridge.bnbchain.org/deposit
Explorer: https://opbnb-testnet.bscscan.com, https://opbnbscan.com/tx
Greenfield:
Documents: https://docs.bnbchain.org/greenfield-docs/docs/guide/home
Bridge: https://greenfield.bnbchain.org/en/bridge?type=transfer-in
Explorer : https://greenfieldscan.com
UI dApp: https://dcellar.io/
Apart from these resources, you can also join our developer group to discuss with other Web3 pioneers worldwide.
Workshop
For those eager to dive deeper and gain practical experience, we're excited to announce a workshop taking place during TBW. This workshop offers developers a unique chance to tackle challenges, unlock bounties, and exchange valuable tips and tools to empower devs in creating exceptional dApps.
Don't forget to bring your laptop if you're eager to code alongside us! Stay tuned for more details about the workshop – coming your way soon.
Prize Pool and Reward Settings
The TBW Hackathon boasts a generous prize pool of $10,000 USDT, with the following reward settings:

Submission Requirements
To be eligible for rewards, your project must meet the following criteria:
The project you submit needs to be within the wishlist range.
Work must be deployed on or connected to GF/opBNB in some way.
Work that is open source and free for others to use.
Shared artifacts (GitHub, planning documents, and a short video).
Ensure the contract address has at least 2 successful transactions within the hackathon timeframe.
Tweet describing your project and tag #buildonBNBChain and #BNBChainTaipei
For this hackathon, the project must be a new development in order to ensure equal opportunity.(From 2023.10.24)
Please note that you do not need to pitch your idea to us. All we need is your submission.
Scoring Criteria
Projects will be evaluated based on the following criteria:
Functional Prototype: Highlight a solution that addresses a real-world problem.
Creativity: Showcase originality and innovative thinking in your project.
Readiness of the dApp: How well-prepared and functional is your decentralized application?
Usability: Ensure that your project is user-friendly and accessible to a broad audience.
The TBW Hackathon Bounty Plan on BNB Chain's opBNB presents an exciting opportunity for developers to contribute to the mass adoption of BNB Chain's technologies. With an attractive prize pool and a clear set of criteria, this hackathon encourages innovation and creativity within the BNB Chain ecosystem. If you're a developer looking to make a mark in the blockchain space, this hackathon is your chance to shine.
So, get your ideas rolling, start coding, and let's build on BNB Chain together! Register now.
---