---
Table of Contents
---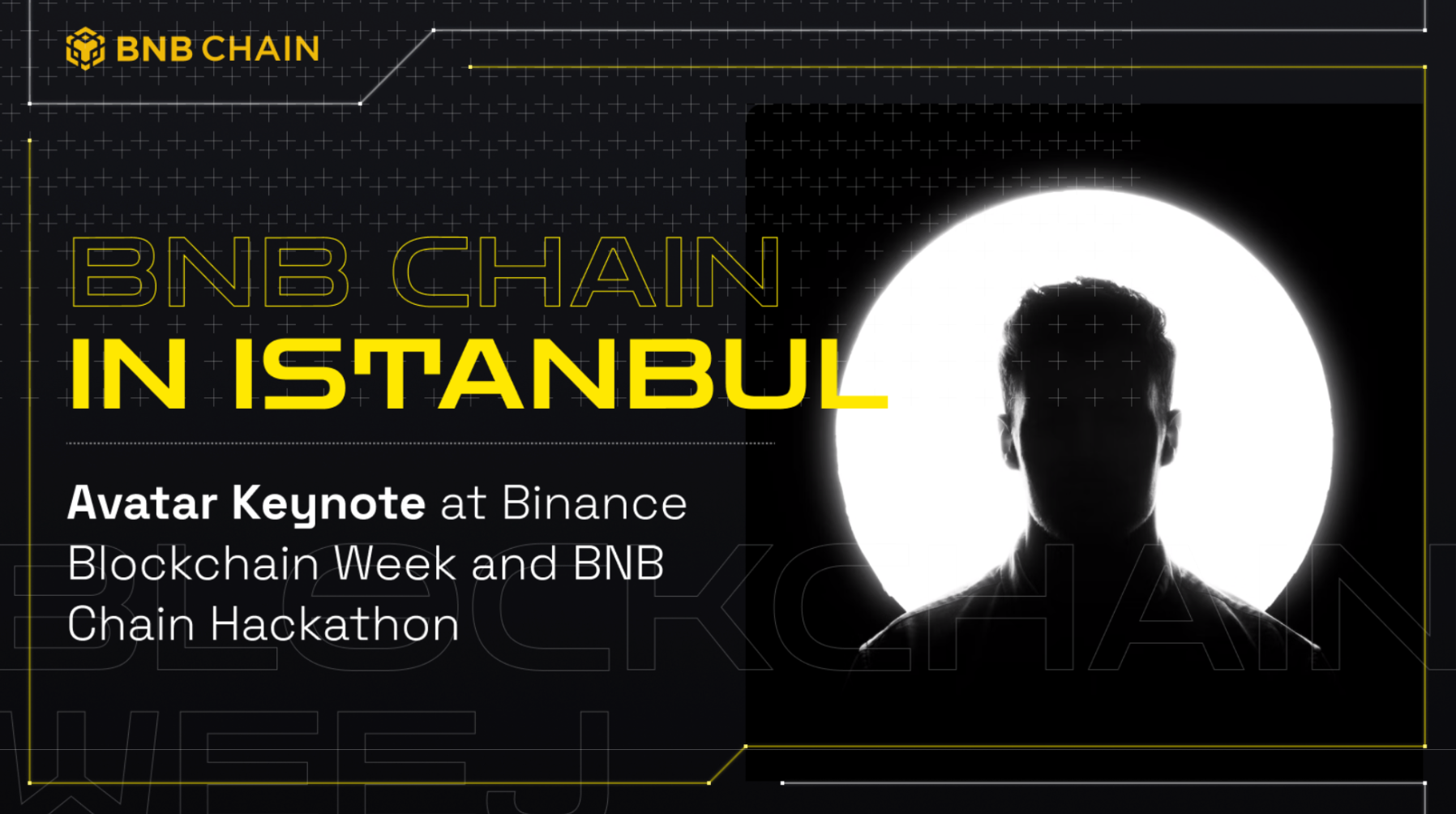 BNB Chain's new brand representative will be introduced during the avatar keynote
BNB Chain will also host a Hackathon in Istanbul to drive innovation with opBNB and BNB Greenfield
November 1, 2023 – BNB Chain, the community-driven blockchain ecosystem that includes the world's largest smart contract blockchain, today announced that it will be a key sponsor of global industry event Binance Blockchain Week for 2023. Taking center stage in Istanbul, BNB Chain will deliver a first-of-its-kind keynote using state-of-the-art avatar technology.
During the speech, taking place on November 9th at 1:40pm UTC+3, BNB Chain will introduce a special new brand representative that will redefine the way thought leaders engage with audiences. The presentation will highlight the BNB Chain ecosystem and how it is evolving the user experience for mass adoption.
In addition to the keynote speech, BNB Chain's Head of Business Development, Tomasz Wojewoda, will participate in an executive panel discussion on, "The Pillars of Crypto Infrastructure: Security, Scalability, & Decentralization." The panel will feature speakers from Salus Security, Certik, Ava Labs, Cornell University and Solana, and will be moderated by TechCrunch reporter, Jacquelyn Melinek. Wojewoda will also participate alongside industry leaders for a debate entitled, "Can CeFi and DeFi Co-Exist?"
The Core Development Team at BNB Chain said, "We're excited to be taking part in this industry-leading event. With our avatar keynote, we are sharing our vision for the future of blockchain technology with industry participants and enthusiasts all over the globe. The audience can expect an in-depth exploration of the BNB Chain ecosystem, including our near-gasless scalability solution opBNB and the BNB Greenfield decentralized data storage network. They can also expect a glimpse into the broader trends shaping the blockchain industry."
Following the event, BNB Chain will be hosting its BNB Chain Hackathon. Happening from the 10th to the 12th of November at ESA Espor Arena in Istanbul, the hackathon will bring together talented developers and experts for a weekend of collaboration and building. Participants will have the chance to win from a $100,000 prize pool as they explore ways to enhance the utility of blockchain technology that is deployed on or connected to BNB Greenfield or opBNB.
Developers can secure their spot by registering here and can choose to work independently or collaborate within a team.
About BNB Chain
BNB Chain is a community-driven ecosystem with multiple decentralized blockchains, powered by BNB. It consists of BNB Beacon Chain, its staking and governance layer, BNB Smart Chain (BSC), which is EVM compatible and facilitates a multi-chain ecosystem with its Layer-2 solutions including opBNB, and BNB Greenfield, its decentralized data storage network.
The BNB Chain ecosystem has the world's largest smart contract blockchain (BSC) by daily active users and has processed 3 billion transactions to date from 232 Million unique addresses. This makes it the largest layer 1 blockchain globally and brings developers massive user access with ultra-low gas fees, higher transactions per second and has experienced zero crashes since its inception.
The ecosystem has more than 1,500 estimated active dApps at any given time across multiple categories such as DeFi, Metaverse, Blockchain Gaming, SocialFi, NFT, Infrastructure, and more. There are numerous programs available to support the Web3 ecosystem including the Gas Grant, Builder Grant, Kickstart, Most Valuable Builder (MVB) and AvengerDAO.
---