One of the most successful NFT games on BSC.
What is CryptoMines?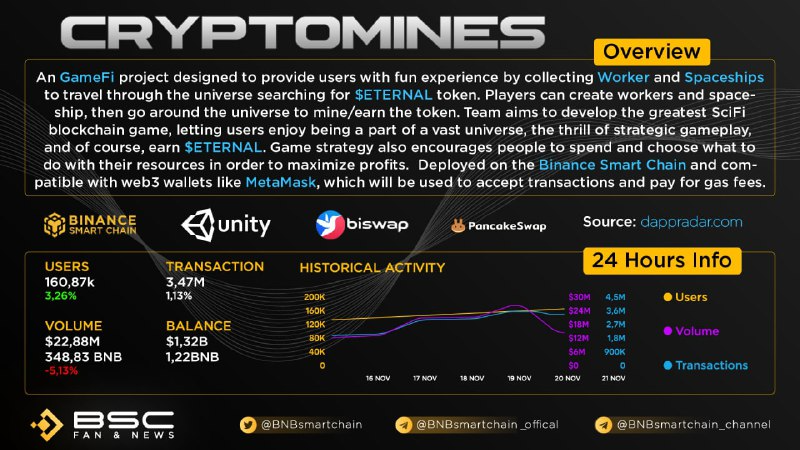 This is an exciting Gamefi project which was designed to provide users with a fun experience by collecting Worker and Spaceships to travel through the universe searching for $ETERNAL token. Basically, players can create workers and spaceship then choose to go around the universe to mine/earn the token directly.
The team aims to develop the greatest SciFi game on the blockchain while letting their users enjoy being a part of a vast universe, the thrill of strategic gameplay, and of course, earn $ETERNAL. This type of game strategy also encourages people to spend and choose what to do with their resources wisely in order to maximize profits.
The game is deployed on the Binance Smart Chain and is compatible with web3 wallets such as MetaMask, which will be used to accept transactions and pay for gas fees. MetaMask can be installed as a browser extension, or as an application on your mobile devices.
Assets are player-owned NFTs minted in the ERC-721 standard which may be traded on our marketplace or selling them via P2P to another player.
Token Information
Name: CryptoMines Eternal
Symbol: ETERNAL
Self Reported Circulating Supply: 4,016,356.00 ETERNAL
Decimals: 18
Contract address: 0xD44FD09d74cd13838F137B590497595d6b3FEeA4
Network: Binance Smart Chain
Total Supply: 5.000.000
ETERNAL is a native currency of CryptoMines and players can use this token to mint characters, spaceships, extending the lives of your workers by hiring and Buy/Sell on the CryptoMines Marketplace. Liquidity will be locked and the Development fund will be vested at a rate of 25% return per month.
| | | | |
| --- | --- | --- | --- |
| Tokenomics | Allocation | Percentage | Description |
| Total Supply | 5.000.000 | 100% | |
| Gameplay Incentives | 1.500.000 | 30% | Transactions returned to the pool include: Buying Spaceships, workers, hiring workers. There is also a 15% Fee in the NFT marketplace that will return $ETERNAL to this pool. |
| Gameplay features | 250.000 | 5% | Locked until new features are released. |
| Liquidity | 751.230 | ~15% | Locked LP for 11 months. |
| ILO Fee | 18.000 | ~1.8% | Unicrypt Fees for ILO listing. |
| Development | 1.000.000 | 20% | Vested at a rate of 25% per month, |
| Marketing | 180.770 | ~2.2% | Reserved for marketing campaigns and growing the community. |
| Airdrop | 50.000 | 1% | Community rewards. |
| Private Sale | 250.000 | 5% | Whitelisted wallets only to ensure proper economic management. |
| Public | 1.000.000 | 20% | Open for everyone. |
Source: Cryptomines whitepaper
Roadmap
Phase 1
Smart Contract build – August 2021
Launch Social Media + Landing Website – August 2021
Audit Contract – August 2021
Private Sale – September 2021
Liquidity on Pancakeswap – September 2021
Game release (Play to Earn and Marketplace) – September 2021
Listing on CoinMarketCap / CoinGecko – September 2021
Expeditions perks – October 2021
Use the claimable $ETERNAL to pay for in-game items (contracts). – October 2021
Influencers Marketing – October 2021
Phase 2
Expand developers team – October 2021
Fleet deployment – October 2021
Public community game (RAIDS) – October 2021
Multiple exploration trips – November 2021
Grow community – November 2021
CEX Listing – November 2021
Phase 3
More options to grow and improve your guild – November 2021
Design more spaceships and characters – November 2021
PVP Fights – December 2021
About the gameplay
How to Mine Planets
You will need to have built a fleet in order to travel to new planets. The rarity of your workers determines your Mine Power which in turn defines which planets you can go to.
So if you have two rarity 2 workers and a rarity two spaceships, you can go to an Lv2 Planet with 200 MP.
Workers will be able to gather resources a maximum of once every 24 hours. At 00:00 UTC, all fleets will be able to go on new expeditions.
Rewards
The rewards given to players for resources mined on planets will scale in relation to the level of their fleet, as well as the Planet you attend. An oracle has been implemented to maintain the dollar value of the rewards, which also prevents the reward pool from being drained rapidly way.
Early Withdraw Fee
There is a 30% early withdrawal fee when claiming your rewards at $ETERNAL, this fee will be reduced by 2% once you go on your first exploration of the day, and so on until it reaches 0% and you can withdraw tax-free.
Spaceship

You will need ETERNAL tokens to mint spaceship and use that to workers to new planets where they will gain better rewards depending on the Mine Power acquired.
These ships when minted will obtain a level of rarity that will define the number of workers that we can transport in our expeditions. Each player will have a maximum limit of 10 ships in their fleet. The rarity of your Spaceships directly affects the Rank and success rate your fleet will have at the time of arming.
Workers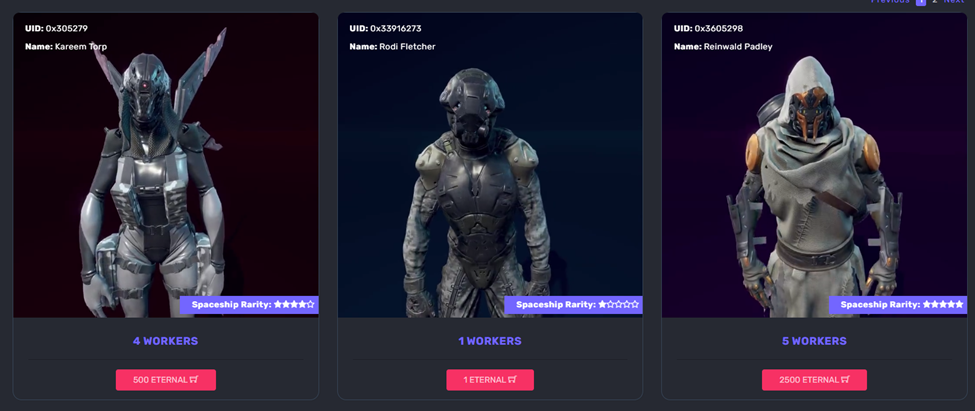 Also, to increase the mining force, players will have to mint the workers. Each worker will also need to be maintained on the Guild by using Fleets. Once we have minted the workers for our crew, these will have vast differences depending on their rarity, find the greatest workers, and boost your profits to new galaxies! Workers can be let go (burned) which will give 20% of the mint cost back to the player paid in $ETERNAL.
Fleets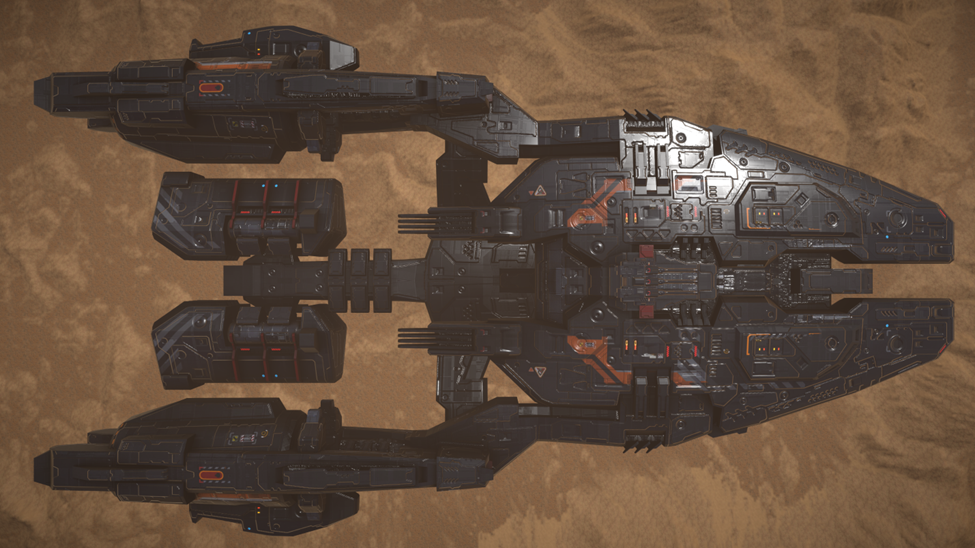 These are NFTs created from the combination of all your Workers and Ships. You can add NFTs to these fleets, or disassemblethem entirely, recovering all your workers and ships separately again. However, you will not be able to removeworkers/ships added to it individually, we recommend creating your fleet with a strategy in mind!
Your fleets will have different attributes, among them Name, Mining Power, Fleet Rank, Fleet Level, and Fleet Contract. Your fleets will not be able to be dismantled if they are contracted or tired. Remember, a fleet will lose all its gathered experience if it's dismantled.
There is no maximum limit of fleets per account; however, we do not recommend more than 300 NFT (workers, ships, fleets) on your account. Each fleet can individually attend an expedition without affecting the others, i.e. if you have 5 fleets, you will be able to mine 5 times the Planet of your choice (once per fleet).
Planets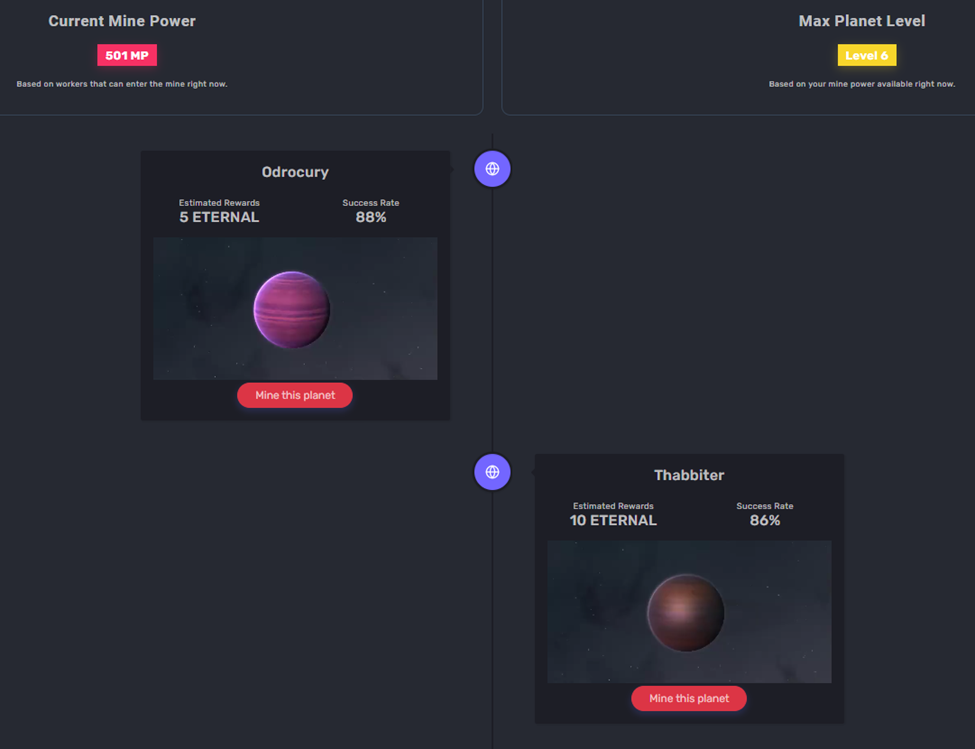 Players will send their workers across the galaxy to search for ETERNAL tokens and also face challenges, the more dangerous planets the more token they have.
Currently, there are 30planetsknown to the federation, Workers travel to and from these planets depending on the Mining Power of the Fleetand the mining power provided by the Workerswithin your Fleet.
In order to protect our workforce, the Federation allows them to travel only to the planets that their Mining Power allows them, that is, for example players have a Fleetcomposed of Workerswith a total amount of Mining Power of 500, and they could go to the Fifth planet.
Every 100 Mining Power you can access a new Planet where you can get better rewards, always remembering that the VeteransGuild rewards you for having more Mining Power than required by the current Planet. Players cannot travel to higher planets unless they meet the Mining Power requirements. Also, there are sections of planets with rankings from C to S (4 tiers).
Each planet's reward increases exponentially as you travel further into the Metaverse. Players who take more risks will have pockets full of $ETERNAL.
What's behind the project
The team
Cryptomines is relatively new from Sep 2021 and run by small group of individuals who  are experienced in Blockchain, networking, programming, game development, and the play-to-earn aspects of the current crypto market. First of all, the founder is an experienced individual who resides in Chile, and he has years of expertise in programming and coding. He also has a background working for Uber, IBM,… as a network engineer, blockchain tech and web developer. On the whitepaper, the project also reveals 4 other members of the team ranging from game designer, UI/UX developer, art director to blockchain economic advisor.
Backers and rating
ZT, Pancakeswap (v2), BitMart, Bkex, AOFEX, MEXC are all offering to trade ETERNAL. The token is not yet listed on the big exchange platforms but it's based on BSC network so in the near future we can hope ETERNAL gets listed on Binance. Trust scores and ratings on Coingecko and other crypto reviews are relatively high with a huge increase in positive feedbacks from their social media groups.
One more notable detail about the project is audit and KYC. On their whitepaper, they published the full report 17 pages long on smart contracts, code review, and security analysis report which were implemented by RD auditors. This proves the transparency of the project and earns more trusts in the market.
Users can check out the audit here
Writer's perspective
It is important to note that the game is still in development, but it is already the largest functional game on the Binance Smart Chain. The token was introduced on September 2021 and 3 months later it reaches ATH above $500 from $1. This shows the market interests and curiosity when joining to invest in the project. In terms of other statistics, Cryptomines is the second largest game after Axie from the users' point of view. Currently, the number of active addresses in this game is over 250,000.
The game concept is also light and easy to play; it doesn't require lots of actions to execute and earn your in-game rewards. The NFT assets of spaceship and worker, the minting system are all simple to learn. There is a table showing the rate of success when mining in what rank of planets and its requirements. Earning 10-20 ETERNALs per expedition is no hard thing to new players joining the game after few weeks.
On the other hand, looking at their whitepaper, not much information about the team which only has 5 and 1 was no to be found. Some players have experienced of quite a few loss even after joining the game for a month, this is up to debate whether it was their playing or the game itself. They claim that the randomness of the game was unfair with 70-80% success rate as shown but their expeditions still failed. Moveover, the scarcity of the token with only 5 million in total, and no clear strategy on the next development to make the game economy sustainable, this has left more questions than answers. This also makes the token quite inflated and very expensive to mint assets in game, so new players are looking for other cheaper alternatives to invest in Gamefi, NFT. With the token price is so high up, the rewards decrease as well as the minting success rate.
Although, we will see at the end of 2021 to see if the team develops any clear, significant strategies for next year, or keep the game in relevant in players' interests. As for now, it's simply too expensive to join the game. However, if you are into spaceship, exploration and beautiful artwork of in-game NFT assets, you should definitely check this successful functional gamefi project of BSC.
Disclaimer: this is not a financial advice.