---
Table of Contents
---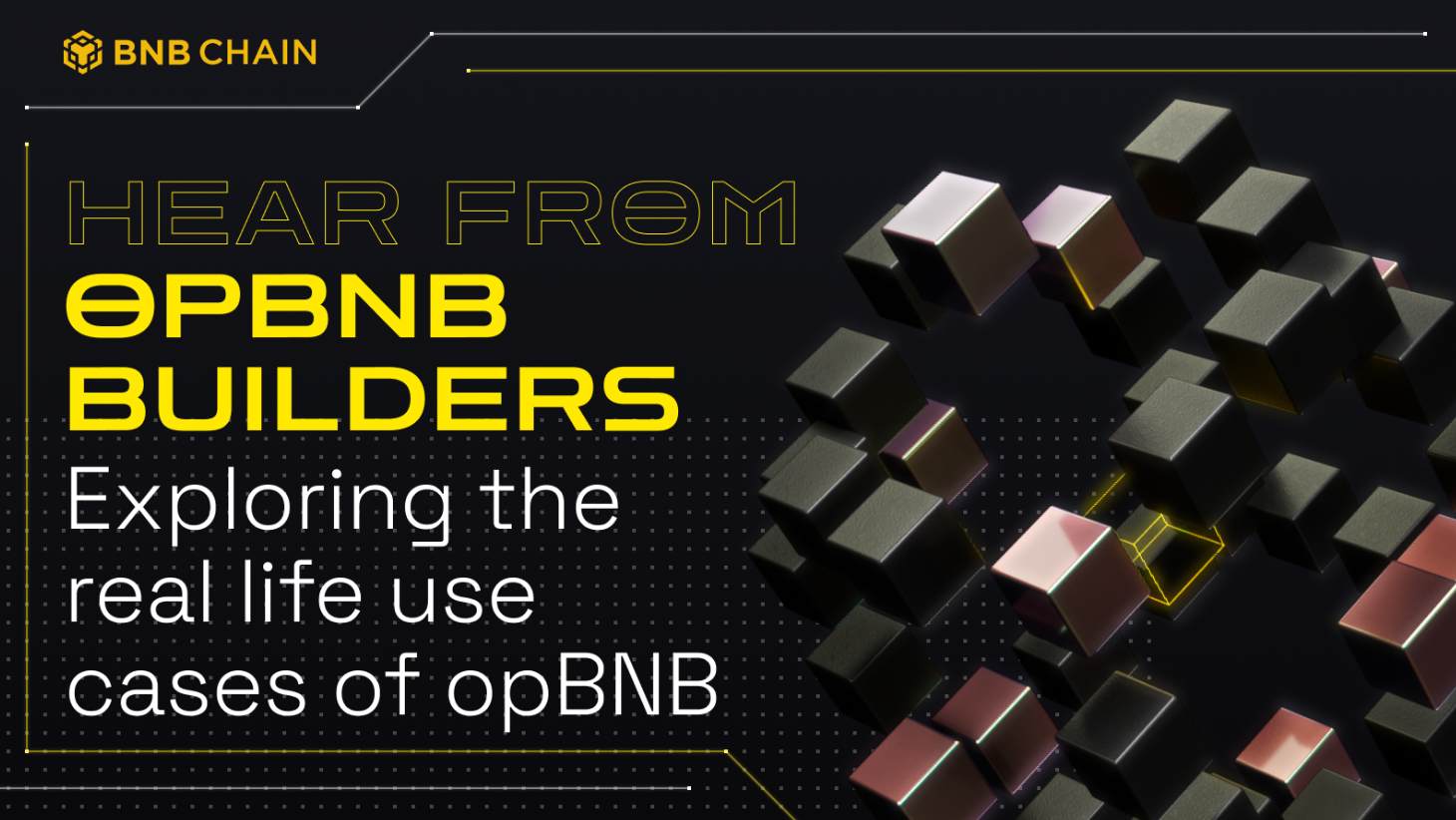 A fundamental challenge that has persistently hindered mass adoption of blockchain technology is high gas fees. These transaction costs have, at times, acted as a formidable barrier to entry for those eager to explore the vast potential of the Web3 ecosystem.
This is a barrier that BNB Chain's Layer-2, opBNB, set out to break down. By offering the lowest gas fees in the industry, opBNB is ushering in a new era of Web3 adoption by making it accessible and affordable for all.
In this article, we explore real-life use cases and hear directly from innovative dApps about the problem their project is trying to solve, how opBNB and its low gas fees is supporting this, and why they decided to build on opBNB.
What is your project?
Particle Network is a Web3 infrastructure project. Its primary offerings include zkWaaS (Zero-Knowledge Proof Wallet as a Service) and the Intent Fusion Protocol. Its focus is on elevating user experiences within decentralized applications (dApps) through the implementation of secure, non-custodial social login features. By creating an Intent-Centric Modular Access Layer for Web3, Particle Network is committed to accelerate the transformation of Web3 and pave the way for mass adoption.
What problem/use case are you trying to solve?
We are striving to address the fundamental challenge of onboarding the masses into the Web3 ecosystem while providing robust support for Web3 developers in building decentralized applications (dApps). In this endeavor, we recognized that the existing landscape posed significant hurdles such as scalability limitations, poor user experience and transaction inefficiencies. Therefore, Particle Network aims to simplify user interactions with the blockchain and enhance overall efficiency to address these challenges.
How is opBNB supporting you in solving this problem?
In our vision to drive mass adoption in the Web3 space and support large-scale dApps spanning gaming, social, metaverse, and DeFi, we recognized the need for a high-performance blockchain that can address challenges like network congestion, high gas fees, and scalability issues. These hurdles needed to be overcome to significantly enhance the overall user experience, and opBNB emerged as one of the blockchain that were addressing these pressing challenges.
Why did you decide to build on opBNB?
Our collaboration with opBNB is focused on tackling these challenges head-on. By leveraging opBNB's cutting-edge capabilities, Particle Network aims to provide developers and users with a seamless Web3 experience. This includes high-performance capabilities, substantial scalability, and cost-efficiency. Our partnership with opBNB is driven by the shared goal of transforming the Web3 landscape and making it more accessible and efficient for everyone.
How have opbnb's low gas fees acted as a catalyst for growth for your project?
opBNB's low gas fees have been a game-changer. It enabled us to provide users with an exceptionally seamless Web3 experience, particularly through our social logins and Account Abstraction (AA) wallet solution on the opBNB network. This has allowed users to easily engage in gasless NFT minting and transfers. The impact has been impressive, with our AA transactions hitting a remarkable 100,000 in just 4 days. This achievement also makes opBNB the fastest public chain to implement AA on such a large scale.
What is your project?
StarryNift is a co-creation metaverse, bringing you immersive 3D virtual experiences where you can Play, Create and Socialize. StarryNift aims to be an open Web3 gateway into the AI-powered metaverse and we do so through uniting projects, communities and DAOs to develop and co-create our 3D metaverse together.
Our Mission: Expand Metaverse Horizons with innovative & diverse use cases to accelerate Web3 adoption.
What problem/use case are you trying to solve?
StarryNift, at its core, is a co-creation metaverse. Given the expansive nature of such a platform, it encounters challenges commonly faced by large-scale Web3 applications — issues like scalability under high transaction volumes, lagging network responsiveness, and prohibitive gas fees. Integrating with the opBNB chain aims to address these challenges, ensuring that StarryNift remains a seamless, efficient, and cost-effective virtual realm for its users.
How is opBNB supporting you in solving this problem?
opBNB brings several transformative solutions to the table. Its design allows for over 4,000 Transactions Per Second (TPS) and boasts a gas processing capacity of 100 million per second. This ensures that StarryNift's platform remains smooth, fast, and efficient, even with increasing user loads and transactional demands. Moreover, opBNB's reduced average gas fees — under $0.005 for transfer transactions — ensure users can engage more freely within StarryNift without the burden of excessive transaction costs.
Additionally, the alignment with BNB Smart Chain parameters guarantees fast transaction processing and robust security mechanisms. We are excited to announce the launch of our new opBNB NFT on StarryNift MerchHub. Qualified players can claim specific opBNB NFT and enjoy a seamless experience with its low transaction fee and high speed. This enhances our players' overall experience and we get positive feedback from them.
Why did you decide to build on opBNB?
StarryNift's decision to build on opBNB is multi-faceted. First, opBNB's impressive high performance and scalability ensure that our platform can manage extensive user interactions without any lag or inefficiencies. The reduced transaction costs make it economical for our broad user base to engage in diverse metaverse activities. Moreover, opBNB's interoperability, derived from its foundation on the OP Stack, opens doors for StarryNift to collaborate and integrate with other Layer 2 platforms, promoting innovation, network effects, and heightened security.
Furthermore, leveraging the BNB ecosystem allows StarryNift to tap into a vast user base, enhancing its reach and appeal in the Web3 community. As a co-creation metaverse project backed by BNB Chain Fund, Binance Labs, SIG and other leading investors. StarryNift is always dedicated to building within the BNB ecosystem.
How have opbnb's low gas fees acted as a catalyst for growth for your project?
Low gas fees have played a pivotal role in StarryNift's growth trajectory. By ensuring transaction costs are kept minimal, users are more inclined to engage frequently, explore more features, and participate in a wider array of activities within the StarryNift metaverse.
This encourages both new user adoption and higher retention rates for existing members. Additionally, the cost-effective nature of transactions paves the way for developers and creators to experiment, innovate, and introduce new features or assets without the worry of prohibitive costs. In essence, opBNB's low gas fees have fostered an environment of inclusivity, creativity, and expansive growth for StarryNift.
What is your project?
Hooked Protocol is the pioneering immersive edutainment network to onramp the next billion people into Web3. The Hooked mission is to drive Web3 massive adoption by providing immersive, gamified, and social learning experiences. Hooked offers a seamless and intuitive onboarding path for both learners and builders through offerings of their businesses: Academy and Infrastructure.
As of now, Hooked Academy has crafted Web3-native DApp products that have garnered a colossal user base: Wild Cash, a Quiz-to-Learn Web3 bootcamp product for elementary learners with over 3 million monthly active users; ToDaMoon, a livestreaming Learn-to-Earn product for preparatory learners with 1,000,000 total competition participation; Hooked Academy Sensei, a Learn with AI-Sensei & exploratory learning product powered by AI technology with over 100,000 registered learners.
Hooked is also developing itself towards substantial development of Web3 onboarding infrastructures for onramp builders. Hooked Infra, which includes the Hooked Lego System and Hooked Alumni System, offers a comprehensive Web3 solution package for developers and DApps, empowering them to utilize Web3 in an innovative and user-centric way, while also forging powerful partnerships and robust economic vitality within the ecosystem to boost Web3 massive adoption.
What problem/use case are you trying to solve?
The crypto market is facing challenges like stagnant user growth and unstable traffic patterns. With its innovative and immersive educational platform, Hooked Protocol consistently attracts new users from outside of Web3 and reignites interest among existing users, thereby boosting traffic and energy for the entire industry and contributing to sustainability.
Furthermore, Web3 learning faces barriers such as high costs, fragmented learning experiences, and a steep learning curve. Hooked Protocol resolves these learning challenges by merging education and entertainment to create an engaging, interactive, and enjoyable learning experience for all users. Its goal is to facilitate a seamless transition for individuals from Web2 to Web3, thereby accelerating Web3 massive adoption.
How is opBNB supporting you in solving this problem?
opBNB, with its high-speed transactions, high throughput, and low transaction fees within the BNB Chain ecosystem, supports Hooked Protocol in providing a seamless user experience for their dApp, addressing scalability challenges, and ensuring cost-effectiveness for users. It offers Layer-2 solutions that enhance transaction processing efficiency, aligning with Hooked's goals to enhance user experience, solve developer challenges and accelerate the progress of Web3 massive adoption.
Why did you decide to build on opBNB?
Hooked Protocol chose to build on opBNB due to its advantageous features and alignment with their mission. The fast transaction speeds, high throughput capabilities, and affordable transaction fees make opBNB an ideal choice for an edutainment network like Hooked, aiming for Web3 massive adoption. The integration with opBNB also allows Hooked to expand use cases and collaborate within the vibrant BNB Chain ecosystem.
How have opbnb's low gas fees acted as a catalyst for growth for your project?
opBNB's low gas fees have acted as a catalyst for Hooked's growth by ensuring cost-effectiveness for users interacting with the dApp. The low transaction fees make it more attractive for users to engage with Hooked Protocol, promoting higher user participation and driving growth. It helps in making the edutainment offerings accessible and appealing to a broader audience, aligning with Hooked's mission of onboarding more people into Web3.
What is your project?
We are Baby Doge, an ecosystem involving our token, the largest meme token on BNB Chain, a decentralized swap with exclusive services on BNB Chain such as token locker, farming as a service, widget as a service and most recently our AI image generator and NFT minter. All of them are running on BNB Chain.
What problem/use case are you trying to solve?
We are empowering users to become content creators and NFT artists through the usage of our AI image and NFT generator, all while supporting the Baby Doge ecosystem.
How is opBNB supporting you in solving this problem?
The whole team at opBNB made it very easy for us to deploy contracts and tests onchain and the speed and efficiency are really impressive. We plan on expanding our presence in the near future.
Why did you decide to build on opBNB?
We decided to experiment with opBNB due to gas fee optimization and we are continuously looking to support BNB Chain, which we consider our strategic partner in growing blockchain adoption and projects around the world.
How have opbnb's low gas fees acted as a catalyst for growth for your project?
Due to the vast amount of transactions in the gaming space, low gas fees are a huge opportunity for projects working in this vertical. It's definitely something that we are impressed with and will continue to explore in the future.
What is your project?
A fully integrated web3 gaming ecosystem covering several touch points for traditional Web2 gamers to enhance their overall gaming experience leveraging Web3 technology.
What problem/use case are you trying to solve?
GAIMIN enables gamers to monetise their time online by selling their GPU power in return for token rewards
GAIMIN enables proof of ownership for digital in-game assets via NFTs
GAIMIN provides one dedicated platform which empowers gamers to interact seamlessly throughout their entire user journey via NFTs and tokens
GAIMIN creates additional touch points for our Gaimin Gladiators esport fans to enhance their engagement experience via a web3 loyalty program
GAIMIN empowers the entire web3 gaming community to increase web3 adoption amongst gamers by serving as a game launcher to drive attention to several upcoming web3 games
How is opBNB supporting you in solving this problem?
opBNB grants access to the most dedicated web3 gaming community engaging on the BNB Chain with over 3.2M WAU. Leveraging opBNB's additional benefits of being a secure EVM compatible layer 2 scaling solution that is quick and cost efficient, makes it perfect for GAIMIN to onboard millions of traditional Web2 gamers onto the Web3 gaming space.
Why did you decide to build on opBNB?
Large existing community with quick, secure and cost efficient transactions.
How have opbnb's low gas fees acted as a catalyst for growth for your project?
This is still too early to confirm by data but for the reasons already mentioned, we anticipate opBNB low gas fees to serve as a catalyst for GAIMIN growth. This would be by saving costs to allow GAIMIN to invest in other business operations such marketing and product development to support further growth.
What is your project?
CARV is a self-sovereign identity oracle and incentivized data sharing platform, starting with gaming.
What problem/use case are you trying to solve?
Fragmentation of user data across platforms, coupled with privacy related regulatory and policy headwinds create an increasing need for decentralized identity & reputation solutions.
How is opBNB supporting you in solving this problem?
CARV is building out superapp CARV Play (currently at 2M registered users & 1M SBT minted) for users in both Web2 and Web3 to share and monetize their own data via Aggregated ID NFT (ERC8231). opBNB's lower gas fee will further reduce friction for wider adoption
CARV protocol empowers users to class data level and control data access. Leveraging Greenfield, user's data such as social graph, digital assets, and behavioral remain in the BNB Chain ecosystem, enabling data ownership in a native way
BNB Chain has a vibrant and resilient gaming ecosystem, which along with CARV's protocol & Superapp, can drive mass adoption.
Why did you decide to build on opBNB?
As a genesis batch of BNB Chain's EU Incubator, CARV has been utilizing, contributing, and benefiting from BNB Chain's ecosystem. This includes:
CARV is actively supporting 40+ games & gaming projects built on BNB Chain for credentialing, growth, user understanding, and loyalty. CARV is one of the early adopters for BABT establishing use case in gaming, mentor in Game Jam, and supported the Zero2Hero Hackathon
CARV's decentralized protocol is an early tester of Greenfield for decentralized storage, and in process to establish use cases for users' revenue share
By building on opBNB, CARV can more effectively serve users in the BNB Chain ecosystem, and reach Web2 and Web3 users (lower gas fee discussed below) in an intent, centric way.
How have opbnb's low gas fees acted as a catalyst for growth for your project?
The lower gas fee, coupled with CARV's end-to-end user case starting with gaming and intent-based UX, lowers the barriers for both Web2 and Web3 users, enabling gamers to create and own their gaming credentials as Soulbound NFTs on the opBNB blockchain in a seamless way.
What is your project?
THENA is a decentralized exchange and a liquidity hub on BNB Chain offering both spot and now also perp trading on the platform. THENA offers users a multitude of ways to earn, through providing liquidity, staking, and more. For protocols, THENA acts as an open marketplace for THE emissions – a place to host liquidity and incentivize it. It's a self-optimizing DEX, based on a ve(3,3) model, where trading fees go to token holders.
What problem/use case are you trying to solve?
When we started doing our research, we quickly noticed a huge pain point for a lot of projects out there – cold start liquidity bootstrapping.
It's massively expensive to scale your token liquidity, for example long tail assets like governance tokens, and to retain that liquidity. And yes, you could say there were some solutions, but they were centralized. What THENA instead enables is liquid tradeable markets for any asset – by coordinating capital in a permissionless way.
How is opBNB supporting you in solving this problem?
User experience. This is the number one thing that decided it for us. Not only is it so much faster and cheaper, but it also offers some improvements on the tech side that will help us achieve that. The ultimate goal is that the only way users know what chain they're on is because it's such a superior experience compared to even the new ETH L2s.
There are also massive benefits by simply being part of the BNB Chain ecosystem, and the fact that it's closely integrated with the other parts of BNB's now modular blockchain ecosystem.
We now have the opportunity to really push DeFi to the masses. And our upcoming wallet solution is going to offer another quantum leap in that. More on that later.
Why did you decide to build on opBNB?
If you didn't know yet – we're BNB maxis at heart. We share a common vision with BNB Chain, and we truly believe there's a bright future ahead for all of us. As huge supporters, it was an obvious choice for us. A massive upgrade in terms of speed and cost to the already great experience we have on BNB Smart Chain? Yeah, count us in.
Also from a developer and business owner point of view, the cost of infrastructure is something that also matters to us greatly. It costs A LOT of money to run a big DEX like ours. opBNB is a significant improvement in that sense.
How have opBNB's low gas fees acted as a catalyst for growth for your project?
opBNB is going to be a massive catalyst for sure. The sheer percentage of people for whom it suddenly starts to make sense to transact on the chain is going to increase by a massive margin.
If you want to do DeFi on BNB Chain L1, you really need a portfolio of at least a thousand dollars to make it worthwhile, or otherwise the transaction fees just eat up a lion share of your profit. In fact, this is true even for protocols – for example ALPHA, our perpetuals exchange, is very gas intensive on the backend. What it means is that a huge portion of profits go directly to pay for gas.
For concentrated liquidity – having hundreds of pairs (now 170+) is not free either. Our partner Gamma Strategies manages those pairs, to rebalance and also to avoid impermanent loss which they've been extremely successful at. This all costs gas.
The low gas fees that opBNB offers allows us to accelerate THENA's growth. Better UX and other improvements will drive A LOT more adoption – that part we're sure of.
Want to build your project on opBNB? Find out more here.
---