---
Table of Contents
---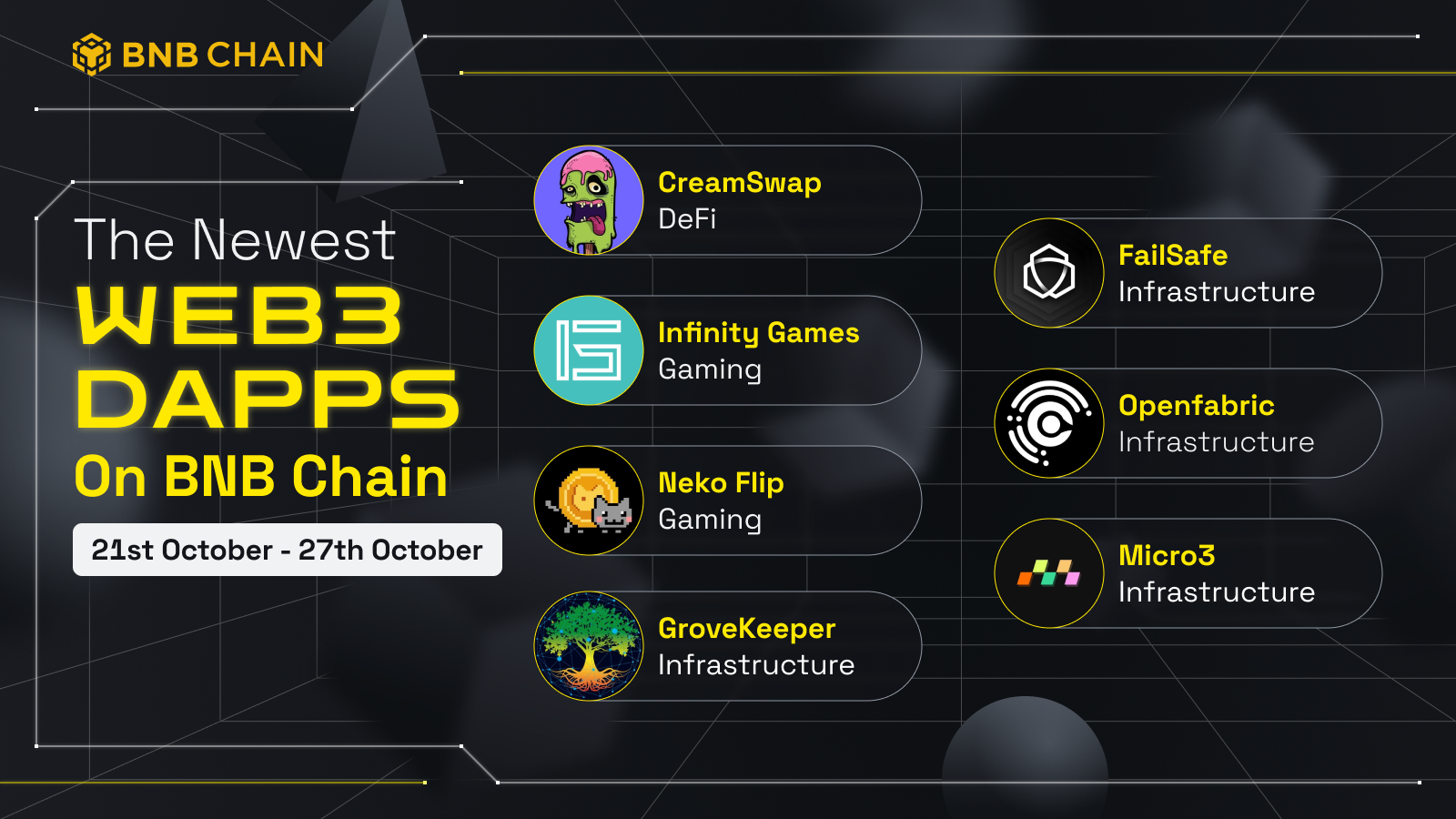 Each week, BNB Chain onboards tons of new projects across the landscape of DeFi, SocialFi, Web3 gaming, and beyond. 🔥
Take a look at the table below for descriptions of each, and make sure to follow any projects that capture your interest. Check back every week for updates on the latest members of the BNB Chain fam! Let's keep building Web3 together.
New Projects on BNB Chain (21st – 27th October)
Twitter Account
Category
Description
Value Brought to BNB Chain
CreamSwap
DeFi
Aggregated DEX on BNBChain for a better trading experience.
CreamSwap brings better trading experience and services to users and developers in BNB Chain.
Infinity Games
Gaming
Infinity Games is a multi-game platform that supports various blockchains & Game studio that can dramatically evolve Web 3.0
Revolutionizing Gaming on Blockchain, Infinity Games combines DeFi, NFTs, and Engaging Gameplay
Infinity Games is not just a game but a revolutionary paradigm shift on the BNB Chain, weaving together immersive gameplay and blockchain utility. By integrating decentralized finance (DeFi) mechanics and non-fungible tokens (NFTs) into our gaming ecosystem, we create a seamless blend of entertainment and financial empowerment for users. Our platform incentivizes participation and skill, offering real economic benefits and fostering a robust community around gaming and blockchain technology. As we push the boundaries of what's possible, Infinity Games aims to be a beacon of innovation and a catalyst for growth on the BNB Chain, driving adoption and showcasing the potential of blockchain integration in gaming.
Neko Flip
Gaming
Neko Flip: The Gamblers' $BTC with Proof of Flip and Mining Rewards.
Neko Flip is the next 100000000x project in gamble-Fi. This is the No.1 coin flip X mining ponzinomics for the Degen, by the Degen, of the Degen. The earlier a user joins and plays, the more $NEKO reward will be allocated to them. As the FOMO kicks, the protocol liquidity will be paired to the $NEKO swap pool and conduct systemic buybacks. Either flip-to-earn or (3,3) hodl will $NEKO moon and lambo!
GroveKeeper
Infrastructure
GroveKeeper is the brand new digital asset wallet of the GroveCoin Ecosystem
The GroveKeeper wallet will support both the BSC and opBNB chains as they rapidly grow and expand throughout the future of the industry by engaging both investors and builders to utilize the network.
FailSafe
Infrastructure
FailSafe: the active wallet firewall, swiftly intercepting malicious transactions.
Once activated, the FailSafe firewall proactively guards wallets on Binance Smart Chain against cyberattacks – including critical and worst-case scenarios such as complex phishing attempts, private key theft, smart contract hacks, and more. The service works by rapidly firing a counter-transaction to neutralize any unexpected and malicious attempts to steal a user's assets. The counter-transaction moves the user's assets to a secure self-custody smart contract. This global, swift, and vigilant defense system offers users unrivaled security and peace of mind in their digital transactions.
Openfabric AI
Infrastructure
Openfabric is a decentralized AI protocol for building and connecting AI applications where we have harnessed the power of blockchain, advanced cryptography, and novel infrastructure to create a new foundation for AI-Apps. In our ecosystem, everyone has quick, easy, low-cost, and hassle-free access to powerful AIs.
Openfabric AI becomes a part of the BNB Chain ecosystem, offering AI capabilities and integrations to benefit all community members, developers, and partners.
Micro3
Infrastructure
Micro3 pioneers secure cross-chain transactions in the web3 landscape.
Micro3 is a platform dedicated to supporting NFT creators across multi-chains, and BNB Chain stands as one of the chains we proudly endorse. We are committed to delivering robust communication strategies to our users. Therefore, we hold the utmost confidence that this will result in a substantial influx of users for BNB Chain.
---