From the very first day of internet, people had a notion of a connected world, no matter where you live, you can still communicate or learn something from someone else's on the other side of the globe. It was a success and a gateway to information era, but ironically, connection trade-offs more data and that leads to concern over data breaching, users manipulation by big corporations. It was web 1.0 then 2.0, but now not too far from the future, people start to have a sense of what user-centric internet with blockchain tech is and it's community governed, decentralized, and privacy focused. A web 3.0 is being developed by Litentry.
What is Litentry?

Litentry is built to be a user-centric internet integrating blockchain technology. The purpose is to make a internet community driven by users only and matching their needs. Especially, through using apps and services, data security is a must and platform should be decentralized. This opens a new door for the industry and enables developers to build new identity-focus products. The profit generated by the user's data should flowb to you the user, instead of mainly flowing to service.
Realizing the challenge of different decentralized systems have different DID (decentralized identifiers) standards, the team has solved the issues by integrating those standards when linking digital identities. Also there's demand for integrated identities data is expected to largely come from decentralized applications that are fueled by personal identity data. And there's the issue of data breach and tracking users via third party applications. Litentry plays a role to connect and protect data of users. The services can be widely used on DeFi, on-chain governance, and decentralized KYC. The processes of data aggregation and verification are transparent, secure, and privacy-preserving.
Overall, Litentry Network provides privacy-first, decentralized identity aggregation computing services. Litentry Network conceptualizes the complexity of the blockchain consensus layer and commences the calculation of the format-agnostic DID data for multi-network identity aggregation.
What does Litentry have?
Blockchain powered
Litentry is built on Substrate, which inherits great features and the best technologies in the Blockchain industry. Litentry aims to be the Parachain of Polkadot Network and benefit from the thriving cross-chain ecosystem and shared security.
Focusing on privacy
Privacy preservation is the fundamental of Litentry network and we do not want to breach the pseudo-anonymity of blockchain networks. Litentry supports an incognito on-chain data processing.
Decentralized platform
Litentry Network processes DID verification, aggregation, and computation requests from a service demander and returns a trustable result. The process will be implemented by a random set of validators in the network in a fully decentralized and transparent way.
Community Governed
The credit computation algorithms, the data origins, and the identity registrars are all governed by the LIT stakeholders, the relationship of community and community members could be recorded on chain and generated community credit, and further all the governance credit will contribute to voting power.
Dapps use case
For Developers
The ecosystem needs the DApp as identity contributors, it's built to be essential tools for developers to easily create DApp connect to Litentry.
Litentry Network / Runtime
The core of Litentry, built with Substrate, it inherits great features and the best technologies in the blockchain industry. Aiming to be the Parachain of Polkadot Network and benefit from the thriving cross-chain ecosystem and shared security, Litentry has strived to meet the demands in the current market of crypto. Runtime's off-chain worker protects the privacy of data generation and distribution processes.
Litentry SDK
Currently support Javascript, with the integration of Polkadot api, offer scaffold and tools for developers to build client-side applications running on Web, mobile, and IoT devices. More programming languages and decentralized data storages interfaces are in the plan.
Litentry Light Client Services
Decentralized background mobile application enables mobile applications for Litentry to be completely independent of any third-party server. Mobile applications will connect directly to the Litentry blockchain network and decentralized storage rather than a single node. It also enables notification from blockchain rather than Apple or Google's message center.
For Users
Litentry Authenticator as the user's mobile data hub. Data Explorer for users to check their own data, and DApp Playground to demo the potentials of the user-centric web.
Litentry App
Litentry app is a mobile tool integrated with identity on Litentry Network. Users could interact with multiple services like recalculate voting power in on-chain governance or get analyzed DeFi services based on credit. It could facilitate the governance process, integrate participants' more information from linked accounts on other networks, and encourage more users to join on-chain governance with LITs as incentives.
Litentry Authenticator
Litentry Authenticator is a mobile identity and data hub for a decentralized web. It features 2FA and versatile app/service interfacing, crypto wallet, aliases identity generation, private data aggregation, and NFT data authorization. In the future it will also integrate identity staking and identity matching services.
The objectives of authenticator:
It Should Allow Users To Use their Owned Substrate Account Related Identity To Login To A Third Party Website (That Supports This Login Method).
It Should Be Easy To Use And Reasonably Easy To Setup.
It Should Not Compromise The Security Of The User's Substrate Account.
It Should Allow Users To Recover Their Credentials In Case Of Loss Or Theft.
It Should Not Require Knowledge Of Cryptography Or Blockchain With Authentication.
It Should Have Reasonable Latency For A Login System.
It Should Not Cost Users Gas (Or Money) To Login.
It Should Be Reasonably Easy For Developers To Implement In Their Apps.
DApp Playground
Collections of DApp samples built on Litentry. It demonstrates how the decentralized 2FA works, and how the DApp works on Litentry, currently there is a decentralized music app and a decentralized tweeting app for users to play. Playground with no registration, no password, no App migration barriers.
Tokenomics
Network: Ethereum
Contract address: 0xb59490ab09a0f526cc7305822ac65f2ab12f9723
Total Supply: 100,000,000
Token: LIT
Exchange platforms: Binance, Gate.io, Kucoin, Uniswap, Mexc, EXmarket, XT.com, Bitvavo, Coindcx, Coinex, Hoo, Pionex, Bitforex, tokocrypto, Hotcoin Global, Mandala, ZT, Coinone, WBF exchange.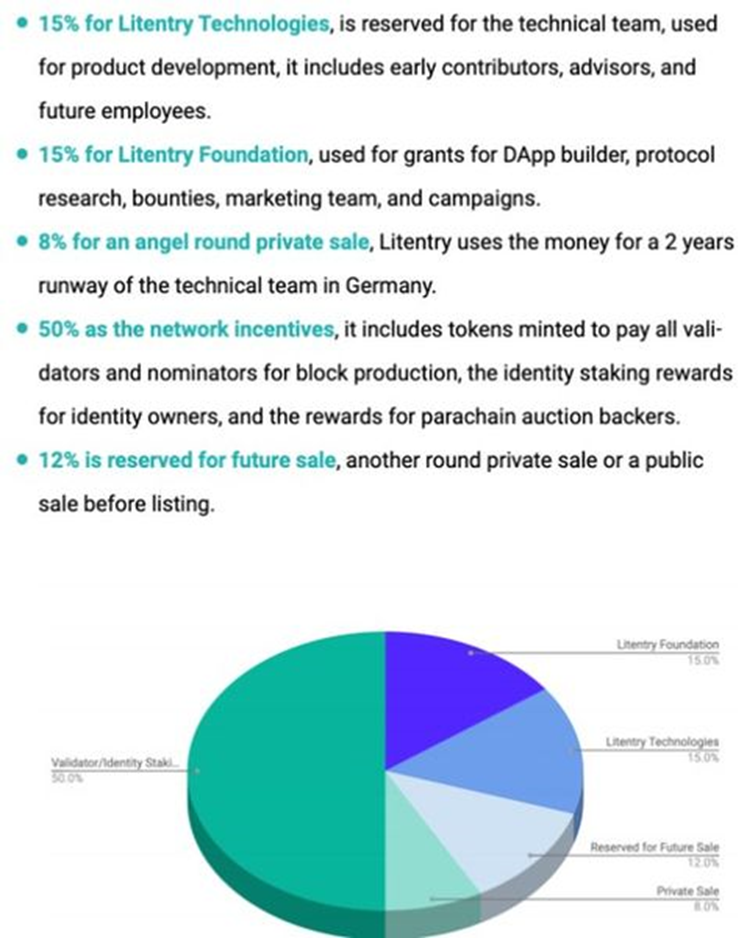 Token allocation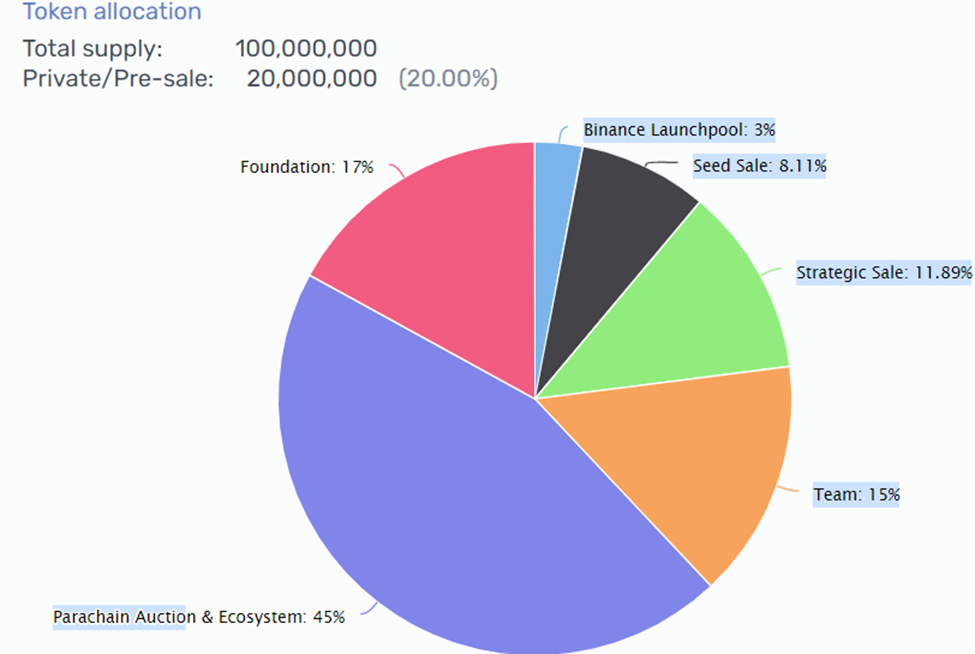 Private sales ended with raising of $ 2,972,220 and sold 11,888,880 tokens.
The seed round ended raising $ 1,460,002 and sold 8,111,120.
Crowdloan rewards and allocates 20% of total LIT supply. Scheduled in Nov. 4, 2021, there was $2.5M of 20% LIT supply (20,000,000 LIT). Crowdloan is a growing trend taken by projects to receive enough funding to participate in Polkadot's parachain auction. Participants contribute by staking DOT into a crowdloan vault stored on the blockchain for a designated period. Compared to other projects, Litentry has designed an innovative crowdloan system that incentivizes contributors. Interested participants have until December 17, 2021, to lock their tokens in the crowdloan pool, which has a hard cap of 8,000,000 DOT, a feature shared by none of its slot 1 competitors. This hard cap would make sure the DOT rewards each participant gets will not be diluted after the staking DOTs reach a safe winning amount. Litentry will be rewarding participants a minimum of 12.5 LIT tokens for every 5 DOTs staked. Contributors can also get an additional 10% bonus by staking their tokens before the parachain auction or a 5% bonus during the first seven days of the parachain auction. There will also be an extra 10% identity-related bonus, which will be announced soon. Giving supporters a total reward of 24% of LIT supply.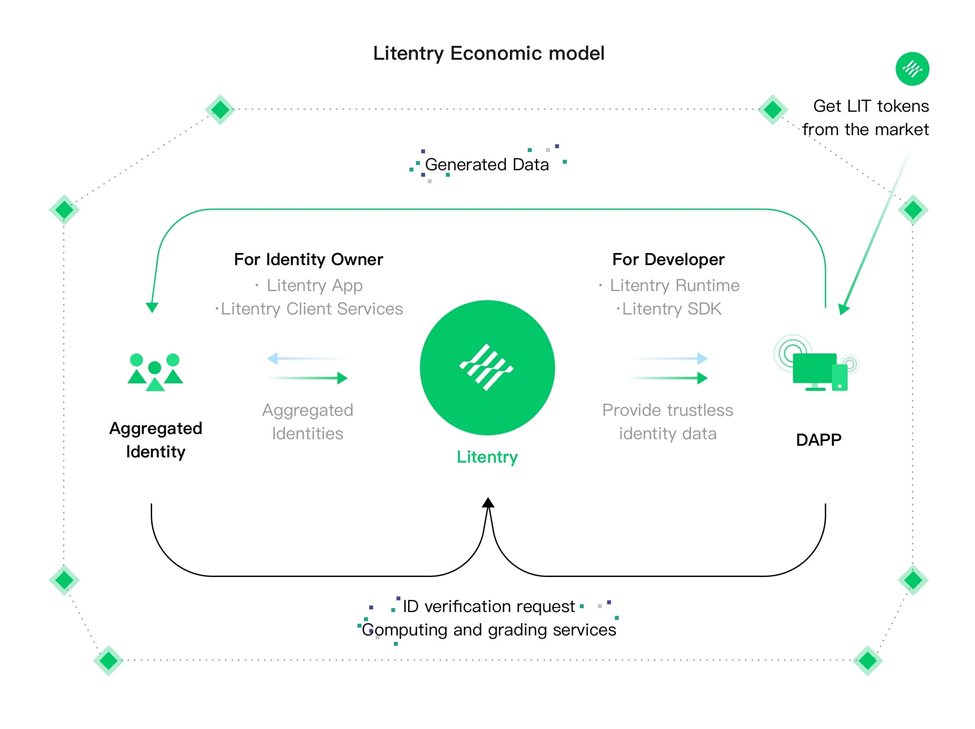 Roadmap
Runtime Upgrade
Connect to Rococo V1 with Parachain Candidate
Testnet launched
Attend Polkadot parachain auction
Enable submit customized credit computation function
Remove Sudo, start governance
Mobile Engineering
Integrate Litentry identity registrar
Cross wallet communication
Native Litentry runtime support
Launch light client services
Intergrate Dapps market
Identity messaging support
Team and partners

Litentry has also partnered with Defi platforms Bitfrost and Parallel Finance to provide lending options for crowdloan contributors. Users can contribute to Litentry crowdloan pool from both platforms and receive rewards in LIT tokens + liquidity DOT derivatives. Many Defi and gamefi have made their partnerships with Litentry to join the new age of web 3.0. As they have seen the demand for services like Litentry from users, data security and user-centric web, their platforms must have a piece of this potential services.
Team members are mainly comprised of blockchain veterans and computer tech with 1 notable figure working for Polkadot as a technical.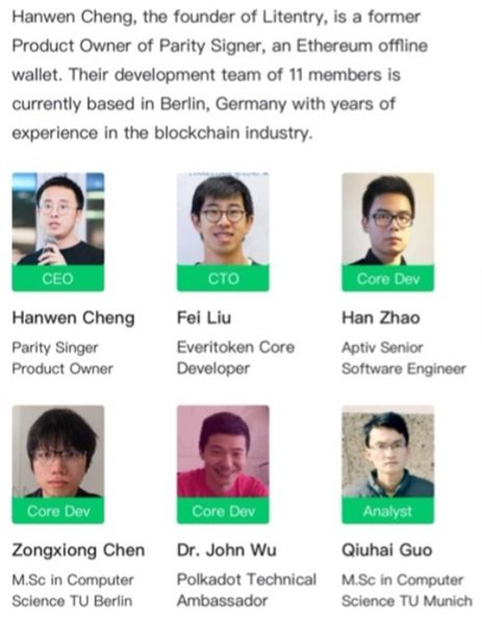 Thoughts on Litentry
Litentry is a decentralized identity aggregation protocol that works across multiple networks. It features a DID indexing mechanism and a substrate-based credit computation network. Litentry also provides a decentralized, interoperable identity aggregation service that reduces the difficulty of resolving agnostic DID mechanisms. Litentry has developed an innovative ecosystem through which users can manage their identities and DApps obtain real-time credit/reputation of an identity owner across multiple blockchains. Litentry is supported by Web 3.0 foundation grants program.
With an aggregated cross-chain identity, blockchain projects will be able to offer dedicated graded identity services to power next-generated Web 3.0 services. For example, Litentry can be deployed and used to calculate an individual's credit rating to facilitate analyzed DeFi services. With all the on-chain activities data aggregated by Litentry on individual addresses, users can generate proof in a decentralized manner by submitting the addresses for activities like IDO/airdrop whitelisting.
The current activity for the next success is staking DOT in the crowdloan pool as part of their parchain auction and crowdloan activity. In addition, the 96 weeks staking period also represents an excellent long-term investment for contributors who will generate value from their DOT tokens and receive LIT tokens as rewards for their stake. There is 1 moving thing about Litentry that is the giving back to community. They sponsored a startup program to recruit talents for the acceleration of DID ecosystem. This would help so much for the adoption and accessibility of web 3.0. By initiating this program, they have created an opportunity for younger generations to have more confident in this idea and then daily complete the blockchain tech.
The potential of Litentry is endless, as of now web 3.0 is possibly a next trend. This could be one of the first to lay the foundation for web 3.0.
disclaimer: This is writer's perspective, not financial advice.