---
Table of Contents
---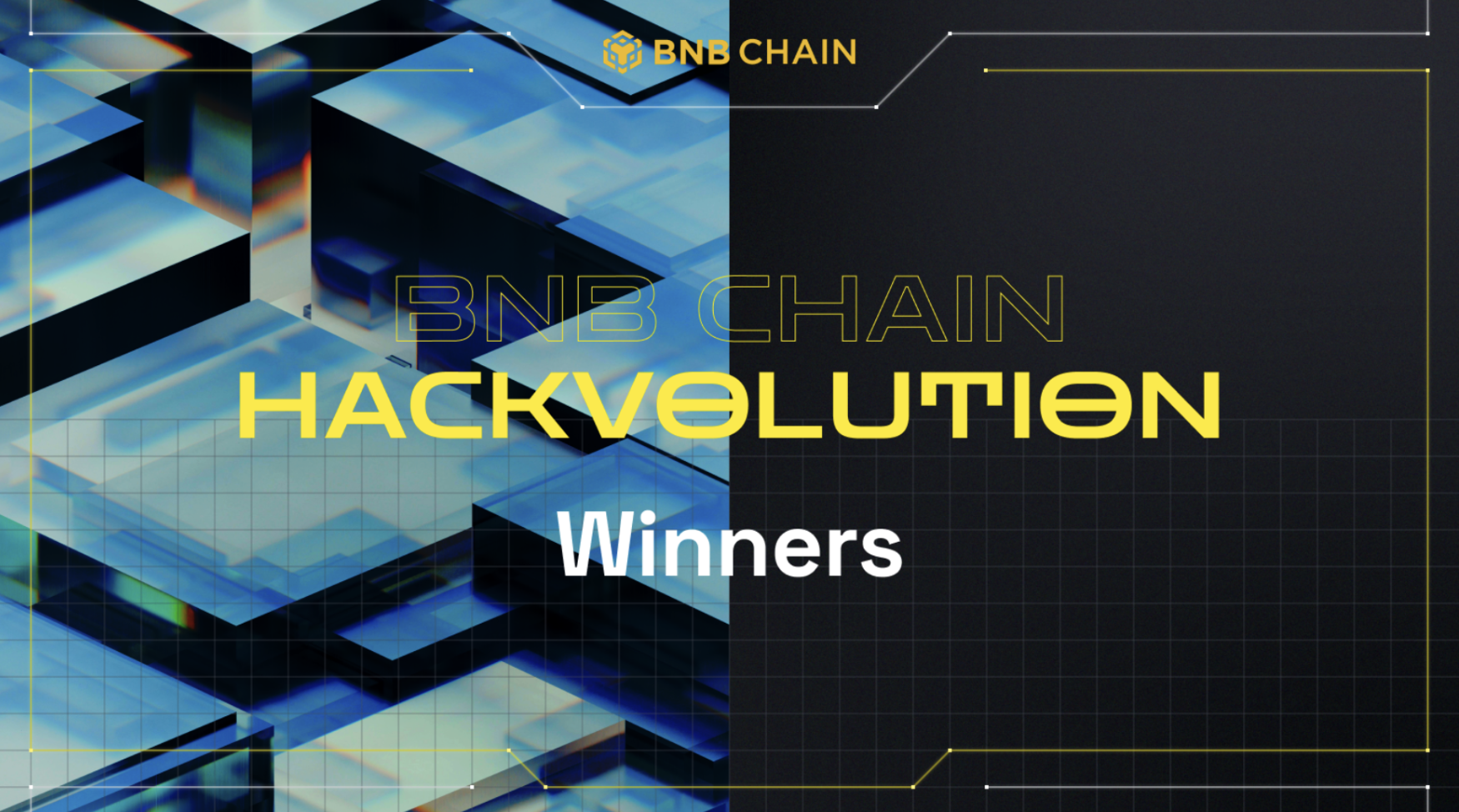 Innovation knows no bounds, and at this year's BNB Chain Hackvolution Hackathon, that spirit was evident in every line of code, every creative idea, and every ambitious project submitted by participants from across the globe. We received over 150 dApp submissions and had over 800 applicants express their interest.
The event not only showcased the incredible talent within our community but also presented an opportunity for us to adapt and evolve as organizers to better recognize the incredible achievements of our participants.
We are excited to share with you the winners of this year's hackathon and the noteworthy change in our prize distribution strategy.
Celebrating Innovative Projects
The BNB Chain Hackvolution Hackathon is a platform to celebrate innovation and creativity in the world of blockchain and decentralized applications (DApps). This year, we were fortunate to witness a diverse range of projects that challenged the boundaries of what's possible in the blockchain space.
As the evaluation process unfolded, we were blown away by the potential of multiple projects. With this in mind, we replaced the "Local Hacker Star" award with a new category, "Projects with Potential." We believe that this new category better reflects the quality and potential of the projects who entered while also creating an environment that encourages more participants to join our future hackathons, many of whom displayed remarkable potential.
Introducing a New Category – "Projects with Potential"
This category is designed to highlight projects that, although may not have secured the top rankings, have demonstrated exceptional promise and innovation and better acknowledge the unique qualities of each project.
With the introduction of this new category, and based on the results of the opBNB and Greenfield wishlist, the reward allocation has been adjusted. The total prize pool dedicated to this Hackathon remains the same (USD 72,000).
Let's delve into the updated prize distribution.
Winners

Unfortunately, there are no winners in the gaming and DeFi categories this time. However, there are several highly promising projects that have earned the potential award. These projects will collectively share the $22,000 prize pool, with each project receiving a $2,000 reward.
Projects with Potential Awards
BNS6551, Datumendo, Greenfield Mobile, Metagent, Munhna, opSyndicate, School for AI, Smart Agree, Spacetar on opBNB, TripleC, and Xcrypt.
Participating projects that showed strong potential were also invited to apply for the Most Valuable Builder Program Season 7.
We'd also like to take this opportunity to encourage all projects to take part in our upcoming BNB Chain Istanbul Offline Hackathon during Binance Blockchain Week from 3 to 5 November! We will announce the details shortly.
A Bright Future for Blockchain Innovation
We extend our heartfelt congratulations to all the winners and participants of the BNB Chain Hackvolution Hackathon. Your dedication and innovation have left an indelible mark on the blockchain community, and we are excited to see where your projects will take us in the future.
This adjustment in our prize distribution underscores our commitment to fostering an environment of inclusivity, recognition, and support for emerging talent. We are confident that this change will encourage more aspiring developers to join our ranks and share their unique vision with the world.
Thank you to everyone who took part in this year's event. And thank you for the support from Dorahacks, COMBO, Ultiverse, CyberConnect, Hooked Protocol, Alibaba Cloud, Google Cloud, Amazon Web Services and. We look forward to continuing to support and nurture the growth of blockchain technology and innovation together.
---