---
Table of Contents
---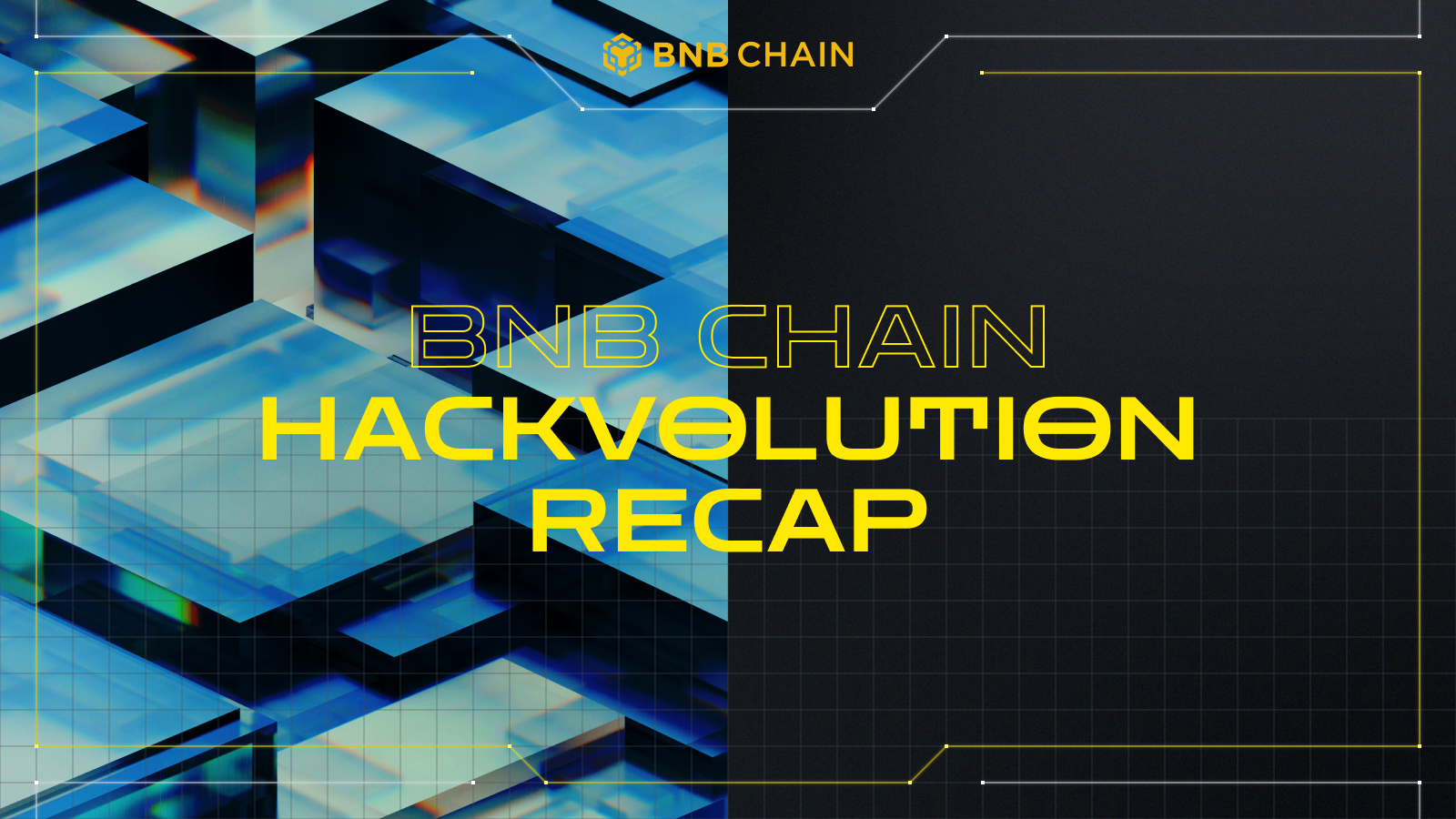 The BNB Chain Hackvolution Hackathon was an exciting event that brought together developers and innovators from around the world to explore the potential of opBNB and BNB Greenfield in the world of decentralized applications (dApps). It took place from July 13 to September 1 and focused on empowering next-generation dApps.
We received over 150 dApp submissions and had over 800 applicants express their interest for this event. Let's do a quick recap of the key events of Hackvolution!
Summary
The hackathon revolved around leveraging opBNB's high performance and low-cost solutions and BNB Greenfield's data creation, management, and monetization capabilities. This combination aimed to open doors for dApps in mass adoption, sustainable DeFi, and the Web3 data economy.
Participants had the opportunity to win prizes and benefits in various categories, with support from industry leaders. Notable winners included Codex Field and Op-Intents, RIDO protocol, StoryChain, and GreenGate among others, in the Infra Track and AI Track categories. A further 11 projects received were also recognized for their potential.
The hackathon featured workshops and discussions covering topics like data management, layer 2 scalability, DeFi, and the fusion of AI and Web3 technologies.
Innovative projects were showcased during the Demo Day, with examples including CodexField, RIDO Protocol, Op-Intents, and StoryChain, highlighting the use of BNB Chain, opBNB, and BNB Greenfield for code storage, data financialization, onboarding solutions, and AI-based storytelling.
Discovering the Power of opBNB and BNB Greenfield
The heart of the hackathon revolved around leveraging the capabilities of opBNB and BNB Greenfield. opBNB offered high performance and low-cost solutions, while BNB Greenfield allowed for the creation and management and monetization of data.
This combination opened the door for developers to build dApps that could have a significant impact on the Web3 ecosystem. The possibilities included dApps for mass adoption, sustainable DeFi, and the Web3 data economy.
The hackathon emphasized several areas of interest, including projects focusing on interoperability within BNB Chain, migration tooling from other decentralized storage solutions, and projects related to the Internet of Things (IoT) on BNB Greenfield.
Check out BNB Chain's wishlist here!
Prizes and Benefits
Participants had the chance to win exciting prizes and benefits based on technical innovation, business model, and team expertise. The hackathon received support from notable industry leaders like COMBO, Ultiverse, CyberConnect, Hooked Protocol, Alibaba Cloud, Google Cloud, Amazon Web Services. These supporters contributed generously to the event's success.
Dorahacks served as the partner and main event organizer for the hackathon. They are a global hackathon community dedicated to solving real-world problems with code. Generous rewards, including cash prizes, marketing packages, participation in the BNB Chain's Gas Grant program, and discounted access to essential tools and services, were up for grabs.
Winners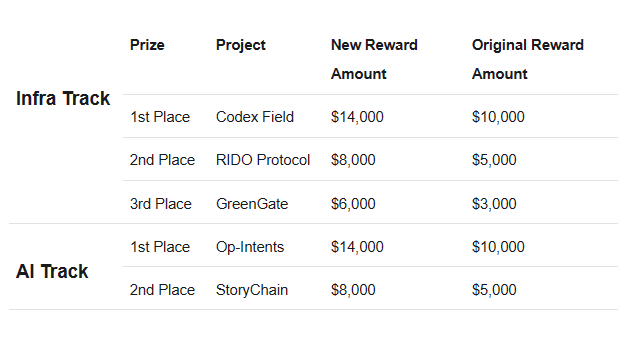 Where there are no winners in the gaming and DeFi categories this time, several highly promising projects were recognized for their potential. These projects will collectively share the $22,000 prize pool, with each project receiving a $2,000 reward. The projects with potential are: 
BNS6551, Datumendo, Greenfield Mobile, Metagent, Munhna, opSyndicate, School for AI, Smart Agree, Spacetar on opBNB, TripleC, and Xcrypt.
Additionally, participating projects that showed strong potential were also invited to apply for the Most Valuable Builder Program Season 7.
Highlights from Days 1 to 4 of Hackvolution
The hackathon featured a series of workshops and discussions over four days, each focusing on different aspects of blockchain and Web3 innovation. You can check out the workshop recordings here.
Here are some key highlights:
Day 1: Empowering Data Management through Greenfield and BNB Smart Chain
Introduction to BNB Greenfield and its role in decentralized data management.
Exploration of BNB Greenfield's features and its ability to cater to diverse data privacy needs.
Hands-on experience with creating transactions and interacting with smart contracts on BNB Greenfield.
Day 2: Scaling New Heights – A Glimpse into Layer 2 Scalability
Discussion on scalability challenges in blockchain networks, with a focus on layer 2 solutions.
Introduction to opBNB as a potential game-changer in blockchain scalability.
Importance of technical intricacies like optimistic rollups and zero-knowledge proofs in improving blockchain scalability.
Day 3: Charting a Course in DeFi Ecosystem
Insights from thought leaders in the realm of Web3 gaming and infrastructure.
Discussion of challenges and strategies for crafting sustainable DeFi protocols.
Emphasis on building protocols with real utility, resilience, and well-aligned incentives.
Day 4: The Fusion of AI and Web3: A Vision Unveiled
Exploration of the convergence of AI and Web3 technologies and their implications for various industries.
Discussion on democratizing development, generative AI, and content creation.
Liberating knowledge and skills through AI and its impact on various fields.
Demo Day: Celebrating Innovative Web3 Projects
What better way to celebrate the innovative projects emerging from the dynamic Web3 space than by showcasing them during the BNB Chain Hackvolution Demo Day? You can watch the full event here.
Let's walk you through the highlights of the recent demo day:
CodexField: A decentralized platform for code storage, sharing, and monetization.
RIDO Protocol: A programmable storage protocol for financializing personal data.
Op-Intents: A solution to streamline Web3 onboarding for newcomers.
StoryChain: A collaborative AI-based storytelling platform.
The projects demonstrated how they leverage BNB Chain, opBNB, and BNB Greenfield to create innovative solutions in various domains, from code monetization to data financialization and AI-based storytelling.
Conclusion
The BNB Chain Hackvolution Hackathon was a remarkable journey of innovation, collaboration, and empowerment. It provided a platform for developers to explore and create meaningful dApps while leveraging the potential of opBNB and BNB Greenfield. The event celebrated creativity, technical prowess, and the spirit of entrepreneurship, shaping the future of decentralized applications.
The hackathon not only offered prizes and recognition to participants but also opened doors to future opportunities for grants and support. It highlighted the resilience and boundless aspirations of the BNB Chain and broader blockchain community, paving the way for continued growth and innovation in the Web3 space.
We'd also like to take this opportunity to encourage all projects to take part in our upcoming BNB Chain Istanbul Offline Hackathon during Binance Blockchain Week from 10 to 12 November!
---