---
Table of Contents
---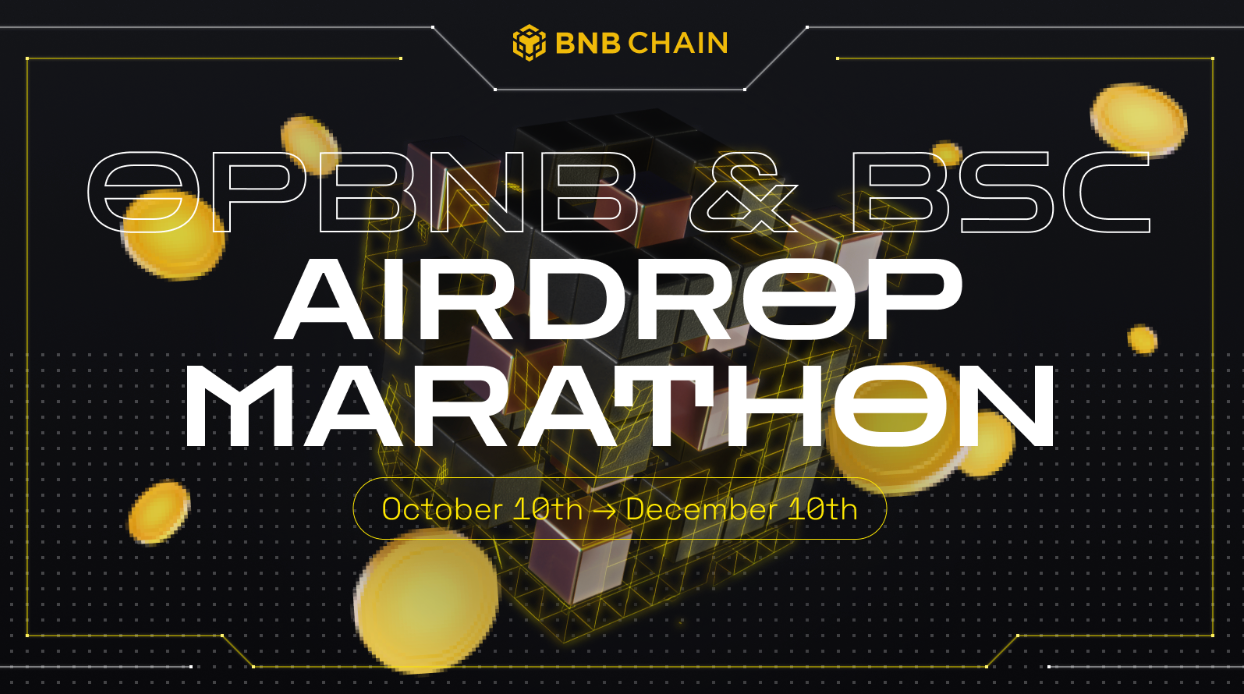 Are you ready for an exciting two-month journey filled with token treasures?
The BNB Chain Airdrop Marathon is here, bringing a plethora of airdrop opportunities to the BNB Chain community. From October 10, 2023, to December 10, 2023, BNB Chain along with its participating projects will host a series of activities where participants can take part to qualify and compete for airdrop rewards.
In this article, we'll dive into the details of this thrilling campaign and how you can participate to claim your share of the token treasures.
The BNB Chain Airdrop Schedule
The BNB Chain Airdrop Marathon spans two months, with new airdrop activities launching every Tuesday. Each airdrop event will last for one week, ensuring a steady stream of opportunities for participants.
With a weekly schedule prominently displayed on the campaign's landing page, and updates posted on Twitter and within the community, you'll always be in the loop about the latest airdrops.
How to Secure Your Airdrops
Participating in the BNB Chain Airdrop Marathon is straightforward – users will need to complete tasks set by the respective project teams to become eligible for airdrops. Whether you're a seasoned crypto enthusiast or new to the game, these tasks will provide you with a chance to accumulate tokens from promising projects.
To qualify and compete for airdrop rewards, participants will need to complete a mix of on-chain and off-chain activities. The combination of on-chain and off-chain tasks allows users to interact and engage with various projects, fostering a sense of community and involvement.
Variety of Projects and Tokens
One of the key highlights of this marathon is the diversity of projects involved. Each week, between one and three projects will participate, giving users a chance to explore and engage with a wide range of innovative Web 3 projects. Several projects in this campaign will provide their issued tokens as rewards, while others that haven't yet issued tokens will also participate. Users will earn qualifying rights for tokens that are planned for issuance in the near future.. This variety ensures that participants can discover exciting new tokens and projects while earning rewards.
Stay Informed and Get Ready
As the BNB Chain Airdrop Marathon kicks off, make sure you're prepared for this exciting two-month journey. The BNB Chain Airdrop Marathon is not just about tokens; it's a chance to be a part of an active and engaged BNB Chain ecosystem. Don't miss out on this opportunity to get involved in the BNB Chain ecosystem and be rewarded for your participation. Start your journey on October 10, 2023, and let the token treasures flow!

Thanks QuestN for the technical support.
Risk Warning:
Digital asset prices are subject to high market risk and price volatility. The value of your investment may go down or up, and you may not get back the amount invested. You are solely responsible for your investment decisions and BNB Chain is not liable for any losses you may incur. Past performance is not a reliable predictor of future performance. You should only invest in products you are familiar with and where you understand the risks. You should carefully consider your investment experience, financial situation, investment objectives, and risk tolerance and consult an independent financial adviser prior to making any investment. This material should not be construed as financial advice. For more information, see our Terms of Use and Risk Warning.
Further Disclaimer:
This blog is not intended as investment advice.
Some airdrop rewards are in tokens that the project has not yet issued. To claim these airdrop rewards and receive real-time updates on related information, we have created a group for users to closely follow.If you are a project owner and wish to participate in this airdrop program, please submit the form here 👉 https://forms.gle/D4XrvT4EN7ekzrZQ8.
---