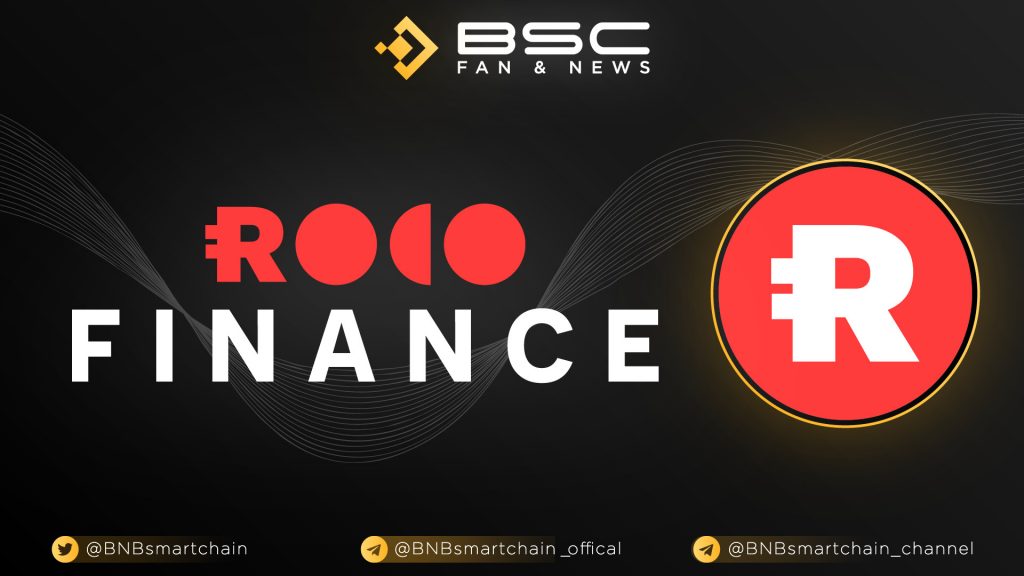 GameFi- a financialization of video gaming, this has taken a hit during this era of gaming, blockchain and cryptocurrency. The concept of play-to-earn, IDO platform and DEFI are not new but why not combine all and make something beautiful out of it. Introducing ROCO Finance, a platform where you can entertain yourself with high quality video games and earn your income at the same time. More to that, developers can IDO their products and investors/players can easily stake, trade and hold their all assets on the same platform (even play many games).
About Roco Finance
ROCO is a decentralized GAMEFI platform which provides blockchain services to game developers, content creators and player communities through the blockchain network. Roco developed on AVAX network for using in Roco Finance's own game ecosystem and partner games. Roco Finance plans to drive the evolution of online gaming with targeted industry focused solutions to help promising gaming projects reach their full potential.
Play & Earn
It is the first project that aims to unite both game developers and player communities with the Play and Earn philosophy via blockchain. While making improvements for players to gain crypto assets in the game with game add-ons, it also provides a decentralized platform service where players can buy and sell their virtual items with the NFT Market, thus ensuring that NFTs have real world asset.
Tokenomics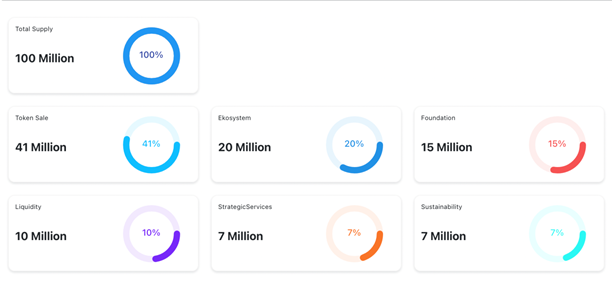 Seed and Private Sale 36M tokens ($0.1)
Public Sale: 5M tokens ($0.12)
Total Hard Cap $4.200.000
Initial Circulating Supply 8.600.000
Initial Price $0.12
Initial Market Cap $1.032.000
Vesting
Foundation 6 months cliff, 8.33% monthly for a year
Ecosystem 30 days cliff, 25% unlocked quarterly over a year
Liquidity Provision 100% unlocked, 33,3% will be used for pool liquidity on Pangolin at the beginning.
Strategic Services 30 days cliff, 8.33% a month for 12 months
Sustainability 2 years cliff, 16.66% a month for 6 months
Seed & Private 10% unlocked, 3 month cliff, 5% a month for 18 months
Public Sale 100% unlocked
Token Allocation
10% of the total funds ($420.000) will be used for pool liquidity at Pangolin. Roco Finance reserves its right to make additional buybacks or increase the liquidity of the pool, depending on the situation of the market.
50% of the total funds ($2.100.000) will be used for developments. This signifies improvement and operational costs of all technology what is explained in this whitepaper: smart contracts, wallets, SDKs, APIs, game add-ons, third-party add-ons and other updates on Roco token. This will also include additional full-time recruitment developers and consultants to speed up development to meet or exceed roadmap goals and expansion targets.
20% of the total funds ($840.000) will be used for marketing. They will allocate our marketing budget to social media and high-read news sites.
10% of the total funds ($420.000) will be used for security. There is development of a high level security protocol for Ddos and similar attacks on the platform. Smart contracts will be audited and it will provide security and convenience for users.
10% ($410.000) This amount will be set aside for unforeseen costs.
Token Information
100,000,000
100,000,000
Self-Reported Circulating Supply
8,600,000.00 ROCO
Contract:
Avalanche C-chain (Avax)
0xb2a85C5ECea99187A977aC34303b80AcbDdFa208
Where you can buy the token: TraderJoe, Pangolin
What's good about Roco Finance
The solutions
Stating the problems that gaming industry and crypto markets are facing from lack of security for p2p trading (fraud or scam), inaccessible blockchain technology, to unfair trade and not yet mainstreamed cryptocurrency gaming, ROCO Finance promises to solve all of that.
Secure Peer-To-Peer Trading Solution
Roco Finance created its NFT market place which allows gamers to easily purchase or sell their in-game items in the form of non-fungible tokens (NFTs). This platform is fully transparent and gives gamers the ability to buy sought-after virtual items or sell them with peace of mind.
The ROCO Payment Gateway System
Roco Finance native token, $ROCO is the primary facilitator of payment within the Roco Finance ecosystem. All games powered by Roco Finance will have $ROCO integrated into their game economics. This means that players can transfer and use their in-game currency across different game platforms!
Provision Of Blockchain Infrastructure
Roco Finance helps game developers integrate blockchain gaming features into their games by providing crucial blockchain infrastructure including; APIs, open-source software development kits (SDKs), virtual items management applications, and an optimized crypto-powered payment system. This will lower the barrier to entry for gaming companies interested in taking advantage of blockchain technology.
Blockchain Gaming Marketing Solutions
Roco Finance helps blockchain-based games to promote and market their products through the Roco Starter IDO. Roco Finance will organize IDOs for promising projects, provide technical support and contribute to their token economics during the seed and incubation stage of development.
Roco Finance Community Offerings
Roco Finance is a community-backed protocol that seeks to make user-friendly offerings accessible to developers and network participants. These community offerings serve to facilitate a healthy circular token economy and provide liquidity to support promising projects. Some of these offerings include:
Staking: Network participants can stake their ROCO tokens to earn passive recurring income via Roco Finance's staking mechanism.
NFT Marketplace: Through its NFTs marketplace offerings, Roco Finance network users can purchase a unique permanent certificate of ownership of digital assets.
Liquidity Provision: Roco Finance ensures that developers can access seed funding and liquidity while rewarding the community for their participation.
Other perks and benefits
For players/investors
Access to the NFT market.
Able to stake and farm with cheaper fees plus fast transactions.
Use Items of their partner games, and store them outside of games.
Better regulated P2P trading in a secured platform.
Participation in IDOs, stake and own tokens for rewards.
Access to a buyback program with 10% annual revenue.
For developers
Reduced R&D costs when use products of ROCO.
Better security by regulations, to avoid chargeback and fraud transaction.
Assistance with IDO process.
Able to make initial asset offering through their NFT Market before even at pre-launch or post-launch of the games.
Roadmap
Q4 2021:
Public sale/token trades
Roco Stake Pools Launches
Roco Starter Launches
Roco NFT Market 1.0 Vers. Launches
Blockchain Integration Of Riseonline Starts
Developing of SDK and API Starts
Developing of Payment Gateway Starts
Developing of Mobile Wallet Starts
Riseonline Closed Beta Version Launches
Q1 2022:
Mobile Wallet integration starts
New game developing starts
New Partnerships with game developers
Q2 2022:
Roco NFT Market Alpha Vers. Launches
Q3 2022:
Multichain cross platform developing starts.
Q4 2022:
New Game 1.0 Vers. Launches
Investors:
Disclaimer: This is not a financial advice.
Writer Perspectives
First of all, when looking at a new project, I usually research their whitepaper and their team. To say about the whitepaper, it has clear information about what an investor would want to look at. Not just tokenomics, roadmap, benefits, they include even the history of the project and what drove them to implement.
Diving deeper to the subject, we can see ROCO is operated on AVAX network which is a relatively new blockchain with better scalability and smart contracts. This promises faster transactions and lower fees for the project developed on this network, unlike Ethereum. The whitepaper also states clearly about the benefits of joining as investors and developers. Moreover, they prove their words by featuring the first MMORPG game partnered with ROCO. All the events and models of the game associating with functions of the platform prove to be potential. Throughout the paper, they emphasize a lot on security and convenience of assets holders and traders, this would be something capturing the attention of investors.
Now, let's talk about roadmap and development team. Started in q4 2021 and end in q4 2022, the roadmap has shown many operations within 6 months out of 1 year plan. The project launched in q4 2021 and users can experience token sales, NFTs market, first game on the platform. Starting next year in 2022, the project goes big with exciting news of game developments, mobile wallet integration, and more partnerships. But so far the project has yet announced any new popular partnerships, with only a few such as Hoopoe ventures, Pangolin, and listing on TraderJoe.
The team has a lot of individuals from relevant background based in Turkey. With years of experience on gaming, tech and financial industry, they seem to know what they are doing.
In conclusion, the platform is an exciting idea comes true with the best of both worlds of gaming and finance. They combine them both and elevate it the next level where gamers can earn, store, and trade their assets as well as investors can IDOs new gaming projects. If you want to earn some income with no worries about security and high fees while enjoying some video games, why not check this project out.