---
Table of Contents
---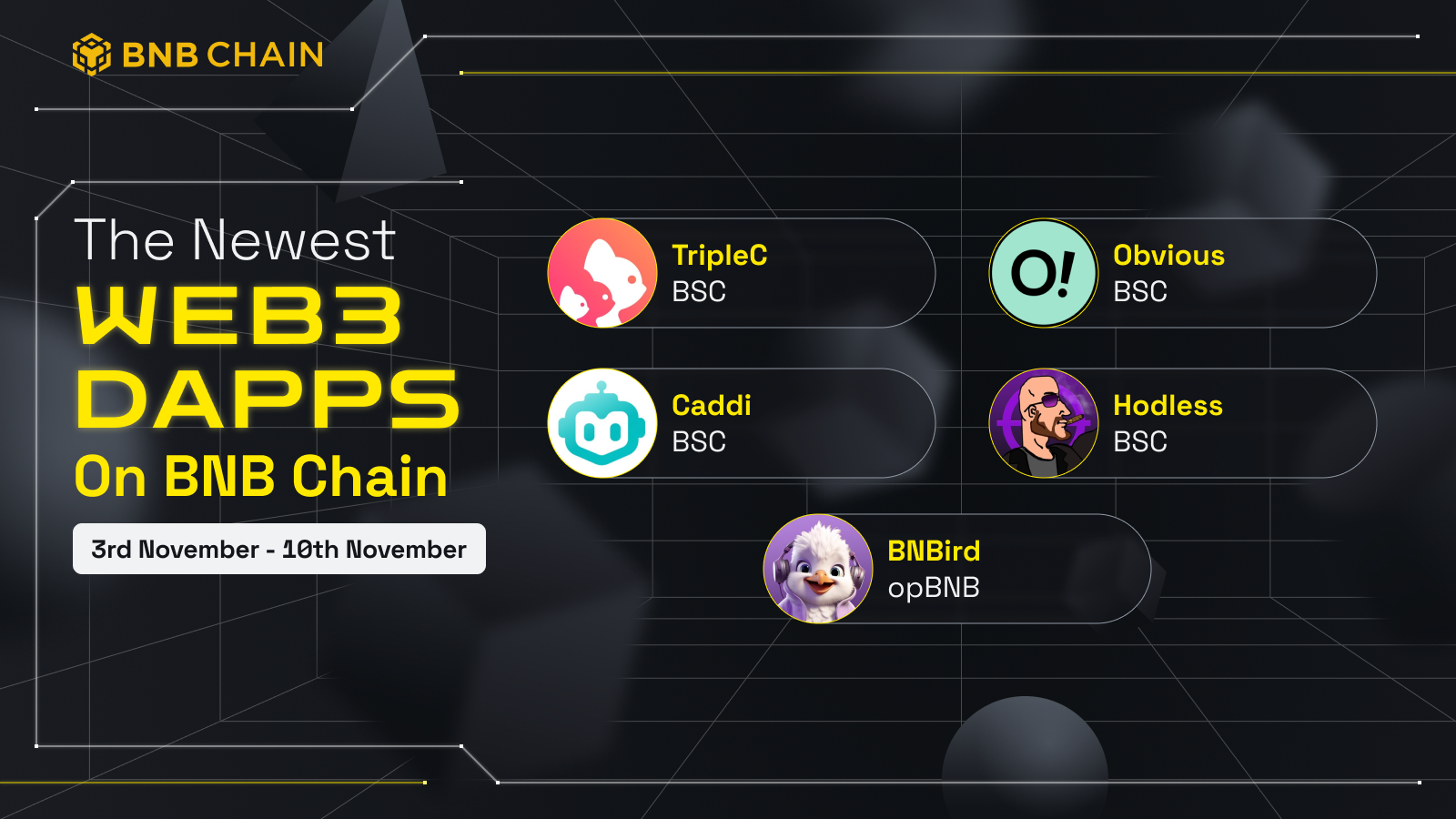 Each week, BNB Chain onboards tons of new projects across the landscape of DeFi, SocialFi, Web3 gaming, and beyond. 🔥
Take a look at the table below for descriptions of each, and make sure to follow any projects that capture your interest. Check back every week for updates on the latest members of the BNB Chain fam! Let's keep building Web3 together.
New Projects on BNB Chain (3rd – 10th November)
Twitter Account
Category
Description
Value Brought to BNB Chain
TripleC
Gaming
TripleC is a Torque Platform where real gamers Converge, producers Convert, and incentives Catalyze.
The emergence of TripleC and the GID protocol fills a void in the GameFi sector regarding player identity. Contrasting the simplistic digital identity solutions proffered by various platforms, the GID protocol unfolds a multifaceted system, transcending mere identity verification. It empowers players to record, validate, and showcase their gaming achievements, ensuring the authenticity and immutability of data, and providing a credible digital identity for players.
Obvious
Infrastructure
Obvious is a smart contract wallet that lets users pay gas fees in a token of their choice with a seamless and simple UI/UX
There are very few smart contract wallets on BNB chain. Smart wallets are the future of wallets as they simplify the onboarding process and help onboard millions onto the project.
Obvious enables users to pay gas fees in a token of their choices
Caddi
Infrastructure
Caddi is your crypto companion, the Chrome extension that saves you money on every swap!
We're expanding to BNB chain to offer users money-saving for every swap coupled with phishing prevention so they can increase their stack in the bear market. Allowing users to seamlessly discover the best prices to transact with confidence, it works with their favorite wallets and dApps like Metmask and PancakeSwap.
Hodless
DeFi
Snipe new token launches on BNB Chain, buy/sell tokens, copy trade wallets and more.
Telegram sniping bots like Maestro and Banana Gun have dominated ETH blockchain gas usage. As ETH fees surge, more and more new projects perform token launches on to BNB Chain. With top-notch technology, Hodless Bot will help BNB Chain traders to snipe and copy trade. Our expanding user base has the potential to significantly influence transaction volumes on BNB Chain and develop the ecosystem.
BNBird
NFT
BNBird is a NFTFi Aggregation platform based on opBNB
BNBird is a pioneering NFT-Fi Aggregation Platform on opBNB, contributing significant value to the BNB Chain ecosystem. Here's an overview of the key aspects of its value:
1. NFT-Fi Aggregation: BNBird merges NFTs and DeFi, creating a platform that allows users to leverage their NFT assets within the DeFi ecosystem on the BNB Chain. This innovative approach opens up new possibilities for users to explore and benefit from the synergy between NFTs and DeFi.
2. Access to NFT Marketplaces: BNBird provides users with access to a wide range of NFT marketplaces. This enables them to explore, trade, and invest in various digital collectibles and unique assets. By expanding the availability of NFT marketplaces, BNBird enhances the overall NFT experience on the BNB Chain.
3. Liquidity Pooling: BNBird facilitates liquidity pooling for NFT assets. Users can contribute their NFTs to liquidity pools and earn rewards. By incentivizing users to provide liquidity, BNBird enhances the liquidity and tradability of NFTs on the BNB Chain.
4. Community Engagement: BNBird actively engages with the BNB Chain community, fostering collaboration and supporting the growth of the NFT-Fi ecosystem.
As the first NFT-Fi Aggregation Platform on opBNB, BNBird brings a unique value proposition to the BNB Chain ecosystem. It empowers users to unlock the potential of their NFT assets, participate in the emerging NFT-Fi sector, and contribute to the growth and adoption of the BNB Chain as a whole.
---