---
Table of Contents
---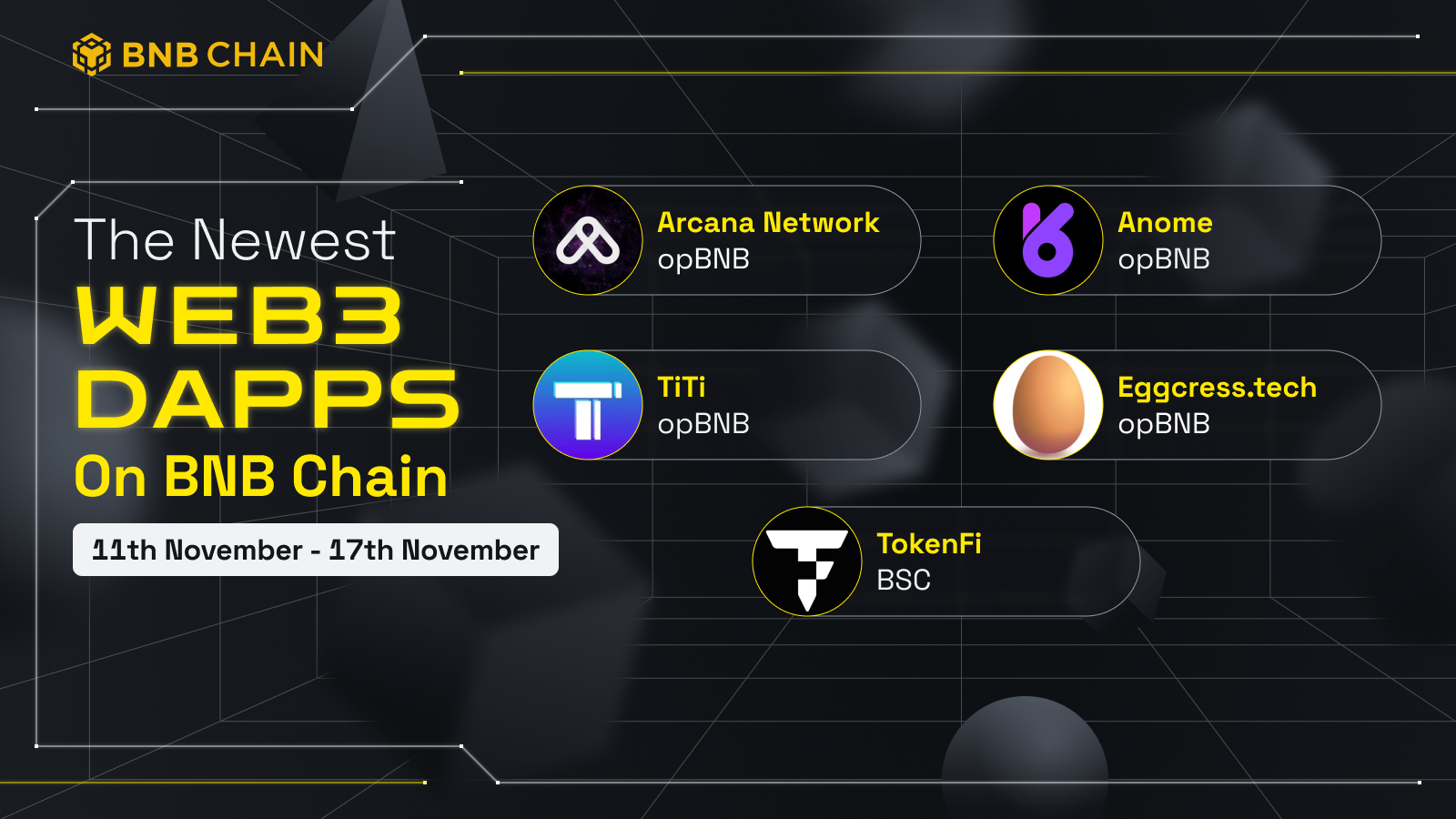 Each week, BNB Chain onboards tons of new projects across the landscape of DeFi, SocialFi, Web3 gaming, and beyond. 🔥
Take a look at the table below for descriptions of each, and make sure to follow any projects that capture your interest. Check back every week for updates on the latest members of the BNB Chain fam! Let's keep building Web3 together.
New Projects on BNB Chain (11th – 17th November)
Twitter Account
Category
Description
Value Brought to BNB Chain
Arcana Network
Infrastructure
Arcana Network is building a UX-focused app-chain with a suite of products for developers and users
Arcana Network has till now generated over 6000 transactions on BNB Chain mainnet since their launch (~3 weeks ago). Their product SendIt has over 500k users and has processed over 2 million crypto transactions. Arcana Network can help BNB chain get a lot of traffic in the coming days. Arcana Network also has their airdrop coming hence their traffic is bound to double.
Anome
Gaming
Anome is an issuance and lending protocol of the new generation gaming asset NFT.
Creation of the Gods is the first fully on-chain NFT card game adopting Anome protocol. This game offers abundant playable and valuable in-game assets, user-friendly experience.
Game players do not spend money on purchasing NFTs of the game, but instead use the Stake method to mint game's NFTs for free. Game players can retrieve staked funds at any time to ensure the safety of investment principal. Besides, game players and game developers share game revenue to ensure that game players receive a return on investment.
TiTi
Social
The world's first Web3 short video social platform for the Z era – 100% on-chain– Own your social graph– Your keys,Your Assets
Built to bring the next billion users onchain.
Eggcess.tech
Social
Enabling simple access to your favourite people
Eggcess' goal is to become the top SocialFi project on BNB Chain with a solid utility and being actually fun to use
TokenFi
DeFi
TokenFi is a platform for tokenizing assets in a few clicks
TokenFi aims to be the main platform on BNB Chain for creating tokens and tokenizing assets in the projected $16 trillion tokenization industry.
---