---
Table of Contents
---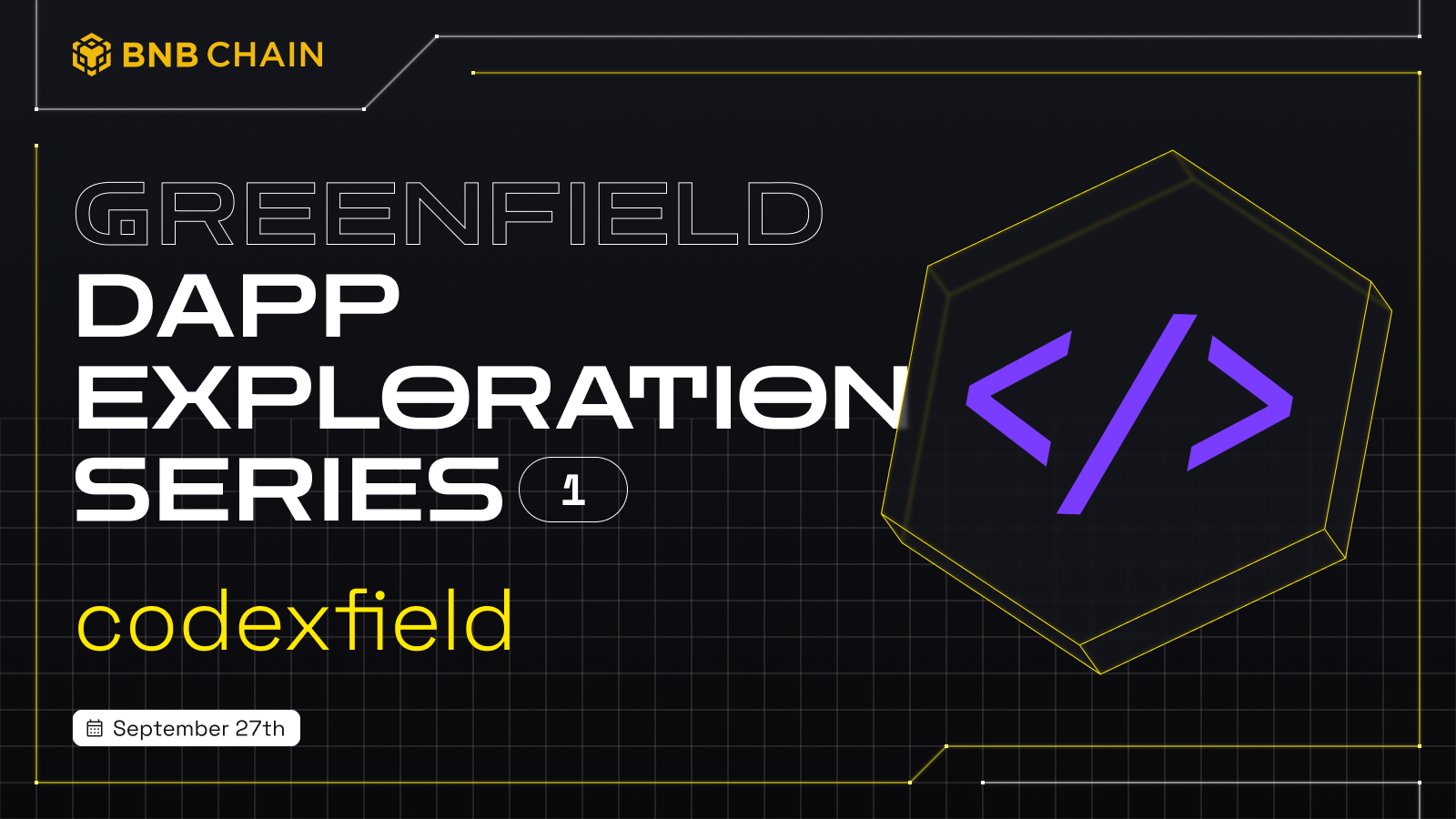 In the ever-evolving landscape of Web3 and blockchain technology, innovation knows no bounds. Join us as we embark on a journey to explore projects leveraging BNB Greenfield technology that brings meaningful change to Web3 users and beyond. Our first feature, CodexField, recently won the BNB Chain Hackvolution Hackathon's Infrastructure Division's first prize.
Congratulations to CodexField!
Democratizing Code Ownership with CodexField
Developed on the principles of decentralization, CodexField tackles a pressing issue faced by developers worldwide: code ownership. While Git, the popular version control system created by Linus Torvalds, has become a cornerstone of modern software development, it often relies on centralized platforms like GitHub for code hosting.
However, this centralization comes with limitations, including restrictions on access due to external factors such as political restrictions. The question arises: in the spirit of open source, should code truly have borders?
CodexField seeks to answer this question with a resounding "no."
CodexField is committed to providing developers with decentralized code management capabilities at minimal costs. Users pay gas fees for uploading code to Greenfield and small storage and read traffic fees. These fees are typically negligible due to the small size of code files. CodexField charges a percentage of the trading fee, creating a sustainable economic model for the platform.
BNB Greenfield: A Decentralized Canvas for CodexField
To fulfill its mission of code democratization, CodexField chose to build its platform on the BNB Greenfield network. This strategic decision leverages the full power of decentralization offered by BNB Greenfield.
BNB Greenfield isn't just a storage-oriented blockchain; it seeks to redefine decentralized data storage and the economics around data exchange. It operates by interacting with a decentralized network of storage providers (SPs). Users can securely upload their code with unique access and usage permissions. The data is then stored off-chain with redundancy and backup, while metadata is stored on the BNB Greenfield blockchain.
Empowering Developers
CodexField doesn't just store code; it empowers developers with a range of features:
Upload Code to Greenfield: CodexField's Gitd tool allows users to upload their code to the decentralized Greenfield network. It's a familiar and fully compatible experience for developers accustomed to Git.
Sell Code on Code Marketplace: Developers can list their code for sale on the Code Marketplace, a platform that transforms code into tradable assets. Buyers gain access rights to the code without altering ownership or permissions.
Buy Code on Code Marketplace: Users can explore and purchase code listed on the marketplace, acquiring access to the code repository.
Rate the Code You Bought: CodexField implements a rating mechanism that allows users to rate and provide feedback on purchased code. This ensures code quality and builds a reputation-based trading platform.
Conclusion
By leveraging BNB Greenfield's decentralized infrastructure, CodexField empowers developers with true ownership and control over their code assets. CodexField's Code Marketplace not only benefits developers but also code consumers, creating a mutually beneficial ecosystem where quality code thrives.
In the spirit of decentralization and ownership, CodexField envisions a future where knowledge becomes a tradable asset, and borders cease to exist in the world of code. As we continue our exploration of the Greenfield dApp ecosystem, CodexField represents a notable example of how blockchain technology is reshaping the future of development and knowledge sharing in Web3.
Stay tuned for more exciting discoveries in our Greenfield dApp Exploration Series.
---