As expected from the variety of gaming genres, there is not lack of options for players to choose what they want to be entertained. However, the gamefi world is new born and it's still in it developing age. More and more genres of game are being introduced to the market each day. From farming, idle defense to connecting puzzles and universe mining, one is not yet seen in the gamefi market and it's a familiar genre of game which is sport.
Introducing Cyball
Cyball is basically a NFT football themed game built on BSC and soon to be launched on Solana and Avax. The game has assets which people can trade on their marketplace and moreover, collect, trade, mentor CyBlocs, ultimately battling with them.
The CyBall game engine combines different elements of strategy, simulation and chance into the form of an exciting and competitive turn-based football card game, where players compete to see who can score the most goals. Players train up their CyBlocs to compete in various game modes with varying levels of rewards. Existing CyBlocs can also mentor young CyBlocs, creating the next generation of unique NFTs. In future expansions, we aim to give players more ways to spend accrued rewards, both in CyBall and in the wider CyBloc universe.
Tokens
There are 2 types of token: Cyball and Cybloc Battery Token (CBT)
CyBloc Battery Token (CBT) is an ERC-20 & BEP-20 token with no fixed supply.
This is CyBall's primary Play-to-Earn reward and utility token.
Users can earn $CBT when performing the following:
Compete in various PvP modes (Exhibition, League and Tournament)
Earn revenue from CyLoans
Rewards for users who perform various activities that help the ecosystem
Also, players who own and spend CBT can mentor others or hire a coach for their teams.
Cyball token (CYB) is an ERC-20 & BEP-20 token with fixed supply.
This is CyBall's governance, utility and special Play-to-Earn reward token.
Users can earn $CYB through:
Special rewards for competing in League and Tournament PvP modes
Staking rewards
Special rewards for users who perform various activities that help the ecosystem
Users may be required to spend $CYB to enjoy the Mentoring feature.
Also, there is a coming soon token called Cydex. CyDex is CyBall's native Automated Market Maker (AMM) based Decentralised Exchange (DEX). Users will be able to go onto CyDex to buy, sell and provide liquidity for CyBall's native tokens: $CBT and $CYB.
There hasn't been any information about tokenomics, where to buy and token allocation of the project.
Roadmap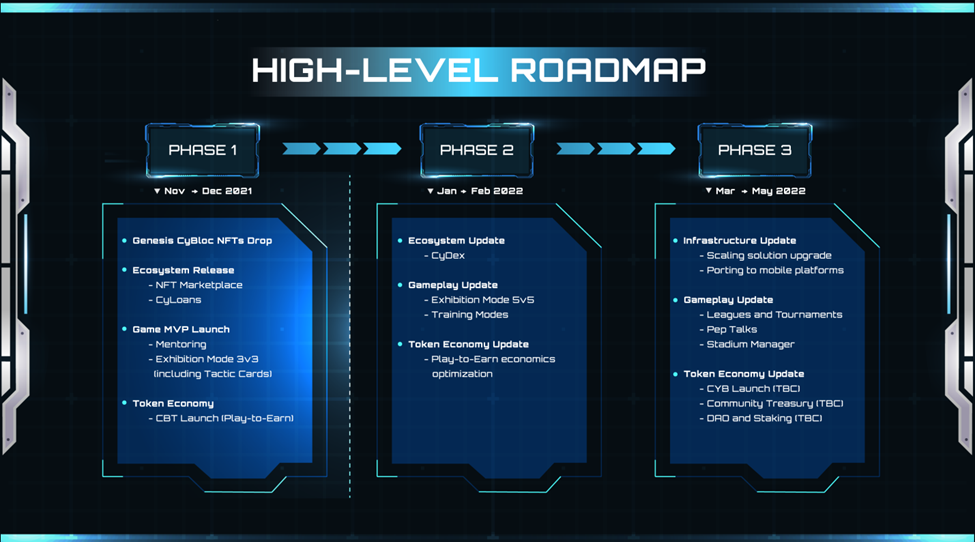 Phase 1 (Nov – Dec 2021)
Genesis CyBloc NFTs Drop.
Ecosystem Release:
Game MVP Launch:

Mentoring.
Exhibition Mode 3v3 (including Tactic Cards).

Token Economy: CBT Launch (Play-to-Earn).
Phase 2 (Jan – Feb 2022)
Ecosystem Update: CyDex
Gameplay Update:

Exhibition Mode 5v5
Training Modes

Token Economy Update: Play-to-Earn economics optimization
Phase 3 (Mar – May 2022)
Infrastructure Update:

Scaling solution upgrade.
Porting to mobile platforms.

Gameplay Update:

Leagues and Tournaments.
Pep Talks.
Stadium Manager.

Token Economy Update:

CYB Launch (TBC).
Community Treasury (TBC).
DAO and Staking (TBC).
What's the game about
CyBloc
This is also a type of asset which is NFT of the game. Each CyBloc is categorized by 3 aspects: classes, traits, skills
1. There are total 5 classes indicating the rarity and worth of the asset.

2. Traits are understood as characteristics of the asset as it will reflect the performance of the "characters".

3. Skills: 6 footballing skills of a CyBloc: Tackling, Passing, Dribbling, Crossing, Shooting, and Physical.
Game modes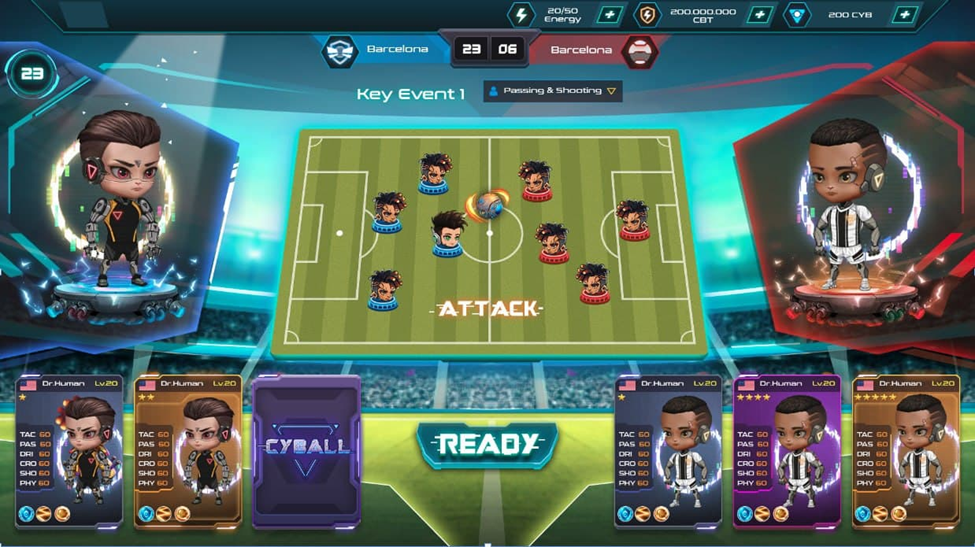 Exhibition (Casual PvP): This is the easiest mode, providing a relaxing and non-serious gaming experience while still enabling players to earn some rewards.
League (Ladder PvP): This mode has limited availability when it only occurs seasonally. It has a laddering style competition with higher rewards than the Exhibition mode.
Tournament (Championship PvP): This mode has the most limited availability and the highest level of competition so it provides the highest rewards among the 3 modes. It is a special event-style competition.
Besides the 3 main PVP game modes, where people can play to earn rewards, CyBall also has the PvE game mode, which is Training. This mode does not offer rewards but can help players level up their CyBlocs by gaining more experience for them. Training feature can be used as a way to practice strategies and it's on 3v3 mode and has hire-a-coach mode which let their teams train automatically.
The developers were inspired by the idea of daycare feature in Pokemon so they came up with the hire-a-coach.
Ecosystem of Cyball
CyBall NFT Marketplace: This is a marketplace where players can buy and sell all NFT assets like Cyblocs, Cypod, stadiums, body parts and wearables.
CyLoans: This is where people with unused CyBlocs can lend out these to other players. This creates mutual benefits for both CyBlocs' lenders and borrowers: borrowers have CyBlocs to play and earn without losing initial investment, while lenders earn shared revenues from their borrowers.
CyDex: This is an AMM DEX to provide liquidity for CyBall's native tokens.
Team and investors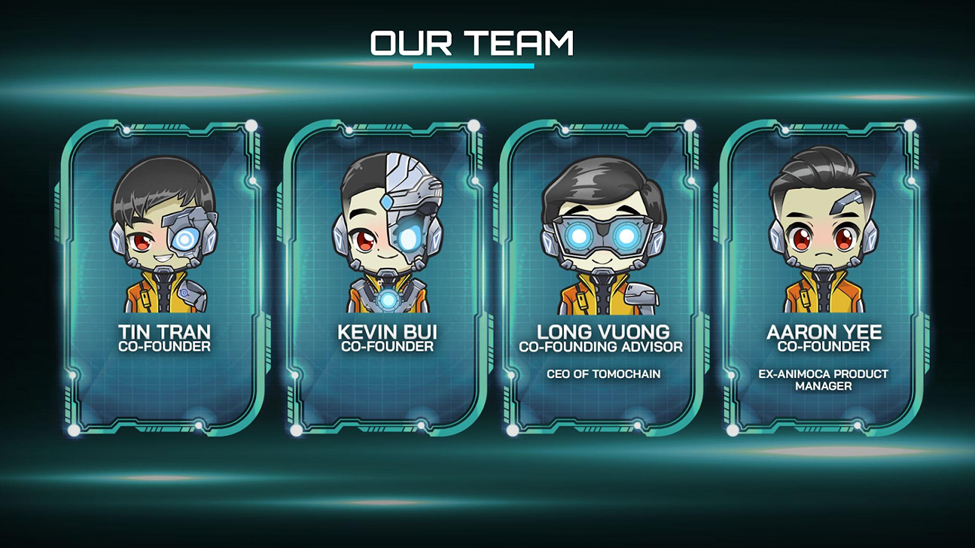 Aaron Yee – Co-Founder: A former Aminoca Product Manager. He has almost ten years of expertise in game production, beginning as a game designer for Disney's Frozen.
Long Vuong – Co-Founding Advisor: The CEO and Founder of TomoChain, and he has contributed a wealth of blockchain technological knowledge to CyBall through his experience.
Tin Tran – Co-Founder: Has a background in engineering. He has been a blockchain enthusiast since 2017 and a DeFi researcher since 2020.
Kevin Bui – Co-Founder: Has extensive marketing and branding experience, having founded his own successful Australian athleisure apparel company. As a result, Kevin is the head of the design department of CyBall.
There is not yet shown of theirs investors but they have quite the amount of partners.
Advisors from Yield Guild Games (YGG) and also facilitating scholarships with more players to the game.
Triple IGO (triple game offering) on Binance NFT, CyBall, GuildFi.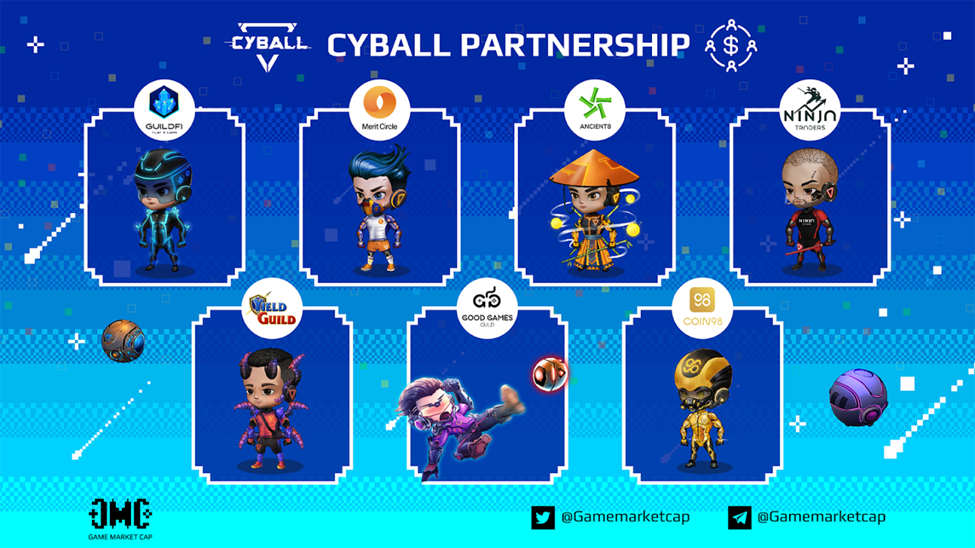 Thoughts on Cyball
By looking at their presentation firstly, we can see the amount of time and efforts they have invested to create the beautifully unique concept of the game, from the smallest things such as characters and to the bigger things like website and whitepaper. They have a clear understanding of the market's demands and provide it with a solution
They have yet published anything on their tokenomics and deeper looks into what the actual game is like therefore it's hard to say anything about the future. However the only way is to research their roadmap and the recent partners. Binance NFT market and YGG all make partner with Cyball promising the potential and bustling of the gamefi market. Built on BSC network and soon to be on Solana, Avax which is now a leading gaming sector blockchain (BSC), this says the game has the privileges of low costs and quick transaction, unlike ETH network. Also there is an advantage of large existing players-based which will quickly develop quite a community at first stage if promotion done right.
The Critics of Axie by the Cyball is about the imbalance of supply and demand of Axie economy.
Quote "CyLoans is a feature of our ecosystem that we have thought about quite extensively to solve a problem that a lot of P2E games are currently facing. And that's the imbalance between the supply and demand of scholarships ( as we've seen for Axie), this feature simplifies the whole process of finding someone to loan your CyBlocs to, as well as organising the payments that you agree upon."
They were inspired by Axie Infinity, but there are also flaws in that game which CyBall has some ideas to solve it. As with the problems of many NFT games, those have reached their maturity cycle and ends of the hype, along with "in the sky" price, new players are unsure to enter the game even if they want to because it is a low ROI rate and higher risks. Not to mention CyBall has an impressive IGO on Binance NFT. The CyBall's Genesis Packs had been sold out within a minute of going live and recorded $1.52 million in trade volume in the first hour and $10 million in the first seven days. This clearly shows the huge support from the community for this project.
There hasn't been any significant sports game on NFT world, and now someone is pioneering it with cyberpunk themed and guaranteeing the balance of economy with huge partners behind. Expecting more information about the game, then join its community to get updated about the game ecosystem and game launching at the end of 2021.