In this weekly report (June 8 to 15, 2020): We launched our first quarterly futures contract for Bitcoin, updated our app to support isolated margin and leveraged tokens, and more!
Binance Futures and Options Updates
1. Binance Launches Quarterly Futures. These new BTC derivatives with quarterly settlement terms offer more diversification for your crypto portfolio. The BTCUSD Quarterly Futures contract with leverage up to 125x is now available on the Binance Futures web trading interface, with mobile availability coming in later. The fee schedule info is here. (Bloomberg also has this story.)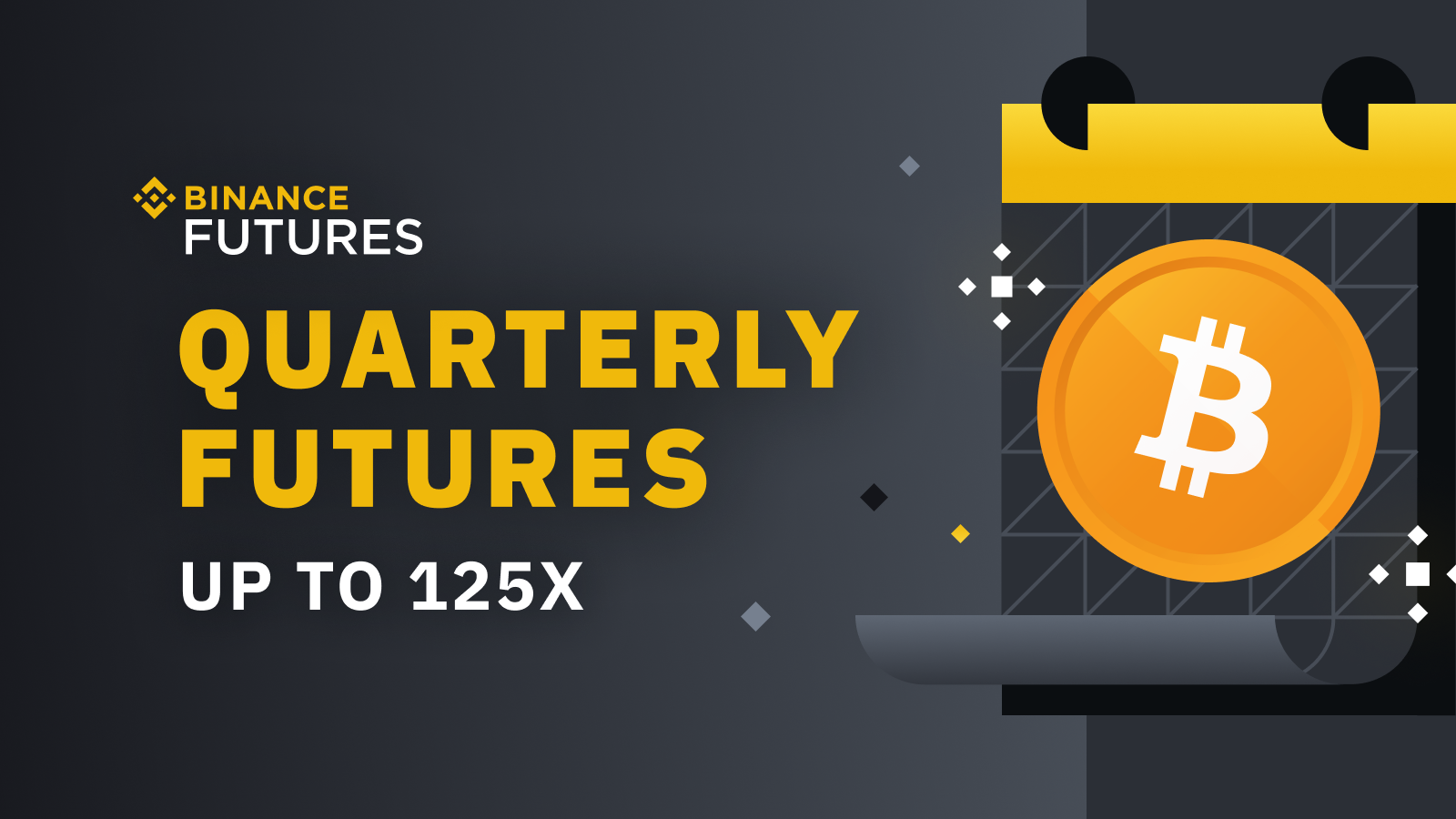 2. How To Trade Quarterly Futures? The Binance Futures team has created a guide on how you can make the most out of our newest crypto futures offering.
3. Binance Futures Review, Month 9. The quarterly futures launch is just one of the highlights from the ninth month (and third quarter) of this ever-BUIDLing platform.
4. Essay: What Binance Futures can do for institutions. The Binance Futures team shared how they work with institutional clients to understand their goals and develop solutions.
Binance Exchange Updates
5. Binance adds isolated margin, leveraged tokens to iOS, Android apps. The newest Binance app versions (iOS v2.13.1 and Android v1.24.2) also include the following updates:
– Intro tutorial to Binance Options
– Subscriptions to custom fixed savings
– Transfer of fixed savings assets
– Bug fixes and general improvements.
6. Binance adds KAVA to margin trading. This comes with 3x leverage on BTC and USDT trading pairs.
7. Isolated margin mode for ZIL, OMG, FET, and ALGO. You can now use this recently-launched margin mode on 45 trading pairs involving 24 tokens.
8. New BUSD, USDT pairs. We opened KNC/USDT, KNC/BUSD, REP/USDT, REP/BUSD, LRC/USDT, and LRC/BUSD trading pairs on June 12.
9. Binance Savings products, Phase 22. Seven- and 14-day fixed-term locked savings products are available for ERD.
10. Distribution of Binance Staking rewards for May (Batch 1). This is for staking GAS, ONG, VTHO, KMD, ALGO, QTUM, STRAT, TRX, WIN, KAVA, and JST.
11. Supported blockchain activities: Upcoming airdrop of snglsDAO Governance Token (SGT) for SingularDTV (SNGLS) holders and deposits/withdrawals for the BAND mainnet token (ERC20 BAND tokens remain supported).
12. Trading pair removals (as of  June 12).
13. Learn from our candlestick cheat sheet.
BNB, Fiat, and Stablecoin Updates
14. BitPay launches a card that supports BUSD. With the new BitPay Card, the first Mastercard prepaid card for crypto users in the U.S., you can use BUSD and seven more crypto tokens as modes of payment.
15. Binance P2P supports Philippine peso (PHP). This is the newest fiat addition to our peer-to-peer platform. Be a P2P merchant now!
16. Five Recent BNB Use Cases. Stake BNB on Kava's DeFi lending platform, pay with BNB on merchants using CoinPayments systems, and more!
17. Updates to Epay service. Due to system upgrades, we removed Euro (EUR) and British pound (GBP) deposit services from Epay starting June 11. 
18. Update on South African rand (ZAR) fiat channel. ZAR deposits and withdrawals continue to be suspended, to upgrade security and protect our users. 
Binance Ecosystem Updates
19. Binance.US lists Augur (REP). The US exchange launched REP/USD and REP/BUSD trading pairs.
20. Binance.US adds two more BTC trading pairs: ADA/BTC and XTZ/BTC. The recent additions increase the number of Binance.US trading pairs to 68.
21. Binance.US adds HBAR to its Buy Crypto page. Now, you have 19 cryptocurrencies to choose from.
22.  Binance Chain testnet completes Nightingale upgrade. Services were stable after the upgrade. Details on the mainnet upgrade will come soon. 
23. CoinMarketCap launches a new chat feature. Now, you can talk about the tokens you follow on CoinMarketCap, which also launched a login feature that lets you keep tabs on your crypto watch list.
24. Binance Charity launches Crypto Against COVID for Japan. From June 12 to 26, our anti-COVID campaign will focus on Japan. Binance will match all contributions for this special campaign on a 1:1 basis. This is in addition to the 10,000 masks we already donated to Japan.
25. Binance Labs shares monthly update. Find out the latest on Torus, Dune Analytics, Strike, Harmony, Elrond, and many other projects in Binance Labs' portfolio. Subscribe to the Binance Labs newsletter.
26. Binance Academy's newest article: Dollar-Cost Averaging (DCA) Explained. DCA, which involves buying equal amounts of the asset at regular intervals, can mitigate some trading risks.
27. Binance Academy's latest webinar: NFTs, Candlestick Patterns, and Prediction Markets. Learn about different aspects of blockchain, cryptocurrencies, and trading through this informative session.
28. Binance Podcast's newest episode: #AskAmerica about COVID-19. Binance SVP of Charity Jarred Winn interviewed Chainstone Labs CEO Bruce Fenton about what we might expect coming out of this pandemic.
29. FTX, WazirX, SafePal launch trading competition in India. A Binance-invested exchange, a Binance-acquired platform, and a Binance-incubated crypto wallet joined forces for a promo in one of the world's major crypto markets.
From the Binance Team
30. #StaySAFU Security Campaign in full swing. Read the articles below. Also, be ready for an upcoming #StaySAFU competition, where we give away 500 USD in BNB. 
31. 8 Surprising Statistics About Phishing. Know how to avoid phishing attacks that target your crypto.
32. 5 Common Cryptocurrency Scams. Beware of the most common methods used by crypto scammers.
33. 5 Common Social Engineering and Cyber Attacks. Beyond phishing, there are other cyber-attack methods that you should watch out for.
34. Secure Your Binance Account in 7 Simple Steps. We share our best practices on how to strengthen your account's security. 
35. How to Buy Bitcoin in India on Binance. With Binance, people in India have multiple ways to buy Bitcoin and other cryptocurrencies. 
36. CoinTelegraph interviews CZ. Binance CEO Changpeng Zhao shared his four key criteria for building a global business, including the need for a global mindset. He also admits to spending 20% of his time interacting with the crypto community on Twitter.
37. Trust Wallet CEO on Twitter AMA hosted by Binance.US. Viktor Radchenko answered several questions from the community in the US.
Promos and Community
38. ONGOING: "Binance Turns 3" Video Contest. We're giving away a total of 650 BNB to the top video makers who can capture the essence of our upcoming third anniversary. Join now!
39. ONGOING: KAVA trading promo. The top KAVA trader will win a Tesla Cybertruck worth 47,000 USD. Promo runs until June 16.
40. ONGOING: ONT trading promo. We're giving away 50,000 USD in ONT tokens and 15,000 USD in Binance Futures vouchers. Promo runs until June 17.
41. ONGOING: Binance Pool promo: 50% discount on fees. Plus: access to purchase an AvalonMiner 1146 Pro. Promo runs until June 30.
42. DONE: IOST promo for Binance Nigeria. We're giving away 300,000 IOST tokens to Nigerian naira traders on Binance P2P and IOST traders on Binance Futures. Promo ended June 14.
43. DONE: Bitcoin Pizza Day promo. We offered up to 50,000 USD in BNB giveaways. The total trading volume for the activity, which ended June 10, reached 17,244 BTC. Thanks to all participants!
44. DONE: ERD trading activity. We have away 50,000 USD in ERD tokens. Promo ended June 11.
45. COMING SOON: Binance UK Virtual Meetup. Join CZ and the Binance team as we share our future plans for the UK. The event is on June 17.
That's a wrap for last week! Follow us on Twitter, Instagram, Facebook, and YouTube, and join our official Binance Telegram group to talk more with our community. And to our Binancians from Russia, Happy Russia Day!