The world of blockchain technology is full of surprise with many new exciting projects developed on them striving to solve many problems in our daily life. Each competes with others to prove themselves on this dynamic market of 21st century. From gaming to DEFI, many have left their marks and gained trust of the market. Even though, it seems everyone has solved all the remaining problems of this new tech, and yet in the decentralized finance bubble, there is a rising star of AntEx.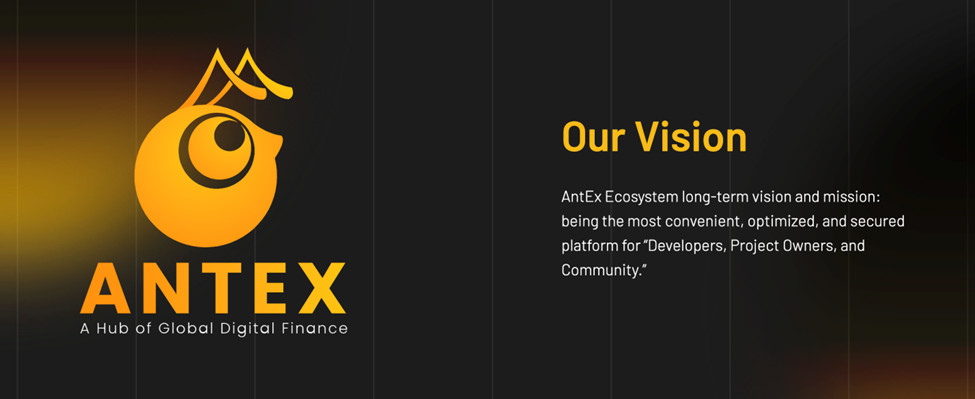 What is AntEx (ANTEX)
The project provides a DEFI platform along with other products of VNDT stablecoin, wallet, Antlaunch, Antlock. This financial ecosystem is the solution for "Developers, Project Owners, and Community" with outstanding improvements on each product. Antex aims to bridge the gap of fiat and crypto for small investors, giving them the opportunity for easier access to IDOs projects. Not just that, start-ups also have chances to approach more investors and raise their needed funds.
Emerging with the trend of financial convenience and security on blockchain technology, the project strives to achieve and expand more their potential.
Tokenomics
The ANTEX token
Developed on Binance Smart Chain (BSC) and issued by AntEx ecosystem, ANTEX is an important part in the ecosystem of AntEx. AntEx constitutes a comprehensive ecosystem that ensures user's satisfaction such as: storage, transaction, payment, investment and utilizing financial products/services of AntEx's ecosystem.
Token allocation
25% – Marketing and PR.
25% – platforms.
10% – insurance funds and reserve.
15% – operation
25% – liquidity
Token distribution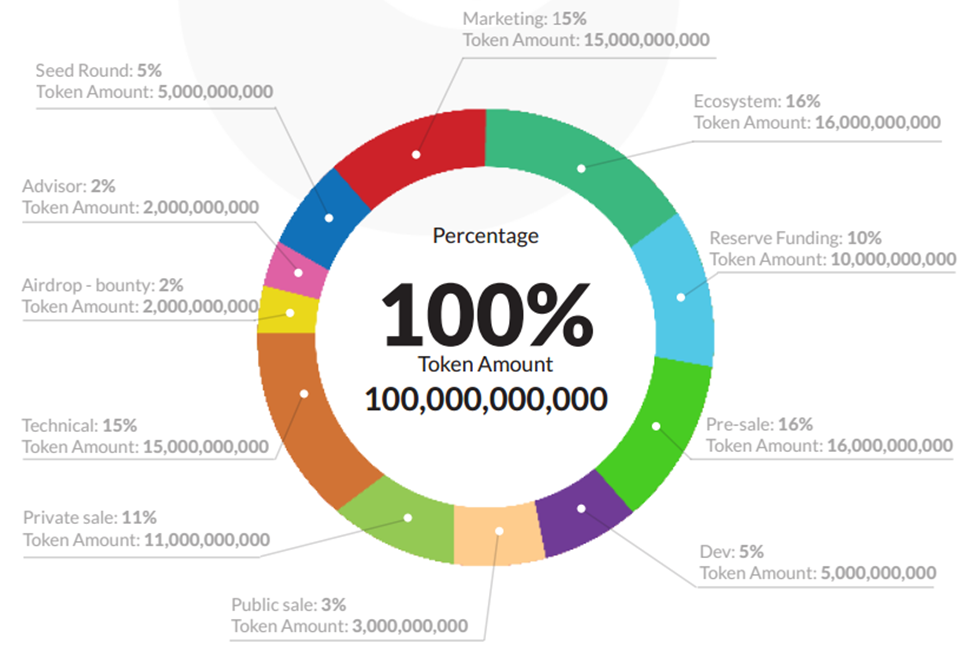 Seed Round: 5%
Advisor: 2%
Airdrop – bounty: 2%
Technical: 15%
Private sale: 11%
Public sale: 3%
Dev: 5%
Pre-sale: 16%
Reserve Funding: 10%
Ecosystem: 16%
Marketing: 15%
Token information
Key Metrics Token symbol: ANTEX
Total Supply: 100,000,000,000
Blockchain: Binance Smart Chain
Audit: CertiK
Contract: 0xCA1aCAB14e85F30996aC83c64fF93Ded7586977C
Token type: Utility, Governance
Roadmap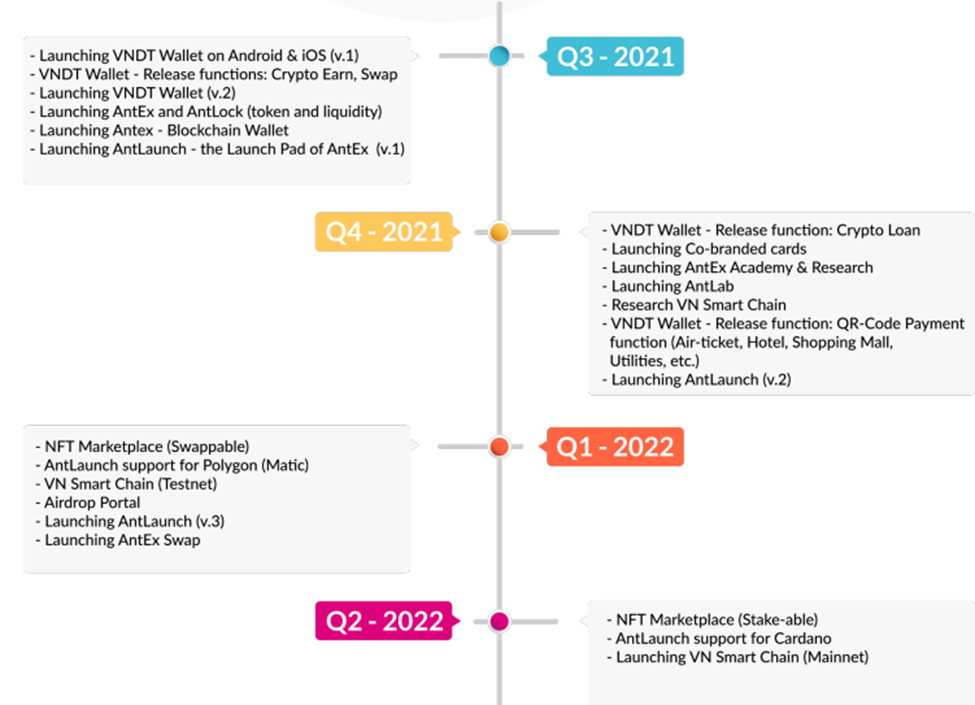 1.
Q3 2021
Launching VNDT Wallet on Android & iOS (v.1)
VNDT Wallet – Release functions: Crypto Earn, Swap
Launching VNDT Wallet (v.2)
Launching AntEx and AntLock (token and liquidity)
Launching Antex – Blockchain Wallet
Launching AntLaunch
the Launch Pad of AntEx (v.1)
2
Q4 2021
VNDT Wallet
Release function: Crypto Loan
Launching Co-branded cards
Launching AntEx Academy & Research
Launching AntLab
Research VN Smart Chain
VNDT Wallet – Release function: QR-Code Payment function (Air-ticket, Hotel, Shopping Mall, Utilities, etc.)
Launching AntLaunch (v.2)
3
Q1 2022
NFT Marketplace (Swappable)
AntLaunch support for Polygon (Matic)
VN Smart Chain (Testnet)
Airdrop Portal
Launching AntLaunch (v.3)
Launching AntEx Swap
4
Q2 2022
NFT Marketplace (Stake-able)
AntLaunch support for Cardano
Launching VN Smart Chain (Mainnet)
5
Q3 2022
Launching AntEx Charity Foundation
AntLaunch support for Polkadot
Upcoming IEO
From Nov 21, 2021 – Nov 22, 2021
Tokens for Sale: 1.2 ANTEX
ICO Price: $0.000250
Soft Cap: $300,000
Fundraising Goal: $300,000
Personal Cap: 100USDT – 2000USDT
Where to buy: ANTEX, MEXC, DODO.
% of Total Supply: 1.2%
Accept: ANTEX/BUSD, ANTEX/USDT, ANTEX/BNB
How to Participate?
Step 1. Copy this link 1: https://antex.finance/ 2:https://app.dodoex.io/cp/join/0xba8275c90e8a9b72916754878533a9c0be6d8aed?network=bsc-mainnet 3: https://www.mexc.com into the browser of your wallets including Metamask – Trust – Safepal – Antex wallets or decentralized wallets that support Dapp
Step 2. Then click the Buy ANTEX button
Step 3. Connect wallet
Step 4. Choose the currency you will use to buy Antex. Antex accepts ( Busd – Usdt bep20 or BNB)
Step 5: Enter the number of $ANTEX which you want to buy and click Buy ANTEX. Finally, confirm the transaction on your wallet
Step 6: After transaction payment has success, please check the number of $ANTEX you will receive at the website (https://invest.antex.org/invest)
note:
For a successful transaction, you need BNB as a gas fee
Use Metamask – Trust – Safepal – Antex wallets or decentralized wallets that support Dapp
Accept payment by BNB, BUSD, USDT (Binance Smart Chain).
More about the products
Introducing VNDT stable coin
VNDT is an open-source stable coin, based on smart contracts. The financial market requires an exchange method that has stable prices. The financial protocol which Wepay uses that allows stable coins are supported by FIAT and bring price stability for your digital assets. The symbol of the VNDT stable coin is VNDT which is a notification code built on ERC20, TRC-20, Binance Smart Chain (BSC), KRC20. VNDT is a stable coin that has stable value and will be used in e-commerce transactions, loans, and investments in the ecosystem. WePay's team creates the most secure and transparent crypto transactions by VNDT wallet.
The wallet is linked with Ngan Luong Co., Ltd – a global intermediary transaction gateway. Ngan Luong is an entity of NextTech Group ecosystem that known as the most trustworthy brands in payment intermediary service provider in Vietnam. WePay signed a payment guarantee agreement with Ngan Luong. The agreement states clearly out that Ngan Luong will guarantee the ratio of total VNDT token in VNDT Wallet and VND on WePay's account on Ngan Luong always maintained. All transactions process between WePay and Ngan Luong will be guaranteed the balance of VNDT token on the User's account at VNDT Wallet equivalent with the amount of Vietnamese Dong (Fiat) on WePay's account at Ngan Luong by the rate 01 VNDT : 01 VND. Detail agreement is located at https://vndt.com/assets/PaymentGuaranteeAgreement.pdf"

VNDT Wallet
With the basic functions such as storage, withdrawal, deposit, and swapping between cryp-to-crypto and crypto-fiats-crypto. The VNDT team aims to build safe and seamless crypto wallets for communities in which they can purchase physical products in real life by crypto. To boost convenience and liquidity, VNDT also provides peer-to-peer crypto-fiat trading features, which allow users to trade any cryptocurrency listed on our exchange for fiat with other users within the VNDT network. For added security, the VNDT crypto wallet will keep the crypto in escrow while the buyer transfers the fiat directly to the seller. We believe that this function will be very helpful in lowering the entry barrier of traditional equity investors to crypto/ICO investments. This allows global market access with local trading for crypto traders.
Payment by QR code: designed to connect people using an inbound payment system built on a quick response code for bank centers, crypto wallets and personal transactions.
Crypto Loan: loan assets of VNDT/VND providing solutions for crypto using to mortgage and purchase physical assets.
Earning by staking services: VNDT crypto earning by staking service is the leading data provider for staking and crypto-growth tools which users can use their digital asset by "staking" it to secure a blockchain network. In exchange for helping to secure the network, participants who stake their coins receive a share in the block reward in the form of newly minted coins.
Co-branded with bank cards: working with a series of commercial banks, like Visa/Master cards. Co-Branded Bank cards are patronized by nganluong payment gateway that facilitates the crypto-fiat exchange.
Finance platform
Antlock
Lock Token at AntEx is eligible for token purchasers to vest with their desirability on vesting schedule. The token purchasers do not need to force themselves to be on-time at each event of claiming token anymore. They can apply this feature for vesting whenever and however they want to vest their tokens.
Antlaunch
AntLaunch support the token fundraiser to implement automatically the following procedure with three (03) simple steps. AntLaunch enhances project developers to be successful in the Token Sales. 1, Fundraising scheme set –  2, List on exchange  – 3, Lock liquidity
Antex – Blockchain Wallet
Antex – Blockchain Wallet is a decentralized wallet that designs for account holders to hold their digital assets and private key belong to them only. Antex – Blockchain Wallet is a connection gateway to Blockchain projects just within a second.
The team of Antex proposes to create a private blockchain; One with qualities similar to a blockchain consortium or simply a permissioned blockchain. The consortium blockchain is a hybrid of public and private blockchains that may be tailored to the investor's preferences. Investors who join the network, for example, are granted access to the platform but with limited powers. Participants would be able to read, navigate, and create data on the Blockchain, as well as perform specified tasks.
Other perks and benefits
Holding ANTEX token on VNDT wallet, you will receive partner-level incentives with reduced fees, increased interest rates on savings packages and many other incentives.
By holding ANTEX token, you can reduce the loan rate when you mortgage your digital assets on VNDT wallet. The ratio of ANTEX token holding and the ratio of loan rate reduction will be announced after the ANTEX token is circulated.
Holding ANTEX token will help the investor to participate in IDOV and being the first list to purchase token on ILO.
Offering 2 platforms for fundraising ILO (Initial Liquidity Offering). This is a DeFi model to raise funds through providing advanced liquidity under the DeFi model for a new project. It is used by a AMM (Automated Market Maker) mechanism to perform coin swaps immediately.
The second platform is IDOV (Initial DEX Offering & Vesting). This is a fundraising model through decentralized exchanges. The project can conduct multiple rounds of funding continuously and tokens after being sold out. It will be vested automatically according to smartcontract for paid users. The vesting will be done accordingly to the project's announcement in advance; the project token can be vesting multiple times in a seamless period. When you hold ANTEX token, you will have the opportunity to participate in IDOV on AntLaunch, and you can also have another opportunity to take part in the earliest purchase on ILO programs.
The solutions
They state the issues of many wallets are not friendly, safe, flexible, cross-platform and so on. Also, the inaccessibility to blockchain technology of small investors and lack of funding for new start-ups, the ANTEX token will be a utility token operating on the blockchain platform that AntEx deploys in the future.
Also, in the ecosystem, ANTEX token will be used as a mortgage digital asset and saving on VNDT wallet. NFT assets and cryptocurrency can be stored on the wallet.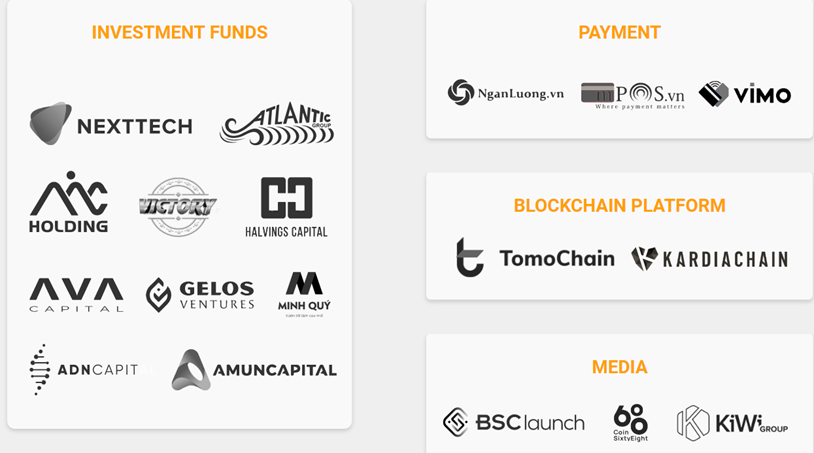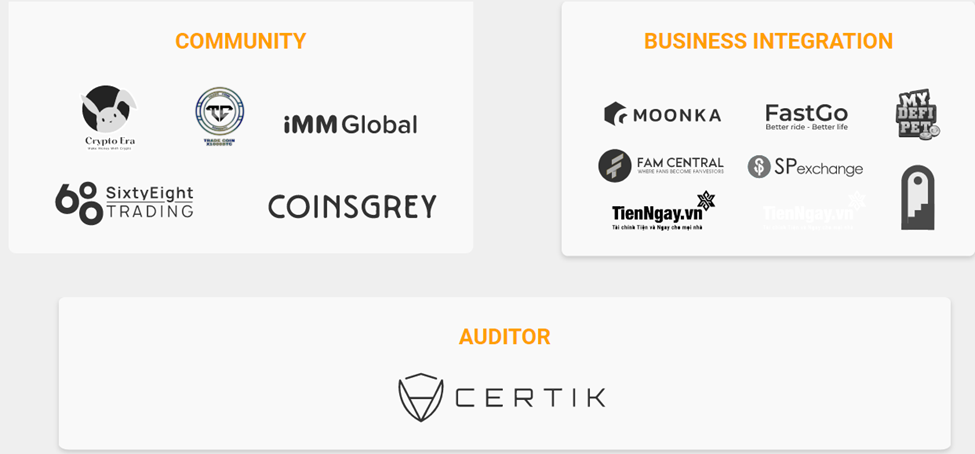 Writer's perspective
The project is based in VietNam with many of individuals in their team from various financial and technology backgrounds. Especially, with years of experience in developing blockchain tech, also experience in retail and logistics sectors as possessed by their advisors, we can see potential in this project. Antex has formed a strategic alliance with various companies as shown below. These organizations would contribute their knowledge, allowing the Antex project to reach new heights. In the near future, Antex's core team will win other significant agreements.
They are backed by many fame investors and media outlets; we can see the project has made a noise throughout the financial world. Just to name a few like Atlantic Group, ADN Capital, AVA Capital, Tomo Chain, Kardia Chain,… to business integration and community like 68 Trading, My Pet Defi, Nhanluong.vn,… We can see a clear line of development which has taken seriously by investors all over the world to this project. Antex also claims to have been trusted and used my people from more than 20 countries.
The team has implemented and built on this concept to produce a digital wallet that can perform the services as well as others such as fiat to crypto conversion and cryptocurrency exchange through bank accounts. The launch of the VNDT stable currency is a positive development because it provides a type of benefit that standard stable coin digital assets does not. The team hopes to accomplish this through enhancing transparency and long-term viability while making decisions for all. Hoping that by taking the approach that the core team is taking, the global world will embrace Antex.
Disclaimer: this is not a financial advice.